As the Arizona Coyotes commemorate 25 years on the ice this season, many are remembering that very first Yotes squad that took the desert by storm.
It was 1996 when the original Winnipeg Jets moved to Arizona to become the Phoenix Coyotes. The club remained the Phoenix Coyotes through the 2013-2014 season before changing their official name to the Arizona Coyotes. That very first band of Coyotes is being remembered this season during the organization's ongoing silver anniversary celebration.
The 1996-1997 Coyotes featured power wingers Keith Tkachuk and Mike Gartner, young guns Shane Doan and Oleg Tverdovsky, and a human highlight reel in goal by the name of Nikolai Khabibulin. But, perhaps the heart and soul of the original Coyotes was Jeremy Roenick.
Roenick came to the Coyotes by way of the Windy City where he had a very successful run as a member of the Chicago Blackhawks. At first, he didn't know what to expect in a place like Arizona, but the state quickly grew on him.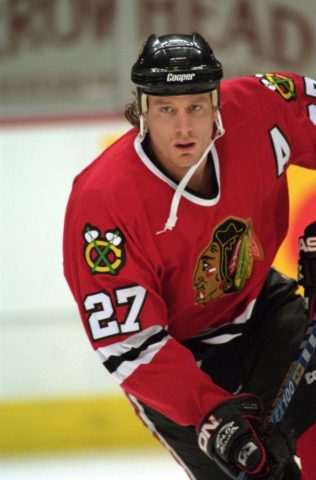 "It was obviously really strange, but I will tell you it was a really pleasant surprise on how fun it was to be able to come into a city that was not a hockey-crazed city," Roenick told The Hockey Writers.  "We had to teach a lot of people about the game, where it was obviously not a traditional hockey market, and one where you can live your life away from the rink very quietly."
Roenick was used to that bitter Chicago weather. The climate in Phoenix was quite a perk. 
"I was an avid golfer, so to be able to go to practice in flip flops and shorts and then be able to go play golf after practice was great," Roenick said. "It was such a different lifestyle in the wintertime. I was so used to bundling up, shoveling snow, and battling snowstorms. All the crazy stuff. The Valley really treated us extremely well and welcomed us with open arms."
The breakup between the Hawks and Roenick was bitter. Arizona helped soften that blow. "I was angry at the time, leaving the Blackhawks," Roenick said. "I always think about what would have happened if I stayed in Chicago my whole career. It's too bad I didn't get to stay, but I did get to play in some amazing cities."
Phoenix was one of the best. From the fans to the lifestyle, the Valley of the Sun won Roenick over. 
"The rink was not conducive to hockey," said Roenick. "Thousands of seats were obstructed because it was a basketball venue. But, they put televisions up there, sold the seats cheaper, brought bands up there to entertain, and we got full houses. We got 16-5 every game. Every game, 16-5."
Popular Pups
The old America West Arena sat 16,210. Add in staff and players and you have a party of 16,500 (16-5) every night. They came in droves to watch their new team. The product was a good one and despite that scorching weather, the playing surface was top notch. "They did a great job with the ice," said Roenick. "We had great arena guys and ice crews. Our ice was fantastic."
The hockey club was pretty good, too. The Coyotes made the playoffs in five of their first six seasons, bowing out in the quarterfinals each time.  
Along with Roenick and Khabibulin, the early Coyotes teams also featured Teppo Numminen, Craig Janney, and Mike Gartner. But two players particularly stand out in JR's memory. Tkachuk and current Coyotes coach Rick Tocchet. Tkachuk was a Jet who came to the desert on day one, while Tocchet came to town in the Coyotes' second season. Both men gave it all they had.
"You want to talk about blood, sweat, and tears," Roenick said. "Unbelievable leadership. Guys that would do anything to win. Great teammates. Took care of the trainers, took care of the young kids. Did everything as leaders and were great players. Tkachuk, (Chris) Chelios, and Dirk Graham are the greatest captains I've played with. As for Teppo, you could not have a more classy guy. He and Shane Doan. So nice and so pleasant, sometimes you want to hit him. You want to slap Doan. He can't be that nice. But he is."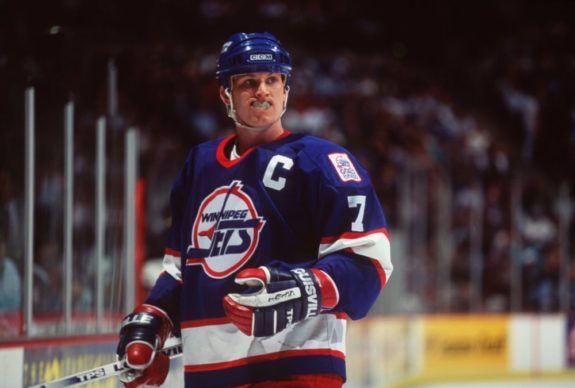 Although the Coyotes never won a postseason series during Roenick's stint with the team, those early groups left their mark. "We had some crazy players," said Roenick. "We made the playoffs the first four years. We were there and the place was hopping. It was really a fun atmosphere, a fun place to play. And a really good place to raise your kids." 
Roenick's daughter was a toddler and his son an infant when the family moved to Phoenix. The children would spend their early childhood in the Grand Canyon State and it was indeed grand. "They could be outside all the time," Roenick said. "Sports were good. You can hike. You're in a warm climate. You're around nice people. You're around people that have a good attitude. You're around people that are happy to be outside. Healthy people. It gives your kids a nice base to see how it is to live well and live with a good attitude. I think Arizona has a lot of people who live there because they want to be outside. They want to be active and happy. Both of my kids saw that. I liked it so much, I still have a house there. There were challenges for me, but the challenges were made easier because people were just happy we were there. And we had good teams. We were fun to watch. It's not a bad way to live."
As far as that inaugural Coyotes team, their importance to the region is not lost on the man known as 'Styles'. "It's always great to be a first team," said Roenick. "The young kids are going to remember the first time they went to a game and they will remember their first favorite players. We got to entertain a lot of kids and influence them. We taught kids hockey. Now, there are eight different rinks in Arizona when there used to be one. The leagues are phenomenal. Auston Matthews learned to play hockey there and now he's one of the best goal scorers in the league. You can't take away the impact that first team had in the first five years in Phoenix."
A Jaw Dropping Return
There were plenty of highlights for Roenick during his time with the Coyotes. After all, he scored 152 goals and dished out 257 assists as a Yote. But his greatest moment had nothing to do with scoring, yet everything to do with toughness. In April of 1999, Roenick suffered a brutal injury after he was hit in the head during a game against the Dallas Stars. (from 'HATCHER HIT WITH LENGTHY BAN FOR BREAKING ROENICK'S JAW,' Chicago Tribune, 04/18/1999) His broken jaw should have kept him out for at least a month and a half. He returned in less than three weeks, wearing special, protective gear.
"When I came back in Game 7 with a broken jaw against the St. Louis Blues in '99, that was the top moment," said Roenick. "When (Derian) Hatcher got me three days before the playoffs started, that was a tough time for me because I loved playing in the playoffs. That's when you win championships. That's when you want to play, in the playoffs. I had my jaw broken in five different places. So, I came back with that big stormtrooper face mask and played in Game 7. I don't think anybody could question my determination, my desire to win, or my commitment to the team and the city. To come back when I had my jaw wired shut, barely able to breathe, but wanting to do anything I could do to play the game, speaks volumes."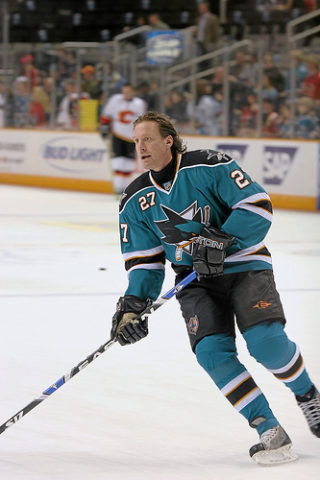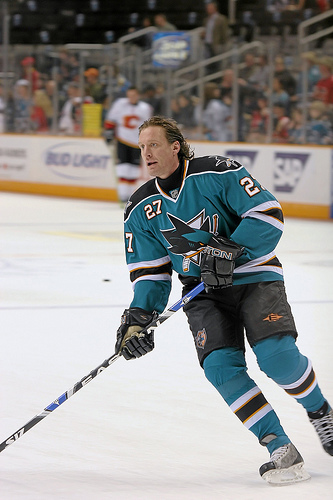 With a different bounce here and there, perhaps one of those late 90s Coyotes teams could have hoisted the Stanley Cup. "That 1998 team was probably our best chance to do something," Roenick said. "1997-1998 and 1998-1999 were some sick years. We could have done some damage if we got a couple of breaks and puck luck." Instead, Phoenix fell short each season, and after five campaigns as a Coyote, Roenick signed as a free agent with the Philadelphia Flyers.
After three seasons in Philly and one more with the Los Angeles Kings, Roenick would return to the Coyotes for the 2006-2007 season. Things had changed, however.
"It was definitely different," said Roenick. "The Glendale fan base wasn't as strong. The rink wasn't filled every night. The team was average and Gretz (Wayne Gretzky) was coach. So, we had the greatest player in the history of the game as coach and that brought challenges. It was difficult for him and difficult for us.

It was harder for me because I was near the end of my career. I was coming off probably the worst hockey year of my life in LA. I was excited for that year. I worked really hard thinking I'd have a good shot to play. But, then I come to find that they pretty much brought me in more to sell tickets than to have me on the ice. I found myself not being on the line so much. Sometimes I was scratched. Even though I was in great shape, I don't think I was given the proper chance that second time around, unfortunately."  
Roenick would play his final two seasons as a member of the San Jose Sharks. Despite the less than triumphant return to his old howling grounds, Roenick looks back at his second go-around with the Coyotes in perspective.
"That happens," Roenick said. "It is what it is. I love Gretz. He is a great friend of mine. We have a lot of respect for each other. He had a hard time as a coach in Phoenix that year and I had a hard time playing in Phoenix that year."
Proud to Be an Original Coyote
All in all, Roenick is proud of his time as a Phoenix Coyote. He appreciates the fans and he believes they appreciate him too, at least the overwhelming majority. "There are people who don't like me in Arizona, but when I step on the ice when I do things with the team, the place goes crazy," said Roenick. "You can barely hear the boos over the cheers, the claps, the whistles, and all that stuff. I gave as much as I possibly could to the team, to the city, and to the fans.
"Without question, I don't think there were many athletes, not just hockey players, that gave as much time, signed as many autographs, or did as much to make the fan feel appreciated as I did. I appreciated that they were there. I played as hard as anyone. A lot of people saw that and noticed that. I can take that with me. I might have been a loudmouth, I might have been cocky, I might have been spoiled, but I gave back and I gave people time. I did what I needed to do to make sure the team was successful, that the city was proud of our team, and that the fans were happy and appreciative to meet me. You can't ask for much more than that."
The Arizona Coyotes are celebrating 25 years of desert hockey. One of the franchise's greatest players looks back on the early days of the club fondly. There is plenty to be proud of. "I don't need everybody to like me," said Roenick. "But, I know I made an impression and there are a lot of people out there who know exactly who Jeremy Roenick is, rather than the media made-up hysteria that some people think is true when it isn't."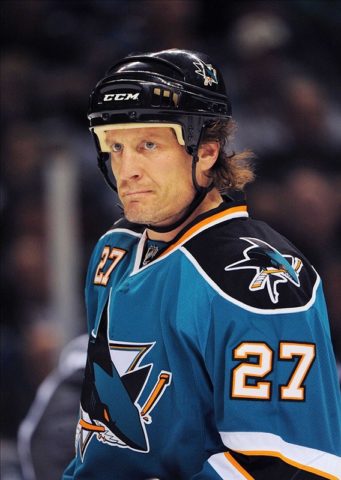 Some things are undeniably true. Roenick is one of the greatest Coyotes of all-time. He's absolutely one of the toughest. He introduced hockey to many Arizonans, creating lifelong fans. And, he did it all his way. A quarter-century after that first Coyotes team first skated in a National Hockey League game, his accomplishments on and off the ice are still something for the hockey world to howl about. Perhaps, more than ever. He looks back at his important time in a Coyotes uniform fondly. The feeling from the vast majority of Yotes fans is mutual. 
---
---