The Edmonton Oilers exploded for seven goals in a victory over the Columbus Blue Jackets on Tuesday evening. There were plenty of highlights to take away from the game (among them being a four-point performance by Connor McDavid), but a takeaway that has gone relatively unnoticed is just how comfortable forward Jesse Puljujarvi seems to be getting in the NHL.
As a fan of the Oilers, how can you not be excited?
Early Struggles
When Puljujarvi first came to the NHL, he was a highly-touted fourth-overall draft choice that was expected to be a difference-maker on the right wing, adding another scoring threat to an already young and dangerous Oilers' roster. His first year didn't exactly work out that way.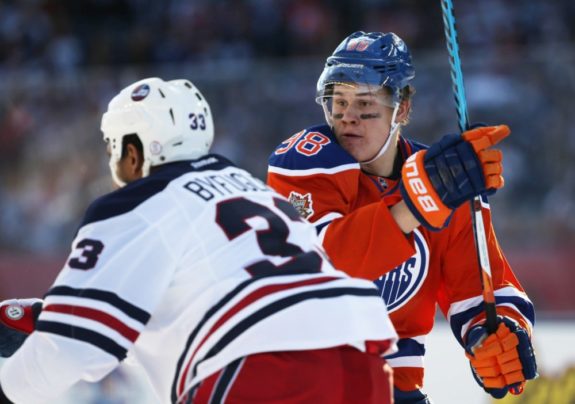 While players drafted before him — namely Auston Matthews and Patrik Laine — took the NHL by storm, Puljujarvi had one goal in 28 games. While he offered size and speed, he often looked lost and not ready for the jump required to be productive with the big boys.  He went down to Bakersfield in the AHL and while he didn't set the world on fire, got regular playing time and the plan was to get him more comfortable playing in the professional ranks.
A New Season
2017-18 has been an entirely different story for the young Fin. While he's only seen 14 games of NHL action this season, he's produced five goals and two assists for seven points. He's only recently gotten some top-line time with the Oilers' best player and he, alongside McDavid have found some undeniable chemistry.
Puljujarvi's goal on Tuesday was a great example of how the 19-year-old has started to figure out the NHL.
Puljujarvi is producing at a 29 goal pace despite playing only 13:30 a night with no power-play time.

— Dustin Nielson (@nielsonTSN1260) December 13, 2017
Using his body, being more physical, tracking the puck and the play, Puljujarvi seems more comfortable now than at any time in his still young hockey career. He's now scoring at a 29-goal pace and is setting numbers at the same speed as players like Mitch Marner and William Nylander. This isn't to suggest he'll keep up the pace, but we can't discount the possibility that he improves upon it.
Related: Oilers, Puljujarvi in Perfect Spot
McDavid's New Running Buddy
One of the big concerns to start the year was how ineffective the Oilers were at right wing. After trading Jordan Eberle in the summer, it was hoped Ryan Strome could pick up his pace and be a top-six winger. Strome is on pace for only 10 goals and 31 points.
Zack Kassian, Drake Caggiula and Anton Slepyshev have all struggled and even Leon Draisaitl has dropped his torrid pace from the 2016-17 season. The last few games the Oilers have tried Puljujarvi on McDavid's flank and it seems to be working. Not only is their production, but Puljujarvi seems to be coming into his own.
As Kurt Leavins described on Twitter, "That goal Puljujarvi scored tonight was a "grown man's" goal. Had a defender draped all over him, but won 2 puck battles in the slot. That's maturity before our eyes."
Nobody brings Oiler fans together like Puljujarvi pic.twitter.com/7Fq0EHKeLS

— NateInVegas (@NateInVegas) December 3, 2017
Fans Are in Love
Perhaps the most enjoyable part of Puljujarvi's recent success is just how much he's endeared himself to the fans, and that's without even trying. There is something completely innocent and unsuspecting about Puljujarvi that makes you absolutely root for him.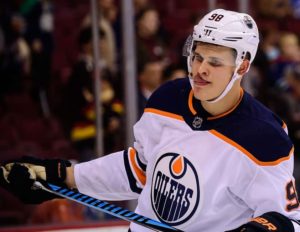 Whether it's walking into the frame of an interview with someone else and chowing down on a slice of pizza or sitting on the bench touching his own nose with his huge tongue, Puljujarvi simply loves the game and he appears lost in it. He's seemingly clueless as to the amount of pressure actually on him to succeed.
In a city where every loss is heartwrenching and the playoff picture looks less likely if the team continues to struggle, Puljujarvi is out there just doing his thing and getting better by the day. If Tuesday's game against the Blue Jackets was a coming out party of sorts, fans are only going to love him more.
The Oilers needed to have a winger like Puljujarvi step forward. He seems to be finding his game and progressing at absolutely the right moment.
There are few things more enjoyable than watching a good hockey player absolutely love the game. Perhaps the only thing that could top it is seeing his team find success. It appears, perhaps, both are coming for the Oilers and Puljujarvi.