The Ottawa Senators need to change something in their lineup soon. After a disastrous seven-game road trip, it's clear that general manager Pierre Dorion is looking to shake up his roster. The Senators are reportedly keeping their trade options open, and while much was made over the weekend about Erik Karlsson submitting his 10-team, no-trade list, a trade involving Ottawa's best player isn't likely.
Since Dorion is looking to improve his team for this season by acquiring players rather than draft picks, trading Karlsson makes absolutely no sense. Postmedia is reporting that the teams calling the Senators are also asking about Jean-Gabriel Pageau and Mike Hoffman, two players Dorion would be more likely to part with.
Still, trading Pageau would be a very surprising move, despite the centreman's low offensive production this year. He has become one of the most popular Senators due to his playoff heroics and is known to be one of management's favourite players.
Losing Skill Isn't the Answer
It's easy to understand why teams would be interested in Hoffman. The winger has scored at least 25 goals in each of the last three seasons, his only full seasons in the NHL. The 25-year-old is also signed for another two years for a very reasonable salary of $5.65 million.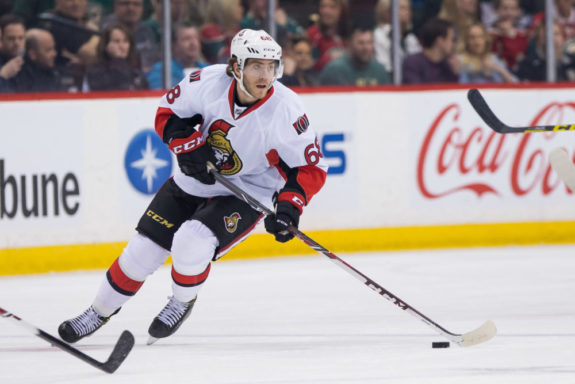 A pure goal-scorer with tremendous speed and a lethal one-timer, Hoffman is a valuable player though he's prone to long goalless streaks, like many scorers. Hoffman's style of play can be frustrating to watch when he isn't producing, as he will hold on to the puck for a long time and try to create space for himself. When this doesn't result in a scoring chance, it looks like he's making a selfish play.
His streaky production makes him a more likely trade target than other Senators, but trading him would only be a step backwards. It will be very difficult for Dorion to get a player of greater or equal talent on a more reasonable contract. Also, the teams that are interested in Hoffman might be more inclined to offer futures rather than a roster player, which isn't what Dorion is looking for right now.
While the Senators are in a free fall, there is no reason to believe that they are planning on blowing up the team's core and rebuilding from the ground up. The message from ownership is to win now, and while the Senators have been doing the opposite for the past month, there is still faith that things will turn around.
Changing the Strategy
If the plan is to win now, then Hoffman is a player that the Sens probably need to keep in Ottawa. Instead of sending him to another team, it's worth changing the way he is used in the lineup. He is second on the team in goals and points, while his recent linemates have not been nearly as productive. At various points in the 2016-17 season, Hoffman spent time on the team's third line with Pageau and Tom Pyatt.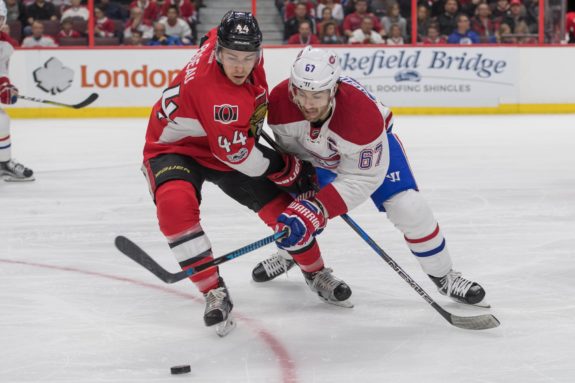 The trio has speed and a bit of offensive ability, but deploying the team's best pure goal-scorer on a checking line is an unconventional strategy, to say the least. Boucher has become known to throw his lines in a blender every few days, and sometimes in the middle of a game.
This means that Hoffman might start a game with Pyatt and end it with Mark Stone. On Tuesday against the Buffalo Sabres, Hoffman spent most of his ice time with Pageau and Zack Smith. While Smith has shown offensive promise in the past, he's had trouble finding the back of the net this season and has already dealt with two injuries.
Boucher might be looking to spark both Pageau and Smith by playing them with Hoffman, but the Senators would be better off by giving the dynamic winger more ice time on one of the team's top two lines. When Matt Duchene played his first two games with the Senators, he centred a line with Hoffman, but the two have not seen much time together at even strength since then. There's no guarantee the pair will develop chemistry, but for a team that is struggling to score, putting skilled players together is not the worst idea.
A Carleton University journalism graduate, Jacob joined The Hockey Writers in 2017. As an Ottawa native, Jacob has been following the Senators since the days of Radek Bonk. You can also find Jacob at ComicBookMovie.com.