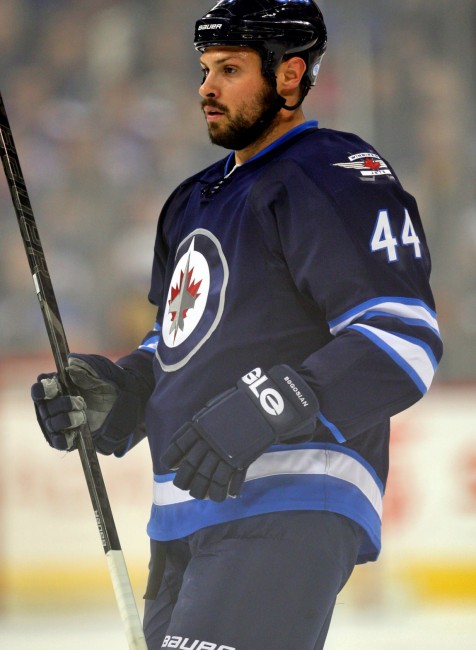 Barring the greatest miracle since the 1980 Winter Olympics, the Winnipeg Jets will not qualify for the 2014 Stanley Cup Playoffs. While it is disappointing for the organization that the team will not compete for the most coveted prize in the sport, it doesn't mean the work is done for the season. There are seven games remaining this season, and jobs will be on the line as the preparation for next season begins in earnest.
Chiarot, Hutchinson and Redmond have been recalled from St. John's.

— PATRICK WILLIAMS (@pwilliamsNHL) March 30, 2014
The Jets have called up goalie Michael Hutchinson, along with defencemen Zach Redmond and Ben Chiarot from the St. John's IceCaps of the AHL. These call-ups were made due to injuries suffered by Zach Bogosian and Keaton Ellerby on the blue line, and Ondrej Pavelec's first period meltdown against the Los Angeles Kings on Saturday night, his first game back since suffering a lower body injury on March 14.
It is likely that Bogosian won't play again this season, as  he is battling an upper body injury suffered on March 22 against the Carolina Hurricanes. Bogosian, who signed a lengthy 7-year contract worth $5.1 million per season, has had a disappointing season, scoring 3 goals and 8 assists in 55 games this season. His corsi numbers aren't much better as Bogosian is on the wrong side of the advance stats. Bogosian is at 49.4% in Corsi and 49.5% in Fenwick. For those who don't follow advance stats, Corsi determine shots directed towards the net, while Fenwick is shot attempts that aren't blocked. Which means just over half the time he's on the ice, the play is in his end, and scoring opportunities favour the opposition.
Keaton Ellerby has a lower-body injury and won't be back. #NHLJets

— Kirk Penton (@PentonKirk) March 30, 2014
Ellerby picked up a lower body injury in the second period against Los Angeles and didn't return to the game. Used mainly in the third defensive pairing with Adam Pardy, Ellerby was adequate in his role, but was prone to be trapped in his own end in recent games. Ellerby's advanced stats show are at 48% Corsi and 48.2% Fenwick.
Pavelec only played the first period on Saturday, surrendering 3 goals on 16 shots before giving way to Al Montoya for the start of the second period. The Jets have remained mum on Pavelec's status, but Paul Maurice would clarify his status prior to Monday's game against the Anaheim Ducks.
For the newcomers, it is a chance to prove themselves. Zach Redmond in particular is chomping at the bit to return to the NHL. Many remember Redmond's horrific injury last season, in which a skate blade cut through his leg that nearly cost him his life. The Ferris State graduate has spent the majority of the season with the IceCaps, tallying 6 goals and 15 assists in 37 games for the IceCaps. Redmond would love to show the organization that he is fully healthy and can contribute to the Jets on a regular basis. No Jets fan will forget his first NHL goal last season against the Toronto Maple Leafs. He is set to become an unrestricted free agent on July 1.
Chiarot did appear in one game for the Jets back in November, but he needs to impress during this stint, if he wants to be considered for a regular job next season. The 6-3, 215 pound, Hamilton native, can be a physical presence when he feels like it. Not an offensive threat, (1G, 11A in 61G for the IceCaps) Chiarot will have to be strong in his own end and limit his mistakes.
Hutchinson is the key player in this trio though. Everyone knows about the Jets goalie issues, which has led to considerable anxiety amongst the Jets fan base.
RUMOUR: Ondrej Pavelec has a strained save percentage and a swollen goals against average.

— Ryan Blight (@arby_18) March 30, 2014
I just got 'Ondrej Pavelec' on quiz 'Which Winnipeg Jet Are You?'. Which is bang on, as I'm not an NHL starting goalie either!

— Wpg Vargs (@WpgVargs) March 30, 2014
I've been a fan of ondrej pavelec since day 1 of the new jets … We need change next season #GoJetsGo — Leighton (@Leightino) March 30, 2014
The Barrie, Ontario native, has been terrific with the IceCaps this season, posting a 2.33 goals against average and a .923 save percentage. Hutchinson was called up when Pavelec went down to injury, but did not see any action. Pat Williams of NHL.com theorized that Hutchinson could start on Tuesday night in Phoenix.
I wonder whether we see Pavelec play again this season. Maybe go w Montoya against Anaheim and start Hutchinson in Phoenix.

— PATRICK WILLIAMS (@pwilliamsNHL) March 30, 2014
Williams reasoning is sensible as well. He told me on Twitter that "if for no other reason than if Montoya was to get hurt, Hutchinson would be the number-one here." Hutchinson has been excellent in the AHL this season and he deserves at least a start between the pipes before the season is over.
It is time for the Jets to embrace the fact that the playoffs are out of reach. Next season is more important. The 2014-15 season really begins Monday night in Anaheim. The kids deserve a chance. The Jets won't know what they have in terms of prospects, unless they give them a chance to play. That chance is now.
You can follow me on Twitter @jstar1973
Check out our partners at TiqIQ for the best deals on Winnipeg Jets tickets for all 2013-14 games.