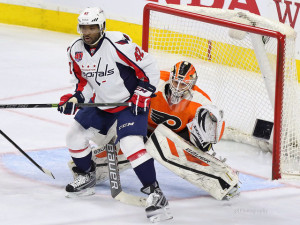 Trading for arguably the highest-rated goaltender on the market and signing two big-name free-agents has Sharks fans buzzing this offseason. After missing the playoffs for the first time in 12 years in 2014-15 (due to a misguided rebuild attempt), the Sharks are back in win-now mode.
The Sharks roster looks strong both up front and on the blue line, with depth and versatility throughout. Joel Ward, one of those two free-agent signings, is a big reason why the Sharks will feature a lineup that can fluctuate rather easily.
Versatility up the Wazoo
Unlike the start of last season when the Sharks had three forwards with fourth line only skills, all 12 of the Sharks projected starting forwards have the ability to play on multiple lines.
Joe Thornton, Joe Pavelski, Patrick Marleau, Logan Couture, Tomas Hertl, Matt Nieto, Tommy Wingels, Chris Tierney, Ben Smith, Barclay Goodrow, Melker Karlsson and Ward are all talented hockey players. When second-year, 22-year-old winger Goodrow, a player with good size (6'2″ 215) and speed, is your worst forward in a projected lineup, that is a strong indication of deep team.
While that depth is important, versatility is likewise key and the Sharks have that in spades. Each of their fourth line guys are capable of filling in third line minutes and each of their projected third line guys can fill in top-six minutes. Not to mention, with Ward, the Sharks get a winger who can play on all four lines, not just two.
Granted, at a $3.275 cap hit Ward is unlikely to spend much time on a fourth line. However, if at any point in the season his offensive game is stagnant, his play style allows him to be effective on a fourth line. Against big physical fourth line players, where a smaller guy like Matt Nieto wouldn't make as much sense, Ward's 6'1″ 220 pound frame can fit in well on a fourth line.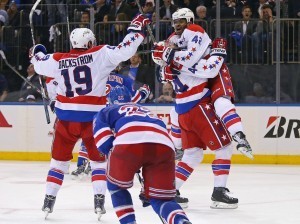 Furthermore, as evidenced late last season with the Capitals, Ward is fully capable of playing with star players. Ward played on a line with Washington's two biggest stars in Alex Ovechkin and Nicklas Backstrom down the stretch and into the playoffs.
In 14 playoff games Ward finished with three goals and six assists. That type of performance playing with elite super-stars is why nobody would blink an eye if new Sharks coach Peter DeBoer opened the regular season playing Ward alongside Thornton and Pavelski.
While that is my best guess for Ward's initial landing spot, there are a number of other combinations that could also work. Patrick Marleau and Logan Couture have often played together on the second line in recent years but have had a revolving door of right wingers. Ward could very easily slide in there, and again, nobody would blink an eye.
If the Sharks feel that it is wise to reduce Marleau's minutes from a shut down second line role to a third line role, then perhaps either Tommy Wingels or Tomas Hertl bump up to play with Couture and Ward. A potential Hertl-Couture-Ward line has a lot of varied ingredients that should make for some good chemistry. Similarly, a Hertl-Tierney-Ward line looks good on paper as well. Or perhaps Wingels-Tierney-Ward for a third line. The possibilities with Ward are seemingly endless at even strength.
Ward Will be Key on Special Teams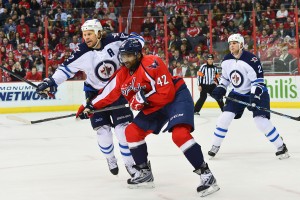 The plethora of options Ward brings to the table doesn't end at five aside. Ward will contribute both on the power play and the penalty kill. Ideally speaking the Sharks remove Marleau from the penalty kill altogether as the long time short-handed stud did not perform well in those situations last year. Getting up there in age, reducing Marleau's minutes and letting him focus on doing what he does best, score goals, would be a wise decision. Ward can take over that spot on the penalty kill as he was Washington's fourth most used forward short-handed last season.
As for the power play, Ward will almost certainly be a lock to play on the second unit. The 34-year old scored six power-play goals each of the past two seasons while in Washington. All of a sudden with Ward added and Tierney coming on strong late last season, the Sharks could have a much improved second power play group. A couple of decent, second-unit type options, like Wingels, Karlsson, and Nieto, might all be left off the man advantage to start the season. This is a good thing as there will be plenty of internal competition for power play time. Even the oft-injured Raffi Torres has the skills for the power play if he can get healthy again.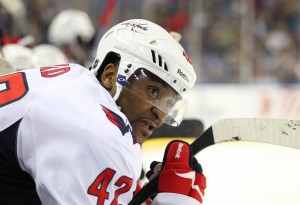 While DeBoer may have something else in mind behind the deadly top unit of Thornton-Marleau-Pavelski-Couture-Burns, the best guess for the second unit right now would be Hertl-Tierney-Ward up front, with Paul Martin and either Justin Braun or Matt Tennyson on the points. Tierney can set up behind the net and on the half-wall to make saucy dishes a-la Thornton. Ward is the right-handed shot that can send some one-timers towards the net. While Hertl is the big body that can screen the netminder and hunt for rebounds. Martin is an excellent skater and both he and Braun have underrated offensive flare from the blue line.
Ward may not be a 50-plus point regular season player but he can chip in offensively while maintaining a strong two-way game. His versatility playing in all situations and on any line at even strength is invaluable. Sharks fans are going to love this guy.
Andrew has been credentialed to cover the Sharks since 2010 and the 49ers since 2012. He graduated with his BA in Broadcast Electronic Communication Arts in 2013 from San Francisco State University.