The Winnipeg Jets are one of those teams who can be satisfied with the 2015 NHL Draft. They made very solid selections and drafted some players who no one thought would have been still available at the positions they were drafted. Kyle Connor (17th) and Jansen Harkins (47th) especially were picked lower than projected by most ranking sources, while Jack Roslovic was rather seen as an early second round pick.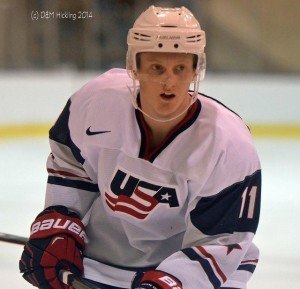 They could also draft the fifth best European skater Michael Spacek in the fourth round. THW took a close look at the first three Jets selections and made a short introduction to bring you the newest Jets closer:
Kyle Connor – 17th overall – C
Probably not many thought that Connor would still be available when the Jets were on the clock with their first pick. Especially not since the Bruins had three consecutive picks before Winnipeg as Connor fits the culture of the Bruins organization. Boston going off the boards with their picks allowed the Jets to pick Connor at 17th overall. The Jets organization has plenty of reasons to be excited about this pick.
Strengths:
The dynamic two-way center is listed at 6'1" and 185 lbs and works very effective in all three zones. He is an explosive skater with long strides and shows good top speed while still able to maintain control over the puck. The Michigan-native center plays with a lot of confidence and is constantly moving his feet, which makes it even harder for defenders to keep him under control. He is always looking to make plays and is a good playmaker using his outstanding vision as well as a decent scorer with his quick release and shows good patience in tight spaces.
Areas for improvement:
Connor is a very gifted player and has smooth hands but sometimes he tends to try to do too much and turns the puck over while doing one fancy move too much. He has to add muscle mass in college to get stronger on his skates.
 Future outlook:
Connor is committed to join the University of Michigan as a freshman where he needs to get stronger to become successful at NHL level. With this said, he has all the tools to have a great career as an offensive weapon. His proactive mindset is incredible and he develops a very good two-way game which makes him a valuable pick. The Winnipeg Jets did a great job in picking him at 17th overall.
THW's the next one prospect profile
Jack Roslovic – 25th overall – C/RW
Roslovic was the first Central Ohio born player invited to the USNTDP. He was a fan of the Columbus Blue Jackets when growing up and was a season ticket holder at Nationwide Arena. Therefore it was rumored the Blue Jackets were going after him with one of their second round picks, where Roslovic was initially projected by several scouting services. But the Ohio-native didn't make it till the Blue Jackets picked, which isn't a big problem for Roslovic. "It would have been a good story, but it's the National Hockey League, It's still special."
It's a good night for Columbus hockey. #CBJ with 2 1st rounders & Jack Roslovic goes in 1st round. Non-traditional hockey tag being shed

— Dave Maetzold (@DMaetzMedia) June 27, 2015
Strengths:
Roslovic is an energetic two-way forward who brings a lot of speed and impulses to the ice. He is a very agile skater with explosive first steps. He is able to dance through the offensive zone with good puck protection and fast turns. He is good in traffic areas, shows decent puckhandling skills as well as a solid own zone play.
Roslovic never takes a shift off and works very hard on the ice, is willing to battle hard, which makes him the type of player each coach wants to have in the team. Although he is not overly big, he isn't afraid of board battles and physical play. I would describe him as a pass first type of player who possesses good vision, but he is also able to use his powerful shot if needed. He can be found everywhere and brings energy to the ice in each of his shifts.
Areas for improvement:
Roslovic needs to work on his skating balance and bulk up. He sometimes tends to make blind passes and tries to do too much. He isn't the creative type of player and might not possess high-end scoring skills but he makes it up with his mindset and willingness to sacrifice his body to take one for the team.
 Future outlook:
Roslovic is commited to the Miami University Ohio, where he will join captain Sean Kuraly, whose rights were just traded to the Boston Bruins. The Columbus-native stays in Ohio in driving distance to his hometown. He will have to bulk up a bit and if he manages to do so he has the potential to be an effective two-way forward. If he works on his offensive game he could fit into the role of a top six two-way forward, but as of now I see him more as a third liner.
Jansen Harkins – 47th overall – C
Harkins at 47th overall still available? Not many scouts would have agreed to that statement, but the fact is that no other team picked the center from the Prince George Cougars earlier. Basically every ranking source had the Canadian center picked before the first round ends. Therefore I am quite sure the Jets were happy to have him available at mid second round.
Winnipeg gets Jansen Harkins at #47. He was rated 18th by Red Line Report. The Jets kill it every year at the draft.

— Willy Palov (@WillyPalov) June 27, 2015
Strengths:
Harkins is a smart and hardworking two-way center who keeps the game simple. He protects the puck well and is a decent skater who is strong on his skates and hard to knock off the puck. His good understanding of the game and defensive minded play helps him to maybe become an NHL player one day. He plays a good two-way game, is very responsible in his own zone and backchecks very well to support his defenders. Harkins is very effective in killing penalties and his defensive positioning game is above average.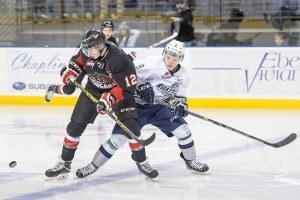 Areas for improvement:
Harkins is no elite goal scorer, neither is he a flashy player. He doesn't possess high-end offensive skills and lacks elite goal scorer skills. His skating could become a bit smoother and he needs to play a bigger impact offensively.
Future outlook:
Harkins played for Canada at the U18 Worlds this year, but during this tournament his lack of offense was visible. He many times didn't have a big impact offensively and showed he is not possessing elite offensive skills compared to some of the best players in the tournament. However, he keeps the game simple and does all the small things right. He has the work ethic and understanding of his defensive role to become a heart and soul guy at NHL level. He isn't skilled enough to become a top-six forward but he very well fits the role of a top-nine two-way forward.
THW's the next one prospect profile
Michael Spacek and the rest of the gang
In the fourth round the Winnipeg Jets have selected Czech center Michael Spacek at 108th overall. He was ranked fifth best European skater by Central Scouting and therefore it seems to be a good pick by the Jets in the fourth round.  Spacek spent the majority of the season in the highest Czech league playing 40 games for HC Pardubice and scoring 12 points. The smallish center is a smart player in all three zones and shows great speed. His quick skating abilities and creativity makes it hard for defenders to keep him under control. He can both score and setup plays as he possesses a good accurate shot and decent vision. Time will tell if he can be more than a top-nine scoring winger as he needs to bulk up. He has one year left with Pardubice.
At the draft, Michael Spacek expressed interest in playing in North America next season. Rebels are hosting the 2016 Memorial Cup #NHLJets

— Ken Wiebe (@WiebesWorld) June 30, 2015
Erik Foley, a forward from Cedar Rapids was the third round pick of the Jets at 78th overall. He plays an agitating game and is a very explosive and strong skater. Overall Foley is a multitalented forward who can play in many different situations, but his defensive positioning game could use some more work.
In the sixth and seventh round Winnipeg selected American center Mason Appleton respectively Finnish defender Sami Niku and Canadian forward Matteo Gennaro. Appleton is a big forward who will join the Michigan State University. Niku played 12 games in the Finnish Liiga and can be described as an offensive puckmoving defender who shows smooth skating and good mobility. He needs to work on his defensive game though, as he tends to take too many bad decisions in his own zone. Gennaro, Prince Albert forward and cousin of former NHLer Fernando Pisani, keeps the game simple but doesn't show a lot of elite skills and was inconsistent this season.