Kyle Connor THW Close-Up:
Date of birth: 12/9/1996
Place of birth: Shelby Township, Michigan
Ht: 6'1″     Wt: 183 lbs
Shoots: Left
Position: C
NHL Draft Eligibility: 2015
Twitter: @KyleConnor18
THW The Next Ones Rankings (February): 25
Other Rankings:
THW War Room Rankings (March): 13
HockeyProspect.com (February): 11
Last Word On Sports (February): 13
Craig Button (March): 7
CS Final Rankings for North American skaters (January): 14
***
The main focus of this year's draft is Connor McDavid. That being said, there is another Connor hockey fans should be looking out for come late June at the 2015 NHL Entry Draft. Kyle Connor is the prospect I'm talking about. While McDavid has been under the OHL spotlight all season, Kyle Connor hasn't gotten quite the same recognition since he plays in the USHL, but that hasn't stopped him from getting his name into the discussion of top hockey prospects in this year's draft class.
Connor is deceptive and has that game-changing ability that makes him a coveted player for the Youngstown Phantoms. For a lanky 6'1″ forward, he still manages to generate a great deal of power in his legs and has some of the best agility I've seen of any prospect this year. Kyle is known for catching defensemen flat-footed and maneuvering through them like a knife through butter. His stick skills match his high octane speed, making Connor a deadly offensive player. He easily can pull defenders out of position before dishing to one of his open teammates for an odd-man rush. Considered, more of a playmaker, Connor is equally adept at goal scoring by using his slick hands in tight.
The future Michigan Wolverine isn't only an offensive-minded forward. He has committed this season to playing a better all-around game and learned what it takes to be two-way center. As the year progressed, Connor was used more and more on Youngstown's penalty kill revamping it to become one of the best in the USHL. Showing that willingness to excel on both sides of the puck is what makes Kyle Connor one of the best prospects available in this draft.
Where Will He End Up In June:
Kyle Connor does have the talent to be a late top 10 draft pick, but the 12-15 range is probably where he'll end up.
Scout's Honor:
"A smart two-way forward who sets up his linemates with well-timed passes…is mature and intelligent with the puck, and does not rush a play no matter the pressure he is under…has impressive hands and vision, but it is the creativity and hockey sense that make him most dangerous…sees lanes opening and hits his targets consistently…also has a decent one-timer, but is definitely a pass-first guy… plays well away from the puck, constantly moving in order to get open…not overly physical…comes back deep into his own zone to make himself available…needs to add considerable strength, but the potential is there. (December 2014)"
"Highly energetic USHL pivot with slick puck handling ability, Kyle Connor drives the offense for the Youngstown Phantoms. Connor was a standout for Team USA at the 2014 Under-18 Tournament as an underage forward producing at a point-per-game and he's clipping along over that rate in his third season with Youngstown. Named USHL Player of the Week for the week ending January 25th, Connor's four goals and five points in three games added to his impressive season point totals. Connor sits at 19 goals and 48 points through 38 games which ranks him second in USHL scoring. Committed to the University of Michigan next year, Kyle Connor has a bright future as a two-way forward who's capable of becoming a top line player at the next level based on his superb skating skills, strong hockey sense and driven motor."
Brendan Ross – Dobber Sports
"Was part of Team USA's gold medal winning squad at the U18 World Championships last spring, putting up four goals and seven points in seven games last season.  Connor is back with the Phantoms in the USHL this season and has had an excellent start with 18 goals and 44 points in 36 games.  He is committed to the University of Michigan for the 2015-16 season. Connor is a very good skater, with excellent speed.  He has extremely good stickhandling ability, and can make plays while moving at close to top speed.  He is extremely agile, and uses this and his stickhandling ability to terrify defenders off the rush.  Connor is an excellent playmaker who has the vision to spot the open man, and the skill to make passes through tight areas.  He also is developping a good two-way game.  While he's not afraid to give, or take a hit, he must get stronger to be more effective at it, and to be better at protecting the puck down low."
Ben Kerr – Last Word On Sports
Statistics:
Bio/Interview(s)/Links:
International Tournaments:
Kyle Connor has played for Team USA four times and has won two gold medals. In 20 games, he's scored nine goals and eight assists.
ETA:
1-2 years
Risk/Reward Analysis:
Risk: 1/5   Reward: 4.5/5
NHL Potential:
1st line two-way center that plays in all scenarios (ES/PP/PK).
Strengths:
Stickhandling at top speed
Acceleration
Agility
Hockey sense/IQ
Defensive awareness
Positioning
Versatile
Flaws/Aspects He Needs To Work On:
Getting stronger
Fantasy Hockey Potential:
Offensive: 8/10    Defensive: 7/10
NHL Player Comparison:
– NHL comparison: Jonathan Toews
Video(s):
***
THW's The Next Ones prospect profile template design architect: Chris Ralph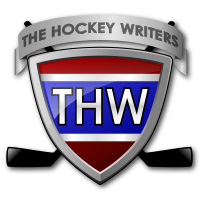 The archives of THW contain over 40,000 posts on all things hockey. We aim to share with you some of the gems we've published over the years.