Johan Hedberg has played in only one playoff game this year, not even a whole game, but his value to the New Jersey Devils goes deeper than that. Whether it was helping New Jersey's Swedish youngsters (Adam Larsson, Jacob Josefson) adapt to the NHL lifestyle or sharing tips and advice with his net-partner Martin Brodeur, Hedberg has been a key cog in his team's magical run to the Stanley Cup Finals. "I'm extremely happy for everybody in this room," said the smiling goalie after the dramatic win eliminating his team's biggest rival. He backstopped the Devils for 27 games this season (17-7-2), helping to keep Brodeur fresh. His resume this season also included four shutouts and the 39-year-old goalie has been a positive influence inside his team's locker room; Hedberg was voted by his teammates as the 'Player's Player' for the second consecutive season.
Disappointed #Rangers lost but good to see ex #Thrashers Moose Hedberg & Ilya Kovalchuk going to #StanleyCup finals. The Moose is Loose!

— Jon Wittenberg (@quickwitt) May 26, 2012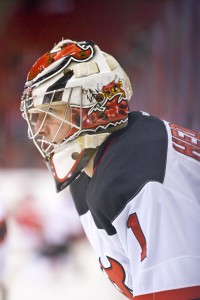 He's such a fan favorite that even while sitting on the bench when he has gloved pucks that were shot or deflected into the bench he heard chants of 'Moooooooose' from the faithful fans at the Rock. Now, for the first time in his 10th NHL season he will be a part of a team that needs just four more wins to win hockey's ultimate prize — the Stanley Cup."It's so exciting to get a chance to be a part of something like this," he said while wiping the sweat from his grinning face. "I'm very blessed and I'm very honored too."
After the chaos of an overtime-clinching series win and the pile on top of GWG scorer Adam Henrique, Hedberg was more than happy to enjoy and talk about a special moment that not every hockey player has a chance to celebrate. "I had so much adrenaline kicking in throughout my body, and to see all of the smiling faces jumping around," said Hedberg wearing a bright red Eastern Conference Champions t-shirt in his locker stall. "It's a phenomenal moment."
Hedberg watched Henrique score the series-clinching goal in double-overtime of Game 7 in Florida in the first round and had an inkling that the 22-year-old rookie might have the lucky touch again before the extra-session began. "I had a good feeling about Henrique for overtime, he had that look in his eyes. I thought he might be the guy; he has ice-water in his veins. He's a great player and he's very composed out there."
Despite the fact his team had a two-goal lead after the first period of Game 6, the New York Rangers tied it before the third period began, setting the stage for someone to be the hero. "Nothing was really said (on the bench) other than to stay with our game plan," said Hedberg. "Just keep doing what we were doing the whole time. We know what has been working for us this whole playoffs. The last two games were their two best games of the playoffs, I thought. Marty played great and gave us a chance to win."
For the Rangers, its wasn't good enough, but for the Devils and their Moose they have been good enough — good enough to be four wins from being 2012 Stanley Cup Champions.
Dan Rice can be reached via Twitter: @DRdiablo321 or via email: drdiablo321@yahoo.com