The Columbus Blue Jackets are on a roll.
After their latest victory, a 7-3 crushing of the Edmonton Oilers, the Blue Jackets improved to 11-1 in their last 12 games. They sit one point in back of the Pittsburgh Penguins for second in the Metropolitan Division.
The win was coach John Tortorella's 127th win as the Blue Jackets' head man. That tied him with Todd Richards for the most wins as head coach in franchise history. He will get his first chance to break the record Thursday night in Calgary.
#CBJ Head Coach John Tortorella picks up win 127 with the club tonight in Edmonton to tie Todd Richards for the most in franchise history.

— CBJ Public Relations (@BlueJacketsPR) March 28, 2018
Tortorella's Tenure
Tortorella's stint with the Blue Jackets started on Oct 21, 2015 after the team endured an 0-7-0 start to the 2015-16 season. News of this hiring didn't sit well with many of the experts and fans.
Many thought the worst was only just beginning. Tortorella hadn't coached since being fired from the Vancouver Canucks along with current Penguins' coach Mike Sullivan in May 2014. Surely we were going to see more of the same with the fiery Torts behind the bench.
When Tortorella first arrived in Columbus, he didn't know all of the players. This was the start of a major work in progress. Would the Blue Jackets ever find their way?
Although Tortorella stabilized the team, they could not recover from 0-7. The Blue Jackets went 34-33-8 to finish off the season. Where was this team going to go next?
This is where the story of Tortorella and the Blue Jackets gets good.
The Blue Jackets at the time of Todd Richards' firing needed a fire lit under them. Richards was a player's coach. But they needed a strong message from someone not afraid to give one. Enter Tortorella.
At the time, Tortorella was the perfect coach to bring accountability to a locker room in need of direction. We were going to find out who responded to a harsher message and who would fold under pressure.
Tortorella wasn't going to put up with an environment of entitlement. Finally, order was being restored in the room. While that's good, there were games to play. The Blue Jackets opened the 2016-17 season losing their first two games.
Was this here we go again? Tortorella said during a postgame press conference that the Blue Jackets "weren't even close," Then game game three against the Chicago Blackhawks. After a big win against a good team, the Blue Jackets took off.
They went on to win a historic 16 games in a row. They easily made the playoffs and enjoyed their best season in franchise history. With 50 wins and 108 points, things were looking up.
That was until the playoffs started.
Five games. That's all it took for the historic season to end at the hands of the Pittsburgh Penguins. The Blue Jackets played an extra 10 days. Tortorella's message to the team after the season was 10 days. They want to play more than 10 days in the playoffs next time. Could they make it to the playoffs in back-to-back seasons for the first time ever?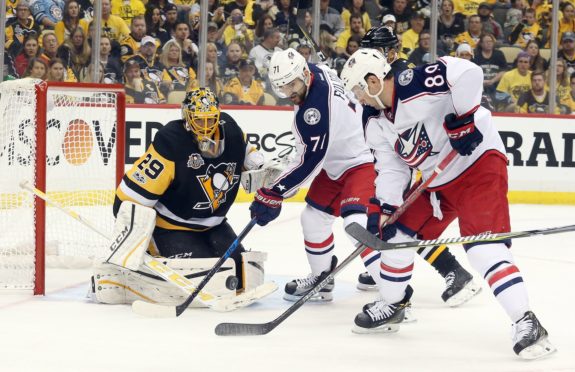 Continuing a Great Start
For a while, it wasn't looking good. The Blue Jackets were on the outside looking in. But thanks to an effective trade deadline and improved play, the Jackets control their own destiny for a playoff spot. They could even earn home-ice advantage in round one if things go right.
How did they keep things together? Tortorella kept a consistent and simple message for his team. "We're going to go out and just play. We're going to go one game at a time and focus on that."
It's working for Tortorella and the Blue Jackets. Tortorella thrives on younger teams when there are more teaching opportunities. Look at his history. He enjoyed success in Tampa Bay with a young team. He had veteran teams in New York and Vancouver where it didn't work as well. Now in Columbus, they are thriving under his leadership.
Tortorella and the Blue Jackets are a perfect match for each other. They were in the beginning. They are now. He's exactly the kind of coach the Blue Jackets need.
He doesn't care about your resume. He cares about winning that night. He will sit players if he thinks it gives them the best chance of winning. Just ask Brandon Dubinsky and Jack Johnson about healthy scratches. Both have sat out games and the Blue Jackets haven't missed a beat. Not every coach is willing to sit their struggling veterans out. This is the kind of environment that promotes competition and growth.
Just ask the players. While they might not always agree with him, they love playing for Tortorella. That's because he is honest with them. The Blue Jackets' locker room has never been healthier than it is now. It's showing in their recent play.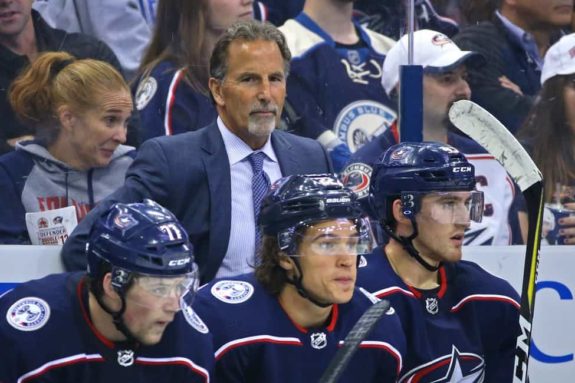 The Perfect Match
So as we approach Tortorella reaching the Blue Jackets' record for wins, we look back and see his hiring was a huge turning point in franchise history. Under his watch, the overall situation has never been better from a talent standpoint.
With all that said, they haven't accomplished anything yet. They still have yet to win a playoff round in franchise history. Thanks to Tortorella, they appear to have a chance to change that in 2018.
Say what you want about Tortorella. He's turned the Blue Jackets into a contender. He's taught a young team how to become better professionals. This situation from beginning to end has been a win-win for everyone involved.
Tortorella and the Blue Jackets: A perfect match at a critical time in the history of the team.