Behind every great hockey team is a solid, consistent goaltender. Lack of a strong backstop is one of the main reasons why the Philadelphia Flyers haven't brought home a Stanley Cup since the 1974-75 season.
If you ask any Flyers fan about goaltending, they're more than likely going to cringe. Over the past 10 years, general managers Bobby Clarke, Paul Holmgren and Ron Hextall have built great offensive and defensive teams, but the one downfall has always been goaltending. There have been experiments with once-great goalies, such as Ilya Bryzgalov, as well as with goalies that needed a change of scenery such as Steve Mason and Petr Mrazek, but nothing has panned out.
Being a master of the trade, Hextall immediately noticed the weakness and began stockpiling a strong group of highly-touted prospect goaltenders. The Flyers goaltending prospect pool is highlighted by Carter Hart, but one name that is often overlooked is Felix Sandström.
The Flyers officially signed 2015 third-round pick to an entry-level deal on Tuesday, Mar. 27.
Projected NHL arrival: 2020-21
NHL Upside: Starting goaltender
Hextall Continues Building the Future
In his tenure as general manager of the Flyers, Hextall has preached patience and focused on a youth movement. While fans and sometimes players don't always agree with this approach, it has proven to be a winning method in the NHL. The Los Angeles Kings and Chicago Blackhawks championship teams are proof. And the man that is now at the helm of the Flyers was a key part of the decision-making team for the Kings during those runs.
Since his hiring, Hextall has shored up the offense with additions such as Oskar Lindblom, Travis Konecny, German Rubtsov, and Nolan Patrick, among others. He has also solidified the defense pool with players like Travis Sanheim and Ivan Provorov. However, the most crucial position that he has taken care of is goaltending, drafting potential starters in Hart, Kirill Ustimenko and of course, Sandström.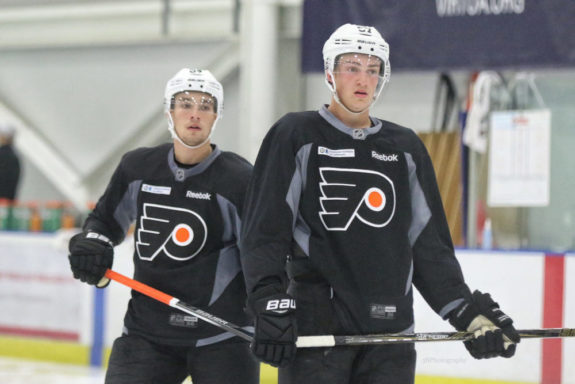 The team is now being built following a plan rather than through aging free agents. The Flyers performance this season is proof that the youth movement is working. A great example is that home-grown players like Patrick, Lindblom and Sanheim are becoming fixtures on the Flyers roster.
The Sandström signing is the latest move for the Flyers' youth movement and it is going to be a good one. Who knows, maybe one day it will be a Hart-Sandström duo that leads the Flyers to the promised land.
Adjusting to the North American Game
Standing in at six-foot-two, Sandström has already solidified himself as a top prospect in his time playing in the Swedish Hockey League (SHL) as well as his showing on the international stage with Sweden. He has played well with both Brynäs IF and HV71 in the SHL. It's not unheard of, but it's rare that a 21-year old gets consistent playing time in the SHL.
On the international stage, Sandström has shined for Sweden. Most recently, he was part of the World Junior Championships in 2016-17 where he played six of seven games and posted a solid 2.17 goals against average (GAA) as well as a .915 save percentage. Although, Sweden finished fourth and failed to earn a medal, it was a great showcase of his skills.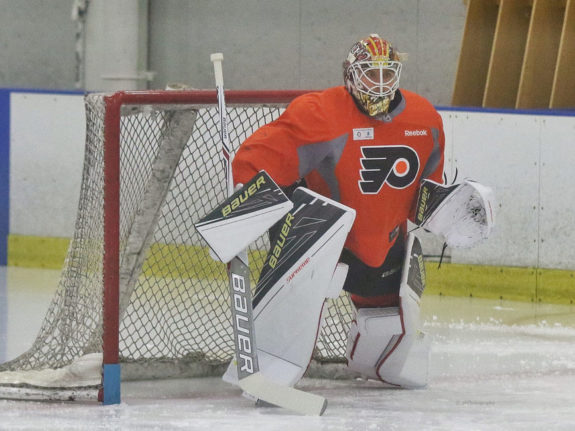 The toughest transition for Sandström is going to be adjusting to the North American-style game. In Sweden, teams tend to be more finesse versus the North American game which is still finesse, just with a bit more grit. He will have to adjust to bigger players trying to get into his kitchen and being tougher in front of the net.
Many European goalies have made the transition and had great careers. The Flyers don't anticipate it being an issue, but will be patient with him by most likely transitioning him through the American Hockey League (AHL) upon his arrival.
The Battle Is On
Getting to the NHL and making it as a full time goaltender is not going to be an easy task. As mentioned above, the Flyers have a few prospect goaltenders that are currently ahead of Sandström. Anthony Stolarz will soon be ready for the transition to the NHL and Alex Lyon has already proven to be a reliable goaltender.
Sandström's biggest competition is going to be Hart. Flyers fans have already touted Hart to be the future starter with the belief that he can be the goalie they've been looking for. Both are different goalies that have played against different competition so the real battle will be on when they both join Lehigh Valley in the AHL.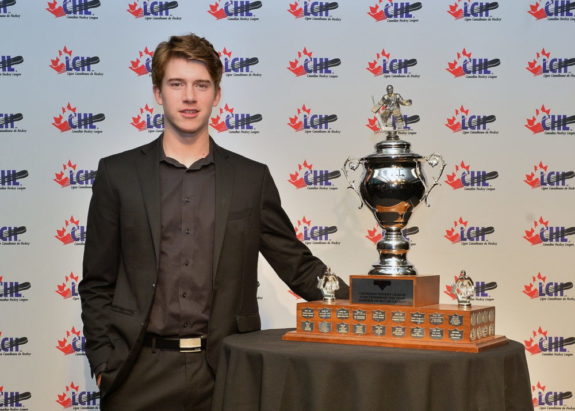 I expect both goaltenders to get an equal opportunity to elevate themselves to the starting role in both Lehigh Valley and with the Flyers. Either way, the future looks good for the Flyers between the pipes.
NHL Upside
My projection for Sandström is that he will be an NHL-caliber goaltender one day and will be a great starter. Expect him to play a couple years in the AHL first to fine-tune his game and really carve out his niche as a goaltender. As previously mentioned, he will be up against some tough organizational competition which could stand in his way of becoming a starter in Philadelphia.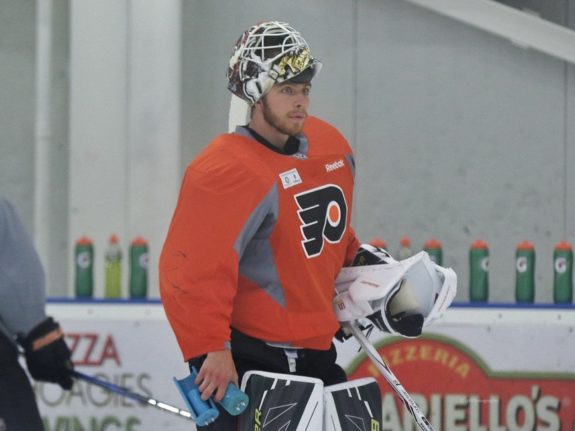 Sandström will have to work on his consistency as well as his positional play in order to be successful. He will also need to work hard and learn from some of the veterans that the Flyers have.
Hextall has done a great job building this team and this signing is further proof. With their development timelines pretty similar, Flyers fans can look forward to watching a very promising duo of Hart and Sandström for years to come.
A writer covering the Philadelphia Flyers and NHL Prospects. Kurtis is also a Guelph Storm season ticket holder. Feel free to contact Kurtis at @kurtiswells92, or by email at kurtiswells@rogers.com.