St. Louis Blues goaltender Jake Allen stole the show Saturday night.
Thanks to 33 saves from Allen, the Blues pushed themselves into a playoff spot after defeating the Blue Jackets 2-1 on Saturday night. Despite controlling most of the game, the Blue Jackets just couldn't solve the goaltender.
Allen's most noticeable save was early on when he stretched out his glove and caught a Markus Nutivaara shot. It kept the score 1-0 at the time.
Because it's worth seeing again. pic.twitter.com/j42PnzxXbi

— NHL (@NHL) March 24, 2018
The Blues made it 2-0 thanks to who else, Vladimir Tarasenko. He got into the slot. By then, it was too late for Sergei Bobrovsky. No goalie was stopping that shot. That's all the Blues could muster against Bobrovsky. That gave the Blue Jackets a chance.
Cam Atkinson finally beat Allen to make it 2-1. The crowd was awake. But that's all the Blue Jackets could muster. They hit a couple posts. They couldn't take advantage of some fortunate bounces off the end boards. It just wasn't meant to happen for them.
Postgame, the Blue Jackets thought they played well but gave credit to the goaltender. He stole that game for the Blues. Ian Cole said it best despite the winning streak. "There are no moral victories this time of year."
The Blue Jackets head out west for their annual trip to western Canada. They're in Edmonton Tuesday, in Calgary Thursday and in Vancouver Saturday. All three of those teams are out of the playoff picture in the Western Conference.
One Big Thing Post-Streak
It was bound to happen sometime. The winning streak would eventually come to an end. It did Saturday night. But life goes on. The Blue Jackets put themselves in position to make the Stanley Cup playoffs.
Along the way, they got great individual performances. Most notably, Bobrovsky was up to his usual tricks. Newcomers Thomas Vanek and Ian Cole added some punch up front and on the back end. Boone Jenner and Cam Atkinson are playing their best hockey of the season.
But if there is anything that the Blue Jackets got from this winning streak that stands out above all else, it's this. They've earned the right to control their own destiny for a playoff position.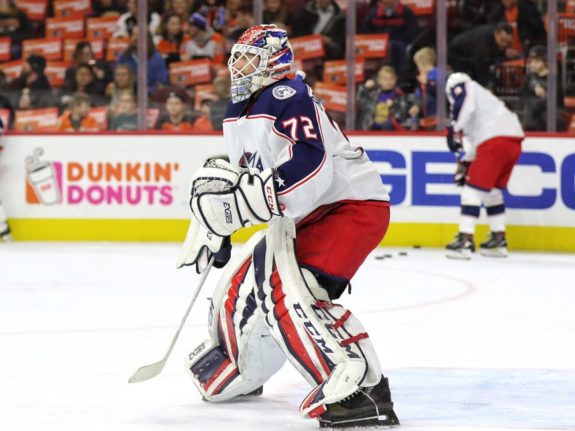 They Control Their Own Destiny
When the streak started, the Blue Jackets were teetering between the second wildcard and out of the playoffs. Their position was far from secure. Thanks to gaining 20 points in their last 11 games, all they have to do is take care of their business and they'll get in the playoffs. It doesn't matter what New Jersey or Florida or anyone else does. That's what a long winning streak does for your playoff chances.
Despite the loss and lack of help from the out of town scoreboard, the Blue Jackets still hold a 90.51% chance of making the playoffs as of Mar 25. If they win out, they're guaranteed a playoff spot.
While having your destiny under your control is an important first step, it's just the beginning. The Blue Jackets must not look past this road trip. Connor McDavid can take you down on his own if you allow him to.
If the Blue Jackets sweep western Canada, they're all but assured a playoff spot. However if they lose these games, they open the door for the Devils and Panthers to catch them.
To a man in the Blue Jackets locker room, they didn't care about the streak itself. Boone Jenner said on Saturday the streak talk is "just a bunch of outside noise." Now we see why. They have work to do. The streak got them to a good place. But now they must finish the deal on their own.
For this team, all that matters is the next game and that's it. Until they get an 'X' next to their name, they'll keep pushing and working. Now they have the steering wheel under their control. Can they drive this thing home? If they do, it'll be the first time in franchise history they'll have made the playoffs in consecutive seasons.
If they make it, great. If not, they'll have nobody to blame but themselves.