Last season, one San Jose Sharks player led the team in goals, points and plus-minus. Another player led the team in assists. And a third player was the third-leading goal scorer.
The players are, respectively, Brent Burns, Joe Thornton and Patrick Marleau.
Last season's Norris Trophy winner, Burns, is tied for ninth on the team goal scoring with 11, a far cry from the 29 goals he netted last season. He has gone from first on the team in plus-minus last season (plus-19) to last on the team this season (minus-15).
Thornton spent most of the first portion of the season playing while concurrently recovering from knee surgery. About the time he finally appeared to be on track, he injured the other knee. Thornton has been out of the lineup since Jan. 23. But he wasn't having a great season before this. His minus-9 rating, second worst on the team, follows a plus-7 the prior season (he's only been a minus player once in the past 15 seasons, which came in another season impacted by injury).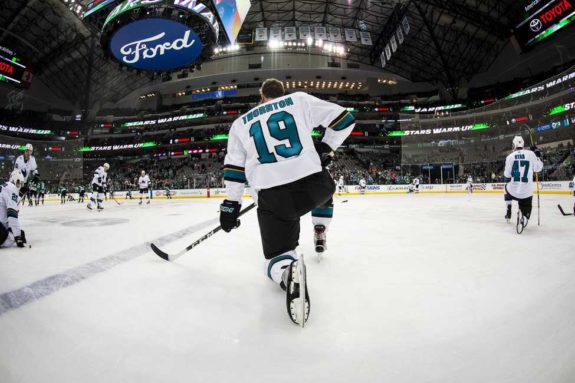 Marleau took his elite goal scoring abilities, 27 last season, to Toronto where he joined the Maple Leafs. He'll come close to matching last season's total – he has 23 goals with eight games left.
Despite the fall-off from one key player, the injuries to another and the departure of a third, the Sharks don't seem to be missing what they should be missing.
The Sharks, One Year Later
The Sharks sit with 95 points in 75 games and are riding a seven game winning streak. Last season at the 75 game mark, the Sharks had 91 points and were on a six game losing streak.
How did the Sharks actually improve despite all that is missing? Simple, the rest of the team is better. A lot better.
Stepping Up
Linemates Tomas Hertl and Logan Couture are having strong seasons, combining for 51 goals this season compared to just 35 last season. Mikkel Boedker has finally come around and is delivering the sorts of results expected of him when he signed his four-year deal. Boedker had only 10 tallies in the prior season. He has eleven since Jan. 15. He's also been plus-7 during this time.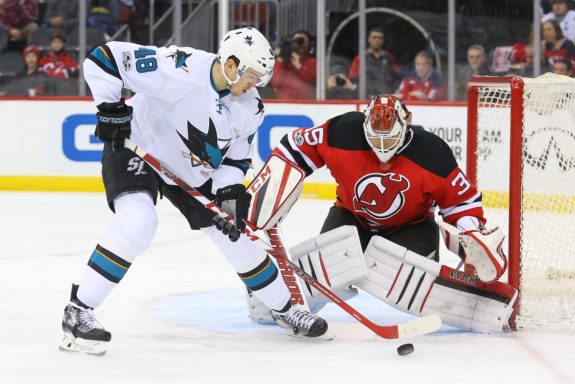 Chris Tierney is making great strides, promoted to third line center this season from fourth line center. His 17 goals and 39 points are a big jump from his 11 goals and 23 points last season. Tierney has been consistently effective. And Barclay Goodrow is having a strong season on the fourth line and the penalty kill. In his 37 minutes of penalty killing ice time, opponents have managed only two goals, while San Jose has scored once – and it was Goodrow who scored.
Another key improvement comes from Timo Meier. The young power forward has arrived. He has 19 goals, but more importantly, now understands the NHL game. What baffled him last season he's figured out this season.
Paul Martin, Burns primary partner last season, has been absent most of this season, much of it injury related (he has played only seven NHL games). Martin was plus-10 last year, fourth best on the team. But in Martin's absence, rookie Joakim Ryan became the Sharks newest left-handed defenseman. Ryan leads the team with a plus-13 rating, averaging nearly 17 minutes a night. He's been among the league's best rookies, even if few people know much about Ryan.
The Recent Additions
It hasn't been one thing which has gotten the Sharks where they are, it's the sum-of-the parts. The team's two newest parts are playing a major role.
Both of San Jose's trade deadline moves have delivered. Acquiring Eric Fehr was about as under-the-radar as it gets. He spent almost the entire season playing in the AHL for the San Diego Gulls. The chance to resurrect his career has been a complete success. He has three goals and is plus-7 in 14 games. He centers the Sharks fourth line which has consistently tilted the ice since Fehr's arrival.
The second acquisition moved the needle. Evander Kane's baggage left a diminished market for his services. General manager Doug Wilson was able to acquire Kane for far less than a talent at his level usually commands. Since he arrived in San Jose, he's been excellent.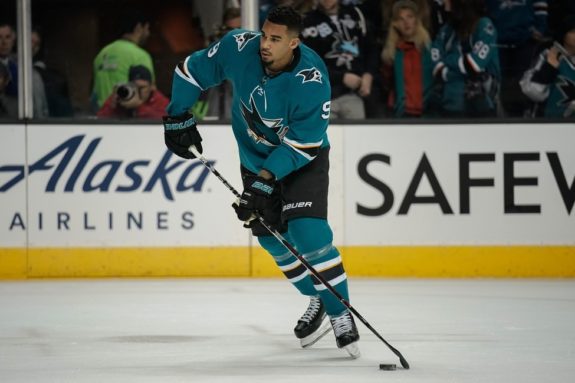 His statistics are somewhat distorted by a four-goal game, but there is no distorting his impact. Linemate Joe Pavelski is plus-8 since Kane's arrival; he was minus-8 before then. Pavelski also has 14 points in 12 games with Kane in the line-up and the Sharks are 10-2-0.
One little noticed change is Pavelski's new role as a set-up man. Pavelski has always been an excellent passer. This was obscured in recent seasons. Playing on Thornton's wing meant Pavelski needed to score goals – which he did. Now back at center, Pavelski looks entirely at home and is highly effective. Simply put, he doesn't need Thornton to be a great player. And yes, while Pavelski can play wing, he belongs at center.
In the 12 games since Kane's arrival, the Sharks have netted five or more goals seven times – all in regulation. They'd only reached five goals in regulation nine times in the 63 games before Kane's arrival. They are averaging 4.0 tallies in regulation in the Kane games, more than a goal per game increase over the prior 63 games. And it hasn't come at the expense of defense, either. San Jose has given up two or fewer goals in eight of the 12 games with an average of 2.3 regulation goals per game across all 12. Which is slightly better than the first 63 games.
The Sharks Finding New Keys
The Sharks are missing important pieces from last season's playoff team. But instead of getting lost, this is a team which has found a new identity. This is a team which has quietly and efficiently transformed. Younger players like Kane, Ryan, Meier and Tierney are overcoming the absence of Marleau, the injuries to Thornton and the downgrade of Burns' play. Veterans like Fehr have helped give the Sharks depth. Rolling four lines has been a slogan for a while, but this season it is more of a reality.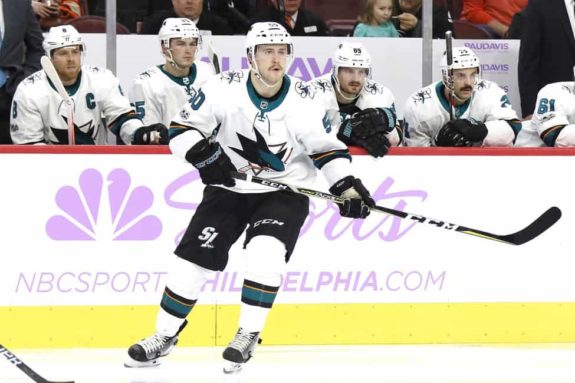 The Sharks are almost set for a playoff appearance. They've shown they can compete with anyone in Pacific Division and anyone in the Western Conference, except perhaps Nashville. A Nashville matchup isn't likely to happen until the Western Conference Final and a lot can occur between now and then.
The Sharks can attribute success to the breadth of contributions from across the roster. No doubt, this is gratifying to Wilson, head coach Peter DeBoer and his staff. They have exceeded expectations for the regular season and seem primed for a strong run in the playoffs. It is playoff results which determine the success of the Sharks season, and there is reason for optimism.
The Sharks were highly dependent on Burns, Thornton and Marleau during the prior six seasons. Not anymore. Recent results say they're as good as ever. Maybe better.
Zeke's Notes
Thornton's absence has been felt the most on the power play, which has diminished in his absence. It's gone from absolutely lethal to below average. If Thornton does return, and there are suggestions he might during the playoffs, he can ease into to play with a small role in 5-on-5 play while taking a primary role on the power play.