In modern hockey, the teams with a strong goalie tandem usually set their team up for better regular season success.
The Anaheim Ducks feature said 1-2 punch in net in John Gibson and newly acquired Jonathan Bernier.
NHL All-Rookie Team goalie Gibson is presumably the starter with Frederik Andersen shipped to the Toronto Maple Leafs in the offseason. Gibson has always been regarded as "the Ducks' future," with his athleticism and his cool, calm and collective demeanor in net, but is unproven and hasn't stayed healthy for a full season at just 22-years-old.
Following the Andersen trade, Ducks' general manager Bob Murray said he wished to find a goalie with experience to play at least 25 games which doesn't instill enough confidence in Gibson shouldering the load.
Enter Bernier.
Related – Ducks Take a Gamble on Jonathan Bernier
Bernier Returns to Southern California
A crowded crease forced Ducks' general manager Bob Murray to ship Frederik Andersen to Toronto for the 30th overall pick (Sam Steel) in June's draft as well as a second-round draft pick in 2017.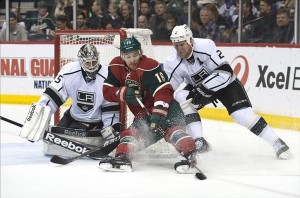 Gibson is heralded as the franchise's future, yet he hasn't proven he can stay healthy. So the Ducks made another trade with the Leafs: Jonathan Bernier in exchange for a conditional 2017 draft pick. Bernier's stint in Toronto didn't go as planned, so he was sent to Anaheim where he will serve as Gibson's backup.
As an unrestricted free agent next summer, Bernier is re-energized to re-establish himself in Southern California where he is familiar with the mindset and lifestyle after backing up the Los Angeles Kings' Jonathan Quick before he was traded to Toronto in 2013.
Bernier Reunites with Randy Carlyle
Bernier is also re-united with a familiar coach in Randy Carlyle. The 28-year-old netminder played his best hockey with Carlyle as bench boss in Toronto when he went 26-19-7 with a .922 save percentage in 2013-14.
Bernier regressed in his last two seasons in the pressure-filled Toronto. Bernier is coming off a disastrous 2015-16 season with a 12-21-3 record and .908 save percentage. However, he won five of his last eight games with a .940 save percentage.
Carlyle has said to reporters he feels Gibson and Bernier are 1A and 1B, "We think that he's a higher-level goaltender than what he's played in his previous experience in Toronto," Carlyle said to the Orange County Register. "Simple as that. He has his fair share of criticism and stress and down cycle in the game.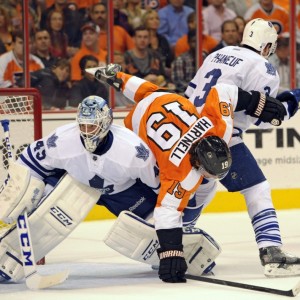 "He's a quality individual. He's an extremely hard worker. He's a talented goaltender. We think that he can provide us with NHL-level goaltending and we think that the fit for him is right, right now, with the young goalie in Gibby."
Bernier Can Push Gibson as Starter
Duck fans already getting a glimpse of how reliable Bernier can be in net.
While preseason doesn't hold as much weight, Bernier, at 6 feet and 185 pounds, has been steady in net shown by Wednesday's 22-save shutout in the Ducks 2-0 win over the San Jose Sharks. He also went the distance in a 25-save performance in Anaheim's 1-0 loss to his former Kings.
The Ducks are hoping Bernier finds his game when he was a King and early on with the Leafs. He has shown signs of that in preseason: his vision through traffic and athleticism.
As Bernier re-discovers his game, he benefits from being sheltered by the NHL's statistically best defense and No.1 penalty kill in 2015-16. The Ducks' defense will stave off the high number of shots Bernier saw in Toronto due to an inadequate Leafs blue line.
If the young Gibson can't perform up to par or fails to stay healthy, Bernier is good enough step in or push for a starting role as he finds his game and consistency. Troubles in Toronto aside, Bernier is a solid No.2 option for the Ducks and is arguably their best offseason move. It certainly helps to play behind an elite Ducks defense.
Related – 'Ducks Player Projections: Jonathan Bernier'
The Bernier trade provides the Ducks with a strong goalie tandem that can compete with any in the league. Despite questions on offense, a healthy and steady Gibson and a reliable Bernier coupled with a loaded defense gives the Ducks a better chance at getting back to the playoffs.