The Calgary Flames had a very good offseason. First, the Flames acquired veteran goaltender Brian Elliott for almost nothing, loaded up on the wing by signing Troy Brouwer, and had a heck of a draft, selecting gritty forward Matthew Tkachuk sixth overall.
Unfortunately, all of this has been overshadowed by the contract negotiations of one key piece to the Flames' roster: Johnny Gaudreau.
Gaudreau is coming off an incredible season, one which saw him lead Calgary with 78 points in just his second full season in the NHL. He also went on to be, arguably, the top player on Team North America in last month's World Cup of Hockey, meaning his value isn't going down anytime soon.
But with Calgary's season starting in just over a week, it's crunch time to sign 'Johnny Hockey' to a new contract. This timeline shows, step by step, what Gaudreau's contract negotiations have looked like: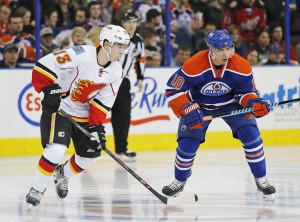 February 18
Contract talks started out very optimistic for Gaudreau in the back half of last season. While speaking to Eric Francis of the Calgary Sun, Gaudreau said he wanted to get his new contract "out of the way," indicating the two sides would come to an agreement.
March 23
Exciting news for Flames fans came forward when it was reported that Gaudreau and Sean Monahan were both eager to stay in Calgary. Gaudreau said he wanted to play with linemate Monahan "for the next 10 years", and also commented on his contract status saying he doesn't "really think about it at all."
April 9
The Flames close their season, with both Gaudreau and Monahan still unsigned.
June 20
Flames' General Manager Brad Treliving said that he was confident that Calgary would be able to sign both players.
July 27
Treliving spoke at a press conference saying there were no updates on the signings of either Gaudreau or Monahan and that he believed Jul. 1 was his most recent encounter with them. This created a bit more worry, seeing as though there still wasn't much development in talks halfway through the offseason.
August 19
Sean Monahan signed a deal worth an annual value of $6.375 million for seven years. Though there was no development with Gaudreau's negotiations, Monahan's deal set the tone for how much to expect Gaudreau's deal to cap at.
September 8
Eric Francis of the Calgary Sun reported that there was about a $1.5 million difference between the two sides. According to Francis, sources said that Gaudreau was asking for around $8 million per season, while the Flames only wanted to pay between $6.375 and $6.75 million. This would mean Gaudreau would be making somewhere in the range of Monahan's and Mark Giordano's annual salaries.
October 2
Gaudreau's agent, Lewis Gross, came stated that there haven't been talks with Flames' management since early September. While speaking to Sportsnet's Elliot Friedman, Gross said that the last talks with management were Sept. 9, and they were told they would be getting a call within two days but never received it.
On the plus side, Gross also said that Gaudreau was happy in Calgary and would not be asking for a trade.
October 4
Darren Dreger appeared on TSN 1050 on Tuesday and gave his input on how much the deal may be worth: "I'm sure Calgary would have preferred to get him under $7 million per year on an extension – a lengthy extension," said Dreger. "I think it's going to be 7-plus."
It does seem like spending over $7 million on Gaudreau is a bit on the pricey side, but it'll depend on how much over $7 million it will be. Dreger also said it sounds like the deal is "going to happen within days."
Now, almost a week later, there's still no deal in place for Gaudreau, and concern is only growing. Reportedly, Flames' GM Brad Trelving flew to New York this week to speak with Gaudreau face-to-face, but the two sides still couldn't reach an agreement. At this point, if a sit-down meeting between Trelving and Gaudreau still can't get a contract hammered out, the chances are only growing more and more likely that Gaudreau won't be starting the season on October 12.