During this year's training camp the Sharks don't have nearly as much to decide as other clubs. Finding story lines can be a challenge with the roster battles limited. However, there are a few under-the-radar questions facing this team. The divvying up of goaltending duties is an interesting topic to ponder.
The question of how much each goaltender should play is often not given enough attention, particularly in San Jose. Too often in the past the Sharks overly relied upon their No. 1 goaltender during the regular season. Whether it were Evgeni Nabokov or Antti Niemi, the Sharks did not play their No. 2 netminder enough to stay sharp, and on the same note didn't get their starter enough rest. Nabokov at the end of his career played far too many games and his playoff performances suffered. Neither Stalock nor Thomas Greiss in years past got enough action despite being capable backups.
This season of course will see Martin Jones as the clear-cut No. 1 netminder. There is no doubt about that as the Sharks gave up a 2016 first-round pick to acquire him. They then signed the restricted free-agent goaltender to a three-year 9 million dollar deal. Jones' cap hit is nearly double that of Stalock's $1.6 million. Even though Jones will see the bulk of the starts, he has yet to be a No. 1 in the NHL and even if he were a more established veteran, there is no reason for any goalie to play 60 or more games.
Play Based on Pay
In actuality, given their contracts being what they are, the Sharks would be wise to split playing time according to the respective cap hits. The math is pretty simple here. Stalock and Jones combine for $4.6 million in salary. Lets say that total equates to 82 games. Jones' 3 million out of 4.6 million total comes out to be 65% of the salary between the pipes. Now 65% of 82 games is 53, which is  actually the perfect amount of starts for a No. 1 netminder. That allows for plenty of rest and plenty of action (29 games) for the backup netminder.
Dividing playing time in this manner makes a whole lot more sense than the 65/17ish or even more lopsided that the Sharks have gone in recent years. If Jones were to suffer an injury, Stalock will likely have more confidence in his game having played more frequently throughout the season. Likewise the team in front of him will have more confidence and familiarity with their backup then had he played only 10-15 games.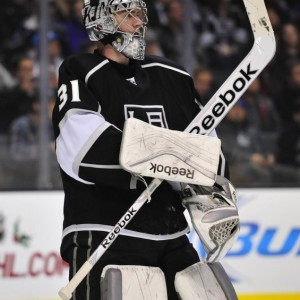 As for Jones, since he has only started 18 and 11 games in his first two years in the league, 53 is still a big increase. No need to fill the 25-year old's plate with anymore responsibility than that at this point in his career. Again, even if he were an established No. 1 netminder, a starter playing around 55 games is the ideal.
Last season, Chicago's No. 1 Corey Crawford started 57 games. And almost all other Cup winning goalies in recent years played under 60 games. Antti Niemi, Chris Osgood, Jean-Sebastian Giguere, Cam Ward, Tim Thomas, Jonathan Quick (2013-14).
Since 2005-06, there have been 10 Stanley Cups awarded and only two Cup winning teams have had their goalie play at a rate of 60 or more out of 82 games. Quick in 2012 and Marc-Andre Fleury in 2009 are the only ones to start 60 games or more. The days of Martin Brodeur playing 70 games and winning the Cup are becoming a thing of the past. Teams can't neglect the backup goalie position anymore.
Andrew has been credentialed to cover the Sharks since 2010 and the 49ers since 2012. He graduated with his BA in Broadcast Electronic Communication Arts in 2013 from San Francisco State University.