For his part, Arizona Coyotes goaltender Mike Smith is ready to turn the page and forget about last year.
At the very least, he wants to push a disastrous first half into the rear-view mirror and never look back. For all practical purposes, Smith self-destructed at the start of last season and eventual lost his starting job to Devan Dubnyk. Coming back after the All-Star game with improved play, Smith regained some of his lost luster. Still, he finished the season with a mark of 14-42-5 and a career-high 3.16 goals against averaged.
Boosted by a creditable final two months of the season, Smith used that production as a spring board in helping Team Canada capture the World Championship this past May. The difference was something like night and day.
Since redeeming his value at Worlds, Smith says he shook rust from parts of his game and now ready to begin anew. That starts Friday when the Coyotes hit the Gila River Arena ice for the first official day of training camp.
"It's been a long summer and a long time since we've all been here," Smith said Thursday during the Coyotes media day. "This is an exciting time for me and for the team. We added size, grit and talent and filled holes where we needed to fill holds."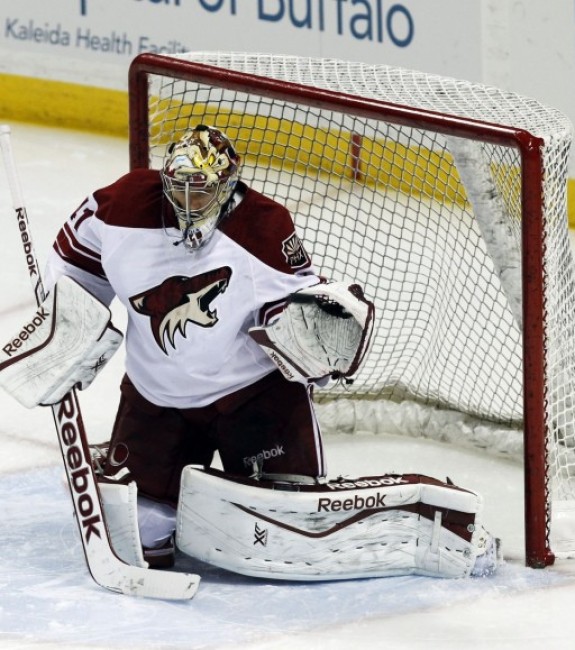 For the Coyotes to pull themselves up from a disastrous 2014-15 season, Smith needs to play at the level where he helped the franchise to its finest hour. That was during the 2012 Stanley Cup playoffs and the team rode Smith's coattails to the Western Conference finals. Despite losing that series to the Los Angeles Kings, the eventual Cup winner, the experience and production boosted Smith into the stratosphere of leading NHL net-minders.
Over the recent years, Smith, conversely, experienced a precipitous fall from grace, but says now he's rejuvenated and ready to roll.
Playing At Worlds
"Coming into Worlds, I played better than earlier in the season, and that gave me confidence to go forward," he said. "Plus, playing with Sidney Crosby, Tyler Seguin, Claude Giroux and guys like that only lifted my confidence. It was great experience for me, and I'm glad I participated."
Between helping elevate Team Canada to the Worlds title and now the commencement of camp, Smith renewed his association with goal-tending coach Jon Elkin. As a teenager, Smith was a student at Eklin's goalie school and two have kept in touch. In an effort to bring Smith back to his elite level of achievement, the Coyotes brought Elkin in as a coach, and now he will be at Smith's side during camp and the season.
"We worked on several things over the summer," Smith acknowledged. "I'm not starting over, but cleaning up a few things from last season. Right now, I'm where I want to be."
Management and fans are anxious to see if Smith has really improved. In another effort to shore a porous defense from last season, general manager Don Maloney brought in a few big bodies to help out around the net. Trading for defenseman Nicklas Grossmann, at 6-4, 230 pounds, and bringing back Zbynek Michalek, at 6-2, 210 pounds, the Coyotes return Connor Murphy (6-4, 215), Michael Stone (6-3, 210) and Klas Dalhbeck (6-3, 210) to help Smith around the net.
With size and volume on the blue line, there's a nagging question to be resolved. Will Smith perform as the player during the early part of last season, or rise to his exceptional level at Worlds.
"We'll see the one from (a few years ago)," coach Dave Tippett promised. "He's trained hard this summer and we know the kind of tournament he had at Worlds. I expect him to have an excellent season."
The Schedule Ahead
On Friday morning, the Coyotes open camp with ice sessions involving three sets of players. Advancing from rookie camp last week are top prospects Max Domi, Dylan Strome, Nick Merkley, Laurent Dauphin, Anthony Duclair, Brendan Perlini, Henrik Samuelsson, Ryan MacInnis and Christian Dvorak.
The Coyotes' first of six pre-season games is slated for this Monday Sept, 21 against the Kings in Bakersfield Cal. They have one pre-season game scheduled for home and that's Friday Oct. 3 against San Jose.
Arizona opens the regular season in the Staples Center against the Kings on Friday Oct. 9 and returns home the next night to commence their home schedule against the Pittsburgh Penguins.