Jordan Staal was pretty candid when I spoke with him Friday September 9 at the Carolina Hurricanes' media availability with the players. When I wrote A "C" for Staal back in July, I felt that it was obvious that he should be the next captain of the 'Canes. After chatting with him a few days ago, I am even more convinced.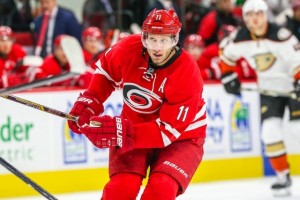 Remember?
I reminded Staal of what I asked him and had written about in the above-linked article:
I remember asking Staal after a particularly disappointing loss at home last season what he felt needed to be done. He responded that veterans like him needed to help the younger players by setting a good example of hard work. To be honest, at that moment I thought that was a stock answer, but as the season progressed, I saw his role as that veteran presence emerge.
When I mentioned our previous conversation he smiled and said that there was both leadership by example and conversations with the younger players. Staal said,
Yeah, it was a little of both. There was the odd talking to, but there's no question when I came in I learned from watching. As long as you show up, be a pro and do the things you need to do that's going to help you win, young guys are going to watch and they're going to learn and hopefully try to follow suit to help the team.
Get the Band Back Together
Staal did show up after that game last season, and his line with Joakim Nordstrom and Andrej Nestrasil was outstanding and set the pace for the 'Canes up until Nestrasil's unfortunate injury. So good was that line together, that both Nestrasil and Nordstrom have indicated they hope they will play together again this season. 'Nesty' said, "Speaking for myself, I wish we could start that way again. I really liked playing on that line. I liked the role that we were kind of like a shut-down line but at the same time we could contribute offensively. That's great, that's added value to the team." Staal expressed a similar sentiment to me when I asked him about getting the line back together. Staal said,
Well yeah, I would hope so. I think we made some good strides last year and we had a lot of fun together. We'll see how it goes. Things change very quickly, but I enjoyed playing with those two guys, I hope they enjoyed playing with me.
Staal added that he hopes they can reestablish what they had going last year with that line.
Playoffs
Staal didn't hesitate to answer when I asked him if he felt any additional pressure to make the playoffs this season, having come so close last season. Staal said,
It's a fine line. There's no question we would love to make the playoffs. We have a group that's a very solid group. It's our goal, there's no question. I think we're going to be right there battling for a spot like a lot of teams. But, I definitely think we have the group to do it. Let's hope we have a great start and we'll go from there.
As always, starting on time will be paramount for the Hurricanes this season if they want to be contending for the playoffs.
Staal Leading With or Without a "C"
The Hurricanes have not yet named a captain. Staal is an obvious choice for many, including myself. I asked him about his leadership role on the team in the absence of his brother Eric Staal, who was the team's captain for a decade. Staal said,
I think there's no question even last year I was one of the leaders of the group. I wouldn't say I'm any more a leader this year than last year. When you lose a guy like Eric, a different player's going to step up and fill that role, so it's a big part of the group. We'll see who takes over the actual captaincy, but down the road I think it's always a group of leaders that are going to push a team.
While there were criticisms of Staal a few years ago, for what seemed to be not living up to his expectations or salary, I see a different player. I see a guy who is confident and ready to lead his team.