When the Dallas Stars signed then-23 year old, undrafted free agent defenceman Jordie Benn to his first NHL contract on July 1, 2011, it was fairly obvious why they did it.
Most defencemen that get signed at that age had previously been signed at some point before, especially ones that come up through the junior ranks in North America, so having it be Benn's first contract could have seemed like a strange signing to some. The fact that he was never drafted and was only coming off of a humble 12 point season as an AHL depth defenceman would have made it seem even stranger.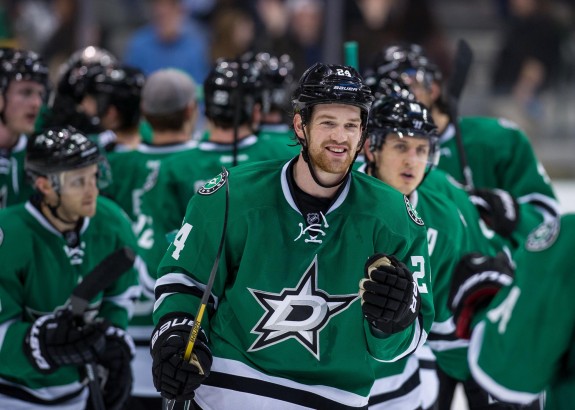 But Benn had something else, something much bigger, going for him: his younger brother, Jamie.
Sometimes, All You Need Is A Chance
At the time Jamie, then 21, was just starting to emerge as one of the NHL's top young power forwards, scoring 56 points in 69 games for Dallas in the 2010-2011 season.[su_pullquote]- While he might not "wow" you with any individual skill, the sum of all parts for Jordie is impressive.[/su_pullquote]
NHL teams signing the close relatives of some of their existing stars is nothing new to the league, and with all due respect to Jordie, the signing was seemingly more about the upstart Jamie having his older brother stay close than it was about what Jordie had accomplished individually as a player.
Fast forward two and a half years and Jamie Benn has continued his maturation into a premier NHL forward, acting as the captain and a key offensive leader for the Stars, while also being honoured by being selected to the Team Canada roster for the 2014 Sochi Olympics.
But if Jordie started his professional career in the shadow of his younger brother, his play as an individual has reached the point where he likely won't be stuck there for very long.
Making The Most Of Your Opportunities
Through 44 games played this season Jordie has emerged as one of the steadiest and most reliable defencemen in Dallas. A recent mainstay on the team's second defensive pairing alongside Brenden Dillon, Benn is logging a healthy average of 18:09 minutes per game, while also leading the Stars' blueline in plus-minus with a solid +9 rating. His nine points (one goal, eight assists) aren't anything too special, but they still rank him fourth in scoring for Dallas' defencemen.
While he won't "wow" you with any individual skill, the sum of all parts for Jordie is impressive, showcasing a strong two-way game by relying on smart positioning and an active stick to defend, while utilizing a hard outlet pass and effective mobility to start transitioning play up the ice.
An ideal model of consistency and hard work, Jordie's path to the NHL has been anything but textbook. After playing out an overage year for his hometown BCHL's Victoria Grizzlies, he spent one forgettable year for the ECHL's Victoria Salmon Kings before signing with the Allen Americans of the lesser-known Central Hockey League. It was there that he had a career revival of sorts, scoring nine goals in nine assists in 45 games before helping the Americans on a long playoff run, a season that was good enough to earn a contract with the AHL's Texas Stars.
From there Jordie tirelessly worked his way up from depth defenceman on the Texas Stars to one of their blueline leaders by only his second year with the club. It was his strong play that year that culminated in a memorable NHL debut on January 2nd, 2012, with Jordie joining his brother Jamie. And, in perfectly fitting fashion, in the same game the elder Benn registered his first NHL point, an assist on a goal that was also assisted by the younger Benn.
While the 2012-2013 lockout wore on, another solid AHL season followed for Jordie. It still remains as the last time he's played in that league. When NHL play resumed in January of 2013 it came as little surprise that he immediately saw his way up to Dallas, where he rewarded the team with a respectable six points in 26 games in the shortened season.
Now an established NHL regular that has fought for and earned his roster spot in Dallas, the sky is now the limit for Jordie Benn. A foundation of improving year after year and exceeding expectations is a great one to build upon, so if Jordie and Jamie find success in Dallas they might do it not just as brothers, but as peers as well.