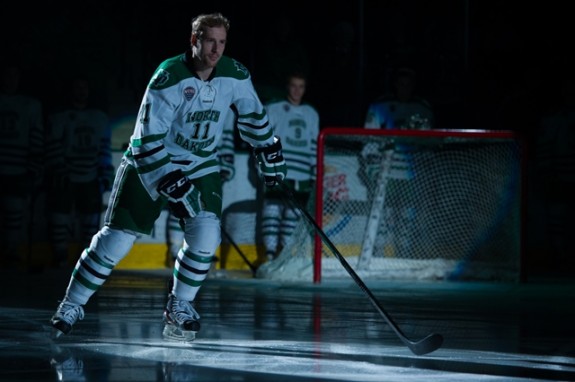 Senior forward Derek Rodwell might not have eye-popping numbers. Actually, Rodwell doesn't score a lot of goals. He's never scored more than five during a season. As a matter of fact, he doesn't have a lot of assists either. If you look at his career numbers at the University of North Dakota, they don't really jump out at you. One could say that they're rather modest. In 110 games the forward from Taber, Alberta has scored (11g-6a—17pts). However, it's not always about points. The senior forward is making an impact on the ice with his play.
"Obviously, today as a society, we look for stats, and look for goals and just points," forward Rocco Grimaldi said. "We think those guys are the studs…to be honest, I think those third and fourth lines guys are just as important, if not more important. To me, I think they're more important. They help me do what I do.  They're giving us momentum, and that gets me excited."
UND's record with Derek Rodwell in the lineup: 9-2. Without Rodwell: 2-5-2.

— Schlossman (@SchlossmanGF) January 13, 2014
When senior forward Derek Rodwell is in the lineup, UND has a record of 9-2-0. When Rodwell is out of the lineup, UND has a losing record of 2-5-2. When asked if there was a correlation between UND's record and Derek Rodwell being in the lineup, head coach Dave Hakstol had this to say.
"I think that is an important statistic," Hakstol said. "I think it tells you a little bit what Derek Rodwell brings to our lineup. It's a bit of a domino effect. I think Derek right now is a real catalyst on his line right now. Those three guys have great chemistry. They're not just energy guys for us anymore.  They're guys that produce good minutes… Derek has been a big part of that."
"Now that you fold that over – towards our whole team – that line has been a catalyst for our team. So, that's something we will continue. Derek's really enjoying his senior year. It was a tough start being out of the lineup. He was a great teammate, that showed up and worked hard every day, and he was ready and prepared when he got his opportunity to go in. Not just to go in – kill some time and give up okay minutes.  He's helped us win and that is why he's staying in the lineup."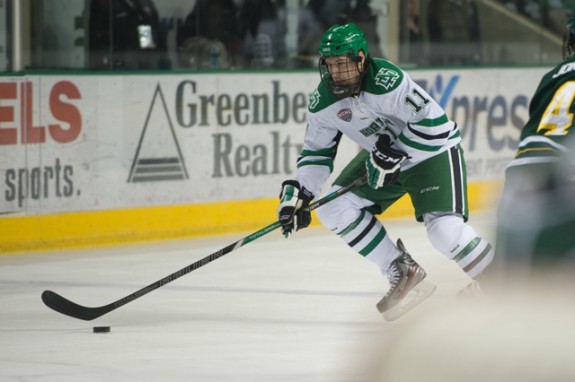 Rodwell's teammates take notice of his on-ice play
When a player is playing well, that rubs off on the other players on the team. These energy players can take a team on their back and carry the team. That's what Rodwell is doing. His play has been a momentum builder for the UND Hockey team and maybe one of the major reasons they're on a seven-game winning streak.
Senior captain Dillon Simpson has taken notice of Derek Rodwell's recent play.
"I think the last couple of weeks, especially this last weekend against C.C., he does a great job kind of bringing that energy for us," Simpson said.  "He's really a catalyst on that line. That line has been a great line for us here."
"For him personally, he had a tough time not being in the lineup. But I think he's done a great job. He's built some confidence, and that line is generating a lot for us, not just being an energy line, but scoring chances for us as well."
When someone's playing well like Rodwell is, that energy rubs off on the other players.
"I think a lot of people feed off of that, especially the young guys" Simpson said. "To see him, brings a lot of energy on the bench. I can tell. He really can switch the momentum in a game for us, I think that's huge. Even in practice, he's been doing a great job coming to the rink every day and working hard. I think a lot of the guys – even the older guys – feed off of that."
On Saturday night, UND's game-winning goal was a result of an aggressive forecheck by Rodwell. The senior forward entered the offensive zone with speed, causing Tiger defenseman Gustav Olofsson to turn over the puck. Forward Rocco Grimaldi picked up the loose puck in front of the Tigers net and shot the puck past Tigers goalie Josh Thorimbert.
"With his foot speed, it's hard to handle him," Grimaldi said. "He's a big guy, but he's extremely fast too, that's a dangerous combination. He's hard to handle. Obviously, on our game-winning goal on Saturday, he's the one that made it happen. So, he was moving his legs, forechecked that guy and he got panicked because Rody (Rodwell) was all over him. He's been doing a good job at that."
A trademark of UND head coach Dave Hakstol's teams is that they're hard to play against. The head coach talks about making the opposition play on their heels while his team is up on their toes. Players like Derek Rodwell take this to heart. His line has been miserable to play against. They have worked hard and taken time and space away from the opposition. With a players like Derek Rodwell, the opposition better get used to playing at a high rate of speed with very little time and space.