Jeremy Roenick's criticism of Patrick Marleau in his new book "modestly" titled 'J.R.: My Life as the Most Outspoken, Fearless, and Hard-Hitting Man in Hockey' was picked up by several writers and editors around the country (David Pollak via The Mercury News, Sean Leahy from Puck Daddy, and Eric He from The Hockey Writers). Only during the lockout news of this magnitude garner so much attention particularly from the Bay Area. Sharks' fans had once again been fired up arguing about Marleau's worthiness to the team. There is plenty of criticism towards Marleau, and while I personally would agree with most of it – why don't we play the role of the devil's advocate – in this case 'Marleau's Advocate' – suppress all the emotions built up from coming up short in the chase for The Stanley Cup, and try to build an argument in favor of #12 of the San Jose Sharks.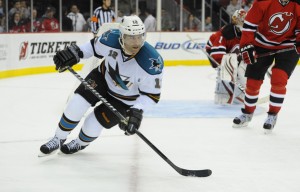 To recap – for those of you who missed this indirect word exchange between Jeremy Roenick and Patrick Marleau – JR recollects of the times he was playing for San Jose in the hope of winning the Stanley Cup and the "displeasure" he had while playing with Marleau. Roenick mentions things like lack of desire to win and lack of effort for a player earning – according to website CapGeek.com – $6.9 million per year over the course of his current contract – two things that the 'Marleau naysayers' rumble about after every premature playoff exit. Let's see whether we can make a case to dismiss some of the criticism surrounding Marleau, namely his poor playoff performances and "no heart" while playing.
Marleau's stats are yet another proof that he does not disappear come playoff time – his point-per-game ratio drops slightly from 0.74 during the regular season to 0.68 during the playoffs. Of course, the haters would say that to justify his pay check and status, he should elevate his performance, or at least match his productivity between the months of October to April. However, it is important to remember that during the playoffs, teams play a different style of hockey – much tighter and defense oriented game. Even the best NHLers of all time have seen their performance in the playoffs drop – Sidney Crosby is 1.4PPG during the regular season and 1.32 during the playoffs; Wayne Gretzky is 1.92 during the regular season and 1.84 during the playoffs. Statistically, Marleau should be off the hook.
Patrick Marleau is not a power forward or a grinder, he is not often seen battling it out in the corners or along the boards the way Roenick did in this career. However, there are plenty of other stars in the league who are not too concerned about doing the dirty work banging into the boards. The coaching staff know that Marleau is there to primarily score goals, then make assists, and only then worry about checking. Grinding is not the dimension of his play – Marleau was named a Lady Byng Trophy finalist in 2007. While it would have been beneficial to have Marleau be great on both ends of the ice – not everyone is a two-way marvel, and that is something everyone has to live with. However, if Marleau is there to primarily be scoring goals, then the amount of points he puts up does not really justify his salary. True, but that is not something to take on with him, but Doug Wilson instead. Put yourself in Marleau's shoes – would you decline a pay rise?
When it comes to Patrick's measure of passion – it is a very arguable topic. He is clearly an introverted and soft-spoken person, or as he calls himself – 'stoic'. Marleau's words in response to his "lack of emotions" via San Jose Mercury News:
"I can see how people would think that because I'm very stoic. I tried to keep it controlled, but believe me, the emotions are running"
The fact that he does not show all his emotions does not mean he cares any less about the game or the way his team is playing. Athletes don't have to beat themselves in the chest, or talk smack to show they care. When they do that, it may look like they care more, but this is not necessarily true. He just keeps his emotions to himself.
If Marleau will win the Stanley Cup, he will join a very exclusive Triple Gold Club having already won gold at the World Cup in 2004, the World Championship in 2003, and the Winter Olympics in 2010. For a person who was never shy to share his thoughts on things, JR's jab at Sharks' 'spring scapegoat' was an easy thing to do and for some fans – a justifiable mention in the book. However, does Marleau really deserve all the criticism, especially looking at his stats, personality, and style of play from a neutral perspective?