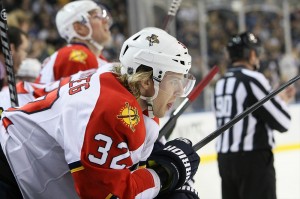 It was November 15th when Kris Versteeg was officially locked out with the rest of the NHL players when he left rehab. Clarification, he finished rehabilitating his hip with the Coral Springs medical staff after having surgery in May.
Back on November 17th, Versteeg came out with the statement that Bill Daly and Gary Bettman were cancers to the league. What went under the radar was a far more concerning statement.
"If [NHL Commissioner Gary Bettman] keeps mucking it up like he's done in past seasons, I'll either go to school or Europe."
Originally published in the Sun Sentinel by Harvey Fialkov was an interview with Versteeg outlining his plans now that he is officially locked out.
When Versteeg met with the team doctor November 12th, he was cleared to play, which won't happen in the NHL but may happen somewhere else. Versteeg went home to Lethbridge, Alberta to spend time with his family and to become an unofficial assistant coach with the University of Lethbridge's hockey team.
Forgoing a post-secondary education at College or University, Versteeg played junior hockey like the majority of NHL players. He played three seasons for the Lethbridge Hurricanes of the WHL, before being drafted by the Boston Bruins 134th overall in 2004. In 2005-06 he played with the Kamloops Blazers and the Red Deer Rebels of the WHL before playing two seasons in the AHL system with the Providence Bruins, Norfolk Admirals, and Rockford IceHogs.
Not much time for an education to take place. The NHL career was definitely his priority, which he eventually achieved with the Chicago Blackhawks, Toronto Maple Leafs, Philadelphia Flyers, and now Florida Panthers.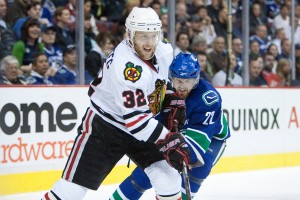 If the season is lost, Versteeg says he will be studying Sociology and business at the University of Lethbridge while spending time there coaching.
One statement that can be taken out of context within the interview was his stance on his free time now that he isn't playing. ""Maybe if I hadn't been rehabbing I'd be going to Europe to play, like a lot of the other players. The team has been struggling, so it's a good opportunity to see the game from the other side. I'm leaving my options open, too. If [NHL Commissioner Gary Bettman] keeps mucking it up like he's done in past seasons, I'll either go to school or Europe."
Could you take this to mean he would forego his NHL career entirely to play in Europe or get a degree? Does his hate for Bettman's performance run deep enough for him to actually move on from the NHL?
Empty threat or not, the weight of a statement like this that goes unclear is a strong message that was buried under other lockout news.
He already mentioned his plans to coach for the University of Lethbridge, and if the lockout persists through the holidays he will continue his education at the University. He is already enrolled, as Fialkov mentioned, so why would he leave his education and unofficial coaching position at the University to play in Europe abandoning his plans?
The statement made by Versteeg may have been read wrong, or not read at all considering he isn't a face of the NHL and plays for a team low on the NHL fan radar. Either way, it says a lot about Versteeg's stance on the job Gary Bettman has done with the league, and may open the door for speculation on the feelings of other players who aren't as outspoken.