Capitals General Manager Brian MacLellan had been searching for a serviceable top-six forward to aid Washington's offense for the 2015-16 season and quite possibly, beyond. After an uneventful day in free agency, the Capitals announced they signed forward Justin Williams to a two-year contract, worth 6.5 million dollars, $3.25 million annually Wednesday night.
Justin Williams agrees to two-year deal with Washington, $3.25 million AAV

— Pierre LeBrun (@PierreVLeBrun) July 2, 2015
"Justin is a proven winner and we feel he will be a great addition to our club," MacLellan said in a statement. "We felt it was important for our team to add someone of his caliber, as a hockey player and as a veteran leader."
Williams has a history of postseason dominance (78 points in 115 games) and is still an outstanding possession forward who plays with an edge, something head coach Barry Trotz will obviously enjoy. Williams could slot in on the Capitals top line with center Nicklas Backstrom and Captain Alex Ovechkin, giving Washington arguably one of the top five first lines in the NHL or boost Washington's second line. Either way he's going to provide offense that Washington desires with the departure of winger Joel Ward.
According to puckalytics.com, Williams posted a 57.1% corsi-for rating during five-on-five play last season and has posted a corsi-for rating above 60% the previous two campaigns. He's one of the best possession forwards in the game today and still has good skating ability and knows how to utilize his physical tools to maximize his value as a player.
Justin Williams WOWYs w/teammates he's skated the most minutes w/since 2007. Stats via @hockeyanalysis pic.twitter.com/yJQ7f3HXeJ

— Paddy Holds (@pfholden) July 2, 2015
Williams, 34, was originally drafted by the Philadelphia Flyers in the first round of the 2000 NHL entry draft and the Caps will be his fourth NHL club in his career. He played for Philadelphia, Carolina, Los Angeles prior to signing in the nation's capital. Williams played the past seven seasons in L.A. and brings with him to D.C. 227 goals and 355 assists in 918 career regular season games and immense success in the postseason. Williams will likely reach the 600 point plateau this season with the Capitals and could reach 1,000 regular season games if he suits up in every regular season matchup.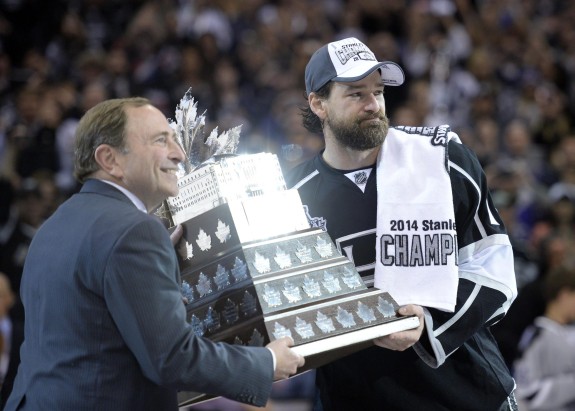 This transaction is far more prudent than a trade for Washington, because it allows them to continue adding to their core along with enabling them to compete for a playoff spot this year. The rest of the Metro Division has recently upgraded including the Pittsburgh Penguins (Phil Kessel) and Columbus Blue Jackets (Brandon Saad) and both the New York Rangers and New York Islanders will be players this fall in what is becoming one of the best divisions in hockey. The Philadelphia Flyers are also building a strong defensive core for the future and could contend for the playoffs again in the next year or so.
The term (two years) on the deal is great for Washington and MacLellan, who hopefully for their sake learned their lesson on long-term deals for aging players after their five-year pact with defenseman Brooks Orpik last summer. This gives the Capitals a strong top six group of forwards, including: Alex Ovechkin, Nicklas Backstrom, Andre Burakovsky, Evgeny Kuznetsov, Marcus Johansson along with Williams. Troy Brouwer could slide down to Washington's third line, centered by Brooks Laich, but these choices don't need to be made immediately.
With the signing on Williams, the Capitals are all but out on Joel Ward, who will likely receive at minimum a three-year contract in free agency after a strong 2014-15 season. Ward has reportedly been looking for a four-year deal this summer.
Washington and MacLellan still have much business to attend to. Restricted free agents Braden Holtby, Evgeny Kuznetsov and Marcus Johansson al still need new deals and UFA forward Eric Fehr is still available in free agency, a player Washington should definitely look to retain on a one or two-year deal for the upcoming campaign.
This is a crucial signing for Washington and a great deal for MacLellan and Caps' management. Williams will bring strong postseason experience which could aid the Capitals in a small way, while adding more scoring punch throughout the lineup.