The Philadelphia Flyers needed to shred some salary and they did just that at the NHL draft. In a bizarre trade with the Arizona Coyotes, the Flyers received the talented, but inconsistent, Sam Gagner in exchange for Nicklas Grossmann and the contract of Chris Pronger.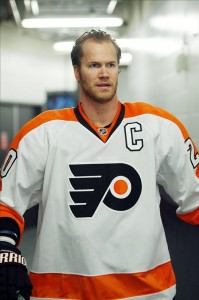 It was a move that many did not fully understand when it was first made, but the Flyers cleared some significant salary off of their cap and obtained a talented center in return.
Getting to Know Sam Gagner
Gagner, a former 6th overall pick, began his last career with the Edmonton Oilers and last season played for the Arizona Coyotes. The 25-year old was signed to a three-year/$14.4 million dollar contract back in 2013-14. However, he will only count for $3.2 million against the Flyers salary cap. It's really an interesting situation, Gagner is undeniably a talented player, as shown by 336 points in 562 career games, but he's been a defensive liability. Throughout his career he is a -105 skater.
The Coyotes eventually soured on his play and their general manager, Don Maloney, actually said that he did not believe Gagner could play center at the NHL level.
At the end of the day we just didn't think he could play center at the National Hockey level for us and we thought by moving his money around – we have a couple of young players that can put in his place that we can grow with and so we decided to move on.
Arizona is not exactly "hockey town USA" and their team is annually one of the worst in the league, so it's a pretty big statement that they did not have faith in Gagner. But Ron Hextall sees things differently and his early work as the Flyers GM has been quite impressive. He shred more than $5 million from their salary cap and alleviated a backup on their blueline, but that was only the beginning. Hextall followed up this great trade with sending Zac Rinaldo to the Boston Bruins for a third-round pick in the 2017 NHL entry draft. He took a former sixth-round pick, who makes $850,000 per year and has 24 career points in 223 games, and flipped him for a third-round draft pick.
If Hextall can keep up this impressive performance, the Flyers are in great hands. Given what he's already accomplished in his brief time in Philadelphia, who are we to doubt that he believes that Gagner can still be productive "in the right situation." That might be the key to Gagner's revitalization, he has to be put in the right situation.
This situation is playing on the wing and not having to bear the burden of playing very solid two-way hockey, as most centers have to do.
We think Sam is a nice fit, once we got him we had the option to buy him out, but he is a very skilled forward. I think in the right situation he can be a productive player for us. He is a player we are going to try and seek whether it was through a trade or free agency or what not.
Gagner is a low-cost, low-risk and very high upside addition to the Flyers. He's not a burden on the salary cap, he can, in theory, play all three forward positions and he can score and score a lot.
There aren't many free agents or draft picks that can come in for $3.2 million and score .60 points per game. When you consider the supporting cast that he will be playing with, it's not hard to imagine that Gagner surpasses 60 points in a career year with the Flyers.
He has always had the pressure of being the focal point while he was with the Oilers and Coyotes and now he does not have that burden.
When he lines up alongside Claude Giroux, Sean Couturier or even Brayden Schenn the Flyers will see a much different player.
Michael Pityk is an analyst who has written for numerous sites since beginning his professional career. He's acted as a credentialed member of the media for the Philadelphia Phillies, Philadelphia Flyers, Pittsburgh Pirates and the Pittsburgh Penguins. His work has been featured in Sports Illustrated, The Sports Journal, MSN, PensLabyrinth, Montreal Hockey Talk, ESPN Pittsburgh, The Hockey Writers, Todays SlapShot and The Bleacher Report. He formerly was the editor of Pens Labyrinth and an analyst for The Sports Journal. Michael presently acts as an NHL Analyst for The Hockey Writers