Rather than chase after a free agent on the first day of free-agent frenzy, general manager Marc Bergevin decided to go the trade route by sending Brandon Prust to the Vancouver Canucks in exchange for Zack Kassian and a 2016 fifth round pick. At first, it was a little disappointing as fans were expecting for Bergevin to trade for a proven top-six forward instead. But the trade is low risk, high reward for Montreal and could pay off immensely for the team.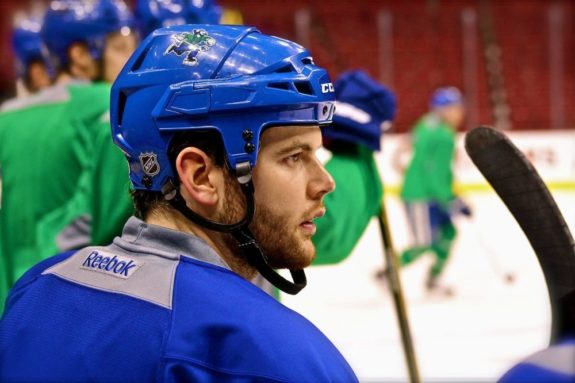 Brandon Prust: On the Downside of his Career
Brandon Prust is a player who willed his way into the NHL by sticking up for his teammates and playing a physical brand of hockey expected of a fourth line player. However, it is a style that has visibly taken its toll on Prust. Now 31-years old, he has had shoulder problems and other various maladies. Prust had a big influence in Montreal's dressing room and, as valuable as that is, the organization needs to be more focused on what's happening on the ice. There are other players in the organization who are more talented than Prust as the likes of Weise, Mitchell and Flynn are faster and more likely to score than Prust on the fourth line.
Prust's old spot on the penalty kill will likely be taken by youngster Jacob de la Rose or by the likes of the aforementioned trio of Weise, Mitchell or Flynn. Montreal shaves off around $750,000 of cap space by moving Prust and gaining Kassian, which will help since Alex Galchenyuk still needs to be re-signed while keeping space open to add a top-six forward.
Third time's the charm for Zack Kassian?
As for Kassian, you can make the argument that he is one of the most frustrating players to watch. He has the rare combination of size and skill, but he just doesn't know how to utilize it properly. He has had countless comparisons to Milan Lucic, but Kassian hasn't come close to realizing his potential. Prust is the better player defensively but Kassian is younger, faster and more skilled than Prust. No doubt head coach Michel Therrien will do his best to make sure Kassian cleans up his defensive game. Kassian has good hands, can skate and play physically but is wildly inconsistent. When Kassian is on his game, he is something to watch as not many players have his skill set. Unfortunately, those moments don't happen often enough.
Kassian will likely get the chance to slot in on one of the second- or third-line right-wing spots, and if Montreal fails to land a top-six right winger, Kassian could easily find himself in one of those positions in the fall. Already on his third NHL team at the age of 24, Kassian is running out of chances to solidify himself as an everyday NHL player. Injuries limited his effectiveness at times last year but did show flashes of brilliance at times of being that coveted power forward teams seek.
Only #Habs player (min 400 TOI at ES) with more than Kassian's 1.08 goals per 60 last season was Pacioretty at 1.18.

— Аrpon Basu (@ArponBasu) July 1, 2015
Low risk, High reward for Montreal
As for the fifth round pick, it is a bonus for Montreal, who has had unearthed Brendan Gallagher and some other promising prospects in that round in the past five years. Trading Prust straight up for the pick was more than fair, but Kassian is the bonus X-factor. If he flops, the team can let him walk. But if he puts it all together, Montreal will have hit a home run.
With Prust being on the downside of his career, it was time for him to move from Montreal as there are better players to take his spot in the lineup. Getting a younger and more skilled player has the potential to make this an excellent deal for the Habs, while the pick is a nice extra piece for the future.