When the Edmonton Oilers selected Kailer Yamamoto 22nd overall in the 2017 NHL Draft, he was not viewed as an NHL-ready prospect.
But after scoring five goals in six exhibition games, Yamamoto surprisingly earned a roster spot, and even played top-line minutes with the reigning Hart and Art Ross Trophy winner Connor McDavid. Listed at 5-foot-8 and 154-pounds, the diminutive, highly skilled right winger became an overnight sensation with the Oilers, but he was ultimately returned to the Spokane Chiefs in the WHL after a nine-game audition where he had no goals and three assists.
Yamamoto started off slowly after rejoining his hometown Chiefs, with just 12 points in his first 13 games. However, he was arguably the best player in the league in the second half of the season, putting up 19 goals and 52 points in the final 27 games of his WHL career (1.92 points per game).
Now, Yamamoto intends on earning a permanent spot with the Oilers.
Yamamoto Determined to Be an Oiler
With invaluable NHL experience under his belt, Yamamoto arrived at Oilers Rookie Camp on Thursday a more confident player than he was a year ago. When asked about his personal goals ahead of camp, Yamamoto told Oilers TV he doesn't envision playing anywhere but Edmonton this season.
"My expectation is always to make the team," said Yamamoto in the Oilers Hall of Fame room at Rogers Place. "I'm really striving to make the team and I hope that happens.
"Every day I'm putting in the work and gaining confidence. Confidence is a really big thing, and if you can gain that I think you will be a lot more consistent."
The Spokane, Washington native was clearly the best player on the ice in the 2018 Billy Moores Cup at Edmonton's Downtown Community Arena this past June, picking up two goals and one assist in a 4-2 Team Messier victory over Team Gretzky. He displayed outstanding vision, passing skills and poise with the puck throughout the game, and set up Oilers' 2018 first-round pick Evan Bouchard for the goal of the night.
The soon-to-be 20-year-old is now one of the older top prospects in the system, and he will be counted on to set a strong example for the players attending their first NHL camp.
"I definitely think I am [a leader at camp]," said Yamamoto. "I think the message you can send to the younger guys is to go out there and try to be your best every day."
Where Should Yamamoto Play?
Just because he earned a longer look in the NHL than anyone expected last year, there is no guarantee that Yamamoto will be in the Oilers opening night lineup on Oct. 6 when they take on the New Jersey Devils.
Still, Oilers vice president of player development Scott Howson told Oilers TV that Yamamoto will be given every opportunity to make the team.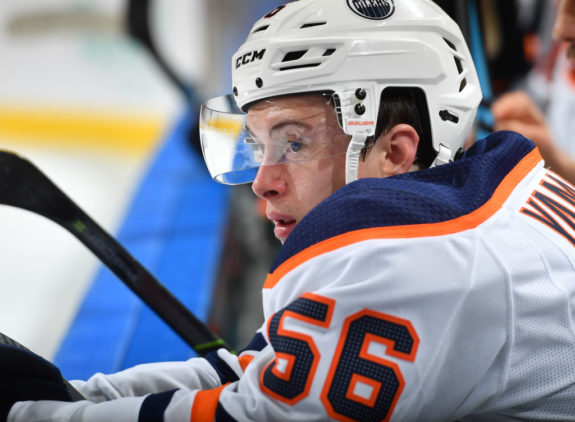 "You earn what you get," said Howson in the Oilers Hall of Fame room at Rogers Place. "This league is trending younger, and younger, and if a young player is ready there will be room for him.
"With a player like Kailer Yamamoto, you can see that there might be room on the wings. It's probably an area where we could use some scoring, but again, if he doesn't make it right away, it doesn't hurt him to go to the AHL for a while either."
Look no further than Leon Draisaitl and Jesse Puljujarvi who each made the Oilers out of training camp at age 18 (although neither played the entire season in the NHL), only to start in the AHL the following year. While I think Yamamoto has the speed and hockey IQ to play with a player of McDavid or Draisaitl's ilk, giving him 30 to 40 games with the Bakersfield Condors in the AHL could be the best thing for his development.
Ty Rattie, who has played just 49 NHL games in five professional seasons, is currently penciled in to play the right side on the first line with McDavid and Ryan Nugent-Hopkins after a solid finish in 2017-18. But if Yamamoto is ready to make the jump, then I think he has a real shot to beat out Rattie for the job.
Overall, it will come down to how Yamamoto performs over the next three weeks. And while I'm not expecting him to score five goals in the pre-season again, he should be creating tons of scoring chances on one of the top two lines.