"Can they do it again? Can they repeat?"
That's a question asked of every championship team, even outside of hockey. The question usually arises once the alcohol is flushed out of every fan's system and the festivities have ended. Eager are we to see if a team that dominated a league can do it again. This time, the question is asked of the University of Minnesota-Duluth.
In college hockey, the last team to win back-to-back national championships was Denver, in 2004-05. There's reason to believe Duluth can do it in 2018-19. After their second national championship in just eight years, the UMD Bulldogs are in a good position to win a third and be back-to-back champions.
The Kids are Alright in Duluth
As it goes in college sports, you only win with the guys who stay there for three or four years; the one-and-done's never do it for you. Regardless of your talent level, if you don't have guys there and bought into the program for a long time, it usually won't work for you. But somehow, Duluth defied the odds and won with a roster that had an average age hovering right around 22 years of age, one of the youngest in the league.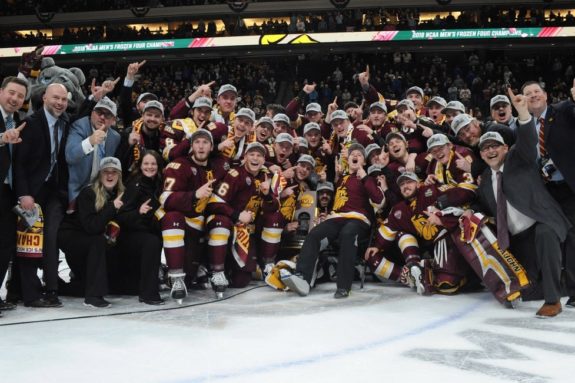 Sixteen out of the 27 players on UMD's roster last season were underclassmen. Ten of those players will still be underclassmen this season — two of which are rising stars Mikey Anderson and Scott Perunovich. And there's not enough that can be said about those two staples on the blue line.
Perunovich was named the College Hockey News Rookie of the Year for his level of play; his points totals were best among freshman defensemen and fourth-best in all class levels.
"With a strong, seeing-eye shot from the point and the ability to generate rebounds for his teammates, Perunovich can pound the puck on net or lead the rush…Perunovich is a crafty passer and boasts the ability to thread the puck through traffic and onto the sticks of his teammates," said THW's own Brett Slawson.
Then there's Mikey Anderson, who cannot be compared to his older brother Joey since he's a phenom all his own. He is continuing to grow into the not talked about enough, but highly important two-way defenseman role. Both him and Perunovich are only getting better with more experience under their belts.
And don't forget about the group of five talented recruits from the USHL headed to Duluth this fall. With the way it's looking, Duluth could change the game in how you build a championship roster.
Weakened Conference
The only two teams that finished higher than Duluth in the NCHC conference standings last year were St. Cloud State and Denver — both of which are on the verge of dangerous declines. DU lost their two leading scorers and head coach, and SCSU lost their head coach and are on the brink of losing key players to graduation.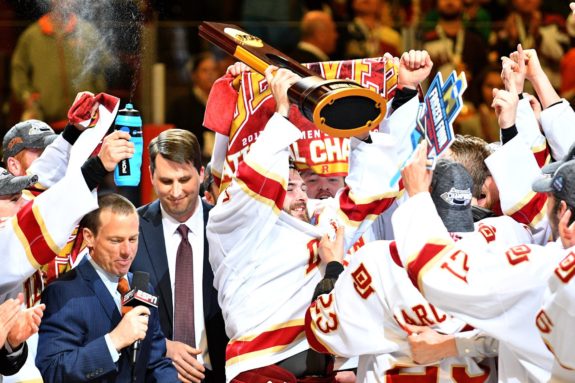 Duluth finished behind both DU and SCSU after an unusually rough season, so their third-place finish is a product of bad luck more than anything else. Injuries and the World Juniors plagued the team, sending them as low as no. 17 in the national USCHO rankings. For over half the season they placed at or worse than no. 10.
Had the Bulldogs been healthy, they would have been, in hindsight, a favorite to finish atop their conference. If they were, when they were healthy, better than any in-conference competition last season, what will stop them from being top dogs when their competition has gotten weaker?
Culture Up North in Duluth
It wasn't that long ago that Minnesota-Duluth had been a runner-up and lost to DU — that happened in the spring of 2017. One calendar year later and they're the champions. A good portion of the roster that fell to Denver has moved on, but the culture? After winning their first two titles in school history in the span of eight years (2011 and 2018), you can bet there's a winning culture there.
And that's likely more important than anything else — it's intangible, and hard to define. It's a means for better recruits, better coaching staff, more money and more resources. Not to say the Bulldogs have another national championship falling in their laps, but they check the most important box when it comes to winning another because of their culture.
Not an Easy Road Ahead
UMD doesn't have their first back-to-back national championship title in the palm of their hand; they don't get it just for showing up. Their greatest competition could be a familiar foe.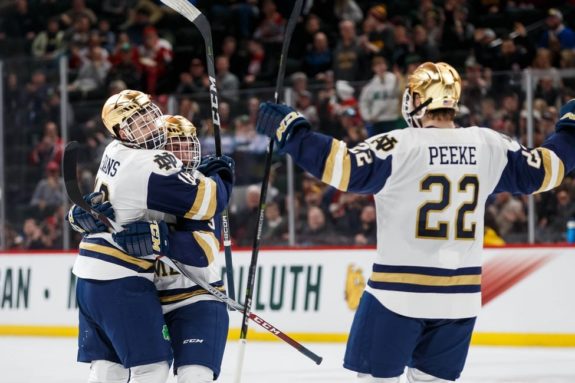 Notre Dame, after a remarkable season with a similarly young roster, has to prove they're not just a fluke. Some of their possession and special teams numbers were uncharacteristic of a young up-and-coming program like the Fighting Irish. If they can have a season that has anywhere near the same success as last season, they're going to be dangerous to UMD come March and April.
But, since the puck drop is still a month away in the college realm, there's no way of saying who Notre Dame is and who they are not. All that can be said is how good UMD was and how good UMD is — that is, of course, if they can get the hockey gods on their side and avoid injury and bad puck luck.
The Bulldogs really could do it again.