Zack Kassian stole the show last time the Vancouver Canucks played the Buffalo Sabres, by registering four points against his old squad. Hard to imagine that Kassian was able to record four points in a single game since he has only tallied five points in 25 games this season.
Success has escaped the other benefactor of that trade as well. After setting career highs in goals and points last season, Cody Hodgson has taken a major step back in his third full season with the Sabres.
Many comparisons been done between the two players since the trade occurred, but this year the comparison is unique because neither player is fulfilling their potential. They aren't even close.
The two promising players are hovering around mediocrity this season, and the numbers don't look pretty for either one of them. Together, Hodgson and Kassian have played a combined 72 games with 4 goals and 8 assists to show for their lacklustre efforts. Hodgson has gone 18 games without a goal, and Kassian hasn't scored since October.
What Happened?
They were both trending in the right direction up until the end of last season. After a slow start to the 2013-14 season, Kassian finished strong with ten points in his last ten games. He led the Canucks in points after the All-Star break, and finished the season leading the team with 1.91 points per 60 minutes at even strength.
It could have been viewed as progression for the 24-year-old right-winger. However earlier this season general manager Jim Benning dismissed it as points during garbage time, since the Canucks were out of playoff contention towards the end of the season.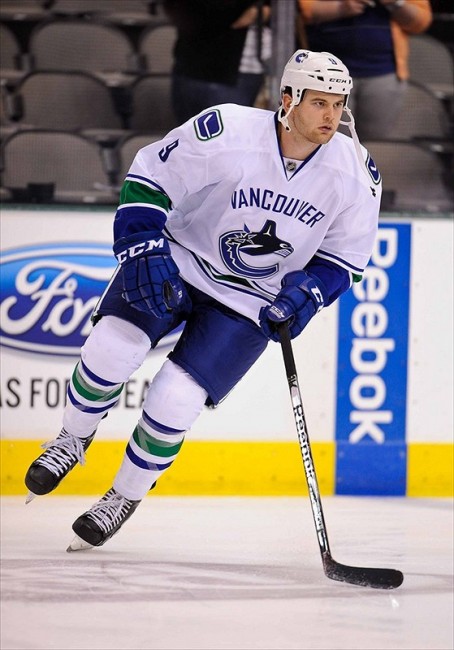 Regardless on your opinion of his late season surge, Kassian hasn't carried over any of that offensive success to the 2014-15 campaign. It has been a bit of a tough year for him due to injury, but he has also watched games from the press box with full health. Kassian claimed he wouldn't relinquish his role after coming back to the line-up, but he was once again a healthy scratch after that announcement.
What is arguably an even bigger surprise is the astounding struggles of Cody Hodgson this season.  He led the Sabres in points last season, after recording 20 goals and surpassing the 40 point mark for the first time in his NHL career. He was averaging over 18 minutes in the last two seasons for Buffalo, but this season his ice time has dropped to an average of 13:38 per game.
He has been knocked out of his top six role and his power play time has diminished on the weakest offensive team in the NHL. The great disappearing act of Cody Hodgson might be one of the biggest surprises of the season.
By the Numbers
It isn't any secret that Cody Hodgson's talents aren't on defence, and his inabilities on the back-check are glaring on a defensively weak Sabres team.
On this goal Hodgson loses the draw, turns the puck over, and doesn't keep up with Frolik on the back-check. The play epitomizes the lack of a defensive structure in his game.
While no forward on the Sabres has any positive possession stats, Hodgson's Corsi has dropped below his career average to 38.1% at five on five. It's about in the middle of the pack for Sabres forwards, but some notable players behind him in that category such as Tyler Ennis and Zemgus Girgensons are at least chipping in offensively to shadow their defensive inabilities.
Kassian has the best Corsi of the Canucks bottom six forwards at 50.2%, suggesting that his line-mates give up more chances without him on the ice. This might not matter much for Kassian though, as he has the worst goals-for percentage on the team.
This statistic outlines the struggles of both players. Kassian's on-ice goals for percentage is at 34.6% at even-strength, which means that almost two-thirds of the goals that Kassian is on the ice for are going in his own net.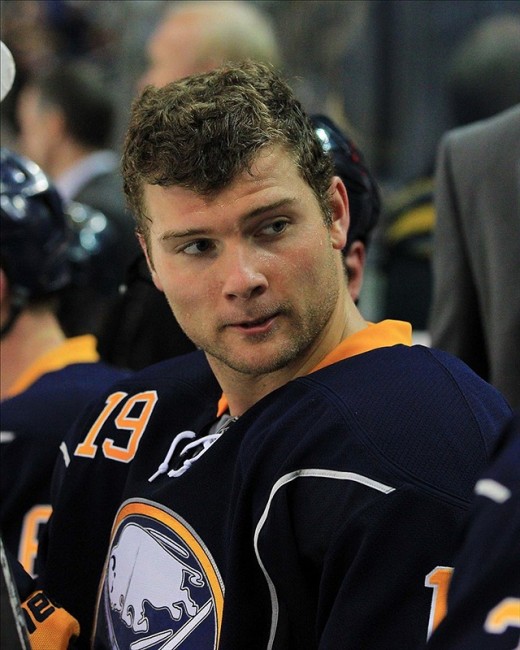 Hodgson has the third worst even-strength goals-for percentage on his team at 29.4%. He is only ahead of depth players Cody McCormick and Patrick Kaleta in that category.
Neither player is known for their defensive prowess, but their struggles are being highlighted by the lack of offensive production. Both of their shooting percentages are at career lows this season which isn't a surprise since they have only scored two goals each.
Both players have a PDO below 100, which might suggest that they have been a bit unlucky. Hodgson has a PDO of 97.4%, while Kassian's sits at 94.4%. They both have very low on-ice shooting percentages, with Kassian having the worst on the Canucks at 6.1% and Hodgson possessing an even lower on-ice shooting percentage of 4.9%.
Of the 612 NHLers to see over 200 min of ice time at 5v5 this season, Zack Kassian is 602nd in PDO

— Rhys Jessop (@Thats_Offside) January 29, 2015
What causes Hodgson to have a higher PDO is his on-ice save percentage, which sits at 92.5%. That is above average on the Buffalo Sabres team. On the other hand Kassian has the worst on-ice save percentage on his team at 88.3%.
Despite Hodgson's poor possession stats, the Sabres netminder's are actually stopping more pucks than usual with him on the ice. Whereas with Kassian, who has reasonable possession stats, is watching the opposition score on more than 11% of their shots at even-strength.
Part of Kassian's struggles aren't solely due to the goaltenders, but are correlated to his poor defensive decisions. During the Canucks last game versus Anaheim he let his man get by him on the 3-0 goal before turning the puck over on the empty net goal that sealed the deal on Tuesday.
Kassian's mistakes are more costly than Hodgson's, but it's clear that both players are struggling on either sides of the puck this season.
Who Would You Rather?
At the time it looked like a trade that could benefit both teams. The Sabres received a centre who they thought could solidify their top six, and the Canucks thought they were getting some sandpaper to add to their roster.
It hasn't completely worked out on either end. Kassian has battled consistency issues until this season, where he has consistently underwhelmed. Hodgson looked like he was easily a top six centre on a weak Buffalo roster until he disappeared into obscurity this season.
Both players have bounced around their respective line-ups which hasn't helped either of them get into a rhythm. Hodgson has moved up and down the line-up, and head coach Ted Nolan has moved him from centre to wing. Kassian has played on every line but the first this season, and it looks like he will play the next game on the fourth line.
Almost three years after the trade it looks like rumours are swirling around both players again. Kassian's name has popped up in trade rumours over the past month, while other are suggesting that maybe Cody Hodgson needs a change of scenery.
Based on their contracts, Kassian is the more attractive option. He is signed for one more year after this season with a $1.75 million cap hit. Hodgson is in the second year of a six-year deal that carries a $4.25 million cap hit. If he continues to regress it wouldn't be a shock to see Hodgson dealt or bought out.
If Hodgson does stick around in Buffalo throughout his contract, he would likely improve under a better Sabres team. For now, $4.25 million is a lot of money to be paying a player who isn't contributing offensively or defensively.
The two players will go head to head once again on Friday. If either player manages to score, they would be bumping goal droughts that have carried on for too long.
The Forgotten Pieces
At the time of the deal, Hodgson had the edge on Kassian in experience, so the trade was suppose to be offset by the addition of Marc-Andre Gragnani. He played a grand total of 14 games for the Canucks before being let go at the end of the season. He played one more NHL game with the Carolina Hurricans the next season. He is currently playing for SC Bern of the Swiss-A Hockey League.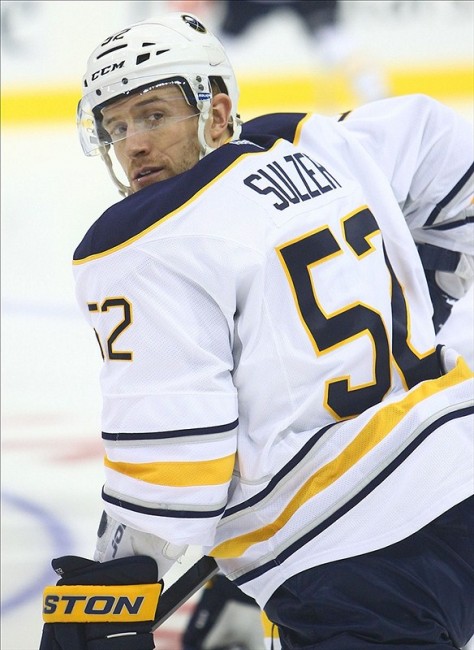 The Canucks sent back depth defenceman Alexander Sulzer to the Buffalo Sabres. He was lighting up the scoresheet for a short time in Buffalo after the trade, registering eight points in 15 games. However he never recaptured that short burst of offensive flair in the following two seasons with the Sabres. He now plays for the Cologne Sharks of the DEL, in his native country of Germany.
KPU Journalism Graduate. Trevor has been writing for The Hockey Writers since October 2014. He has contributed articles related to the Ottawa Senators, Vancouver Canucks, and other issues/stories regarding the game of hockey. Trevor currently lives in White Rock, B.C.