Kassidy Sauve might be the WCHA's best-kept secret.
One year ago, the Ohio State women's team was 6-21-1 in conference play with a win percentage of .232. Fast forward a year and there's no team firmly entrenched at the bottom of the WCHA, creating more competition in the middle of the conference. Yet, Ohio State has a win percentage of .292 with two winnable series remaining in the season.
The season has been a big step forward for a program that hired a new head coach late in the summer and had its leading scorer take a transfer year to move to the Badgers. It wouldn't have been out of left field to see the Buckeyes struggle this year. Because on top of all of that, there was a big question mark with their starting goaltender.
Sauve, a sophomore, sat out all of last season after undergoing double hip surgery. But she bounced right back and has been the Buckeyes biggest difference maker, helping them stay in games against some of the nation's best teams.
All-American Caliber
"I'm saying All-American and I'll keep saying that all year," coach Nadine Muzerall said following a 2-1 shootout win over the then. No. 2-ranked Gophers in January. Sauve made 35 saves to help the team surprise an injury-riddled Gopher team.
"I didn't really know too much of what had happened last year until I took the job and I took the job so late, so I wasn't feeling too optimistic, just because it's double hip surgery and she's so young and she still has three years," said Muzerall, who was previously an assistant coach with the Gophers. "[Sauve has] proved otherwise. She can handle it. She's a warrior."
.@ksauve32 has made 934 saves this season, 139 more than anyone else in @NCAAIceHockey. #GoBucks https://t.co/cOJwoMTRIQ

— Ohio State Women's Hockey (@OhioStateWHKY) February 7, 2017
Her .944 save percentage is tied for third in the nation despite playing in a conference that houses three of the nation's top four teams. It's also worth noting that only three of the top seven goaltenders by save percentage have played more than 16 games. In fact, few goaltenders anywhere have played more minutes than she has. She's played the third most minutes of any goaltender in the nation.
"She's phenomenal," says Muzerall. "She's a kid that had double hip surgery last year and you wouldn't even know it. She's been our quarterback and that's how you play the game, from the back up. She makes a great save and it just gives us a little more energy. I don't know what else to say about her. She's just been awesome."
The magnitude of her achievement shouldn't be understated. She entered college with an impressive track record, including playing two games during Team Canada's U18 World Championship gold medal run in 2014. She had a solid freshman year as well, but with a year away and major surgery behind her, it wasn't a given she would return to the level she was at during her freshman campaign when she put up a .925 save percentage through 20 games. Yet Sauve undoubtedly ranks among the NCAA's best this season even before you note that she's one of the few goaltenders at the top of most statistical rankings that doesn't lace up for a nationally ranked team.
It's not just that she's played more minutes, without taking anything away from others, she has lacked the defensive support that top goaltenders like Wisconsin's Ann-Renee Desbiens (.956 save percentage, 11 shutouts) or St. Lawrence's Grace Harrington (.926 save percentage, seven shutouts) are getting. As the tweet above notes, Sauve has faced 139 more shots than any other goaltender. To put it in perspective, 139 shots is almost eight games worth of saves for Desbiens and the Badgers, based on their average of allowing 17.72 shots against per game.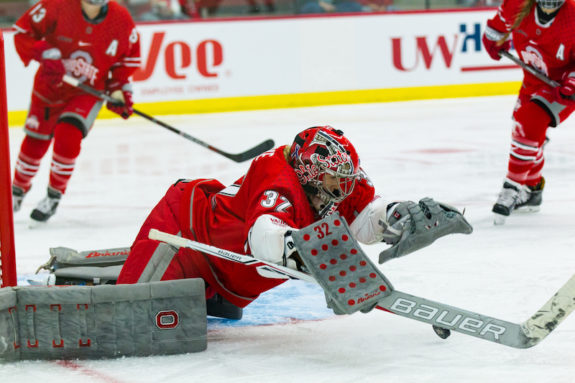 Tournament Time
If you ask any coach in the WCHA, they'll tell you there aren't any easy games in the conference. But as the WCHA approaches the playoffs, it's clear that the Badgers, Gophers and Bulldogs are the class of the conference. They'll be tough outs, and North Dakota, who had been ranked for many weeks this season, can easily play up to that level (and they have at times).
In that next class, a series win from St. Cloud State, Bemidji, Minnesota State or Ohio State could be a massive upset. But of those teams — with tons of respect for what Janine Alder has done in net for St. Cloud, the way Bemidji State has surprised a number of ranked teams and the way Minnesota State has taken a massive step forward — the Buckeyes are best poised to shock the conference.
With a goaltender like Sauve in net, games can be stolen. It's tough to do it repeatedly in a best of three series, but from what we've seen this year, if you're going to gamble on someone, Sauve isn't a bad bet.