Over the summer months, NHL teams like to turn their Twitter over to players, coaches or management. It's a fun way to allow access into the depths of the organization for the team's fans, as well as a great way to garner interest during the summer months. This strategy is truly a win-win situation for everyone involved.
Usually, the questions are borderline gimmicky and the responses just offer a glimpse into the subject's personality. Rarely do fans receive viable information or knowledge about the future of the franchise.
The St. Louis Blues' #AskHitch Q&A, conducted on Tuesday, provided fans with more than just a window into head coach Ken Hitchcock's sense of humor.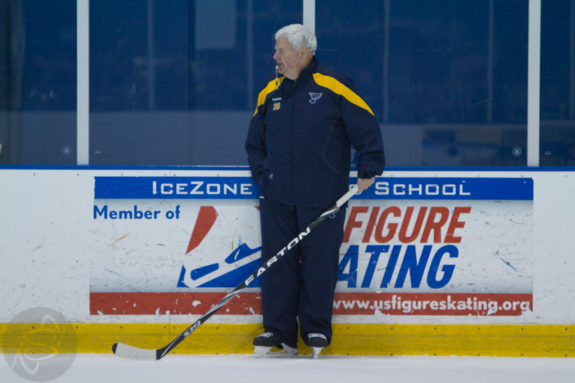 The 2011-12 Jack Adams Award winner was asked about what he was thinking in terms of lines. His answer was Hitchcock-esque, stating that the offense will be seen in pairs, something that has been done for most of his tenure in the Gateway City.
"@nathanabert can you give us any insight into the lines? #AskHitch" Look for pairs. Oshie-Backes, Schwartz-Tarasenko, Steen-Lindstrom

— St. Louis Blues (@StLouisBlues) July 22, 2014
T.J. Oshie and David Backes have been a pair for quite some time (dating back to David Perron's 21-goals-in-57-games season in 2011-12), while Jaden Schwartz and Vladimir Tarasenko became a formidable duo last season (99 combined points). The third pairing was the one that stood out in the response.
Joakim Lindstrom, signed earlier this summer, steps in as a bust-worthy draft pick turned two-time SEL champion and 2014 postseason MVP. After playing in 97 NHL games spanning across five season, he traveled home to his native Sweden and transformed his game into what Columbus thought they were drafting at No. 41 in 2002 — a speedy forward that can provide timely scoring on the bottom-three lines. He is a good friend of Alexander Steen's, equating to the two earning time together.
However, Hitchcock only listed six of the 14 forwards slated to play in St. Louis next year (chalk some of that up to limited space in Twitter responses). He listed Lindstrom with last season's resident sniper, who amassed a team-leading 33 goals. That's high praise for someone who hasn't played in an NHL game since Nov. 23, 2011.
It displays Hitchcock's admiration for Lindstrom. The 30-year-old winger worked his way back into the NHL by showcasing his skill in Sweden's top hockey league.
Hitchcock wasn't done providing a glance into the morrow. Just a few questions later, Hitchcock was asked about recently signed forward Patrik Berglund and where he fits with the team.
"@joekavvy38: Do you see bergs in the middle or on the wing this season? #AskHitch" Both. He's very versatile. Will start with Backes. — St. Louis Blues (@StLouisBlues) July 22, 2014
General manager Doug Armstrong originally slated Berglund, who signed a three-year, $11.1 million contract extension in June, with Oshie and recently departed Vladimir Sobotka on the second or third line. Spoken more as spitballing on what the offensive lines could look like, the statement took place just after the signings of Paul Stastny and Jori Lehtera. However, it appeared that Armstrong saw Berglund in a secondary scoring-type role.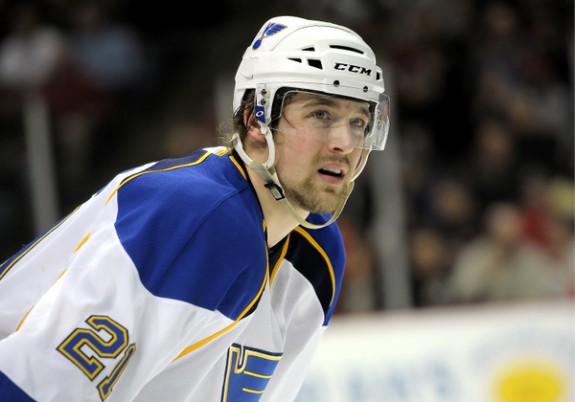 Hitchcock has a different thought process. Playing as the extra wing on the Backes-Oshie pairing, Berglund could be used in a top-six role to provide scoring with a large focus on the defensive side of the game. On offense, Oshie can play the set-up role, Berglund can position himself in shooting areas and Backes can drive to the net. This line also becomes a top-notch shut-down unit that could be utilized against some of the most potent lines in the league.
Potentially, this would place Steen and Lindstrom on a line with Stastny. When training camp hits, the Blues' offense could look something like this:
Steen-Stastny-Lindstrom
Berglund-Backes-Oshie
Schwartz-Lehtera-Tarasenko
Ott-Lapierre-Reaves
Extras: Dmitrij Jaskin, Magnus Paajarvi, Chris Porter
Depending on the dynamic of the opposing team, Jaskin or Paajarvi could be thrown in the mix to add more speed and offensive prowess to the lineup. Either way, the Blues' offense promises to be more intense than the previous year's.
It seems that letting Hitchcock man the team's Twitter for a day was an eye-opening experience for those asking questions. Hitchcock, who said he would be a history teacher if he weren't an NHL coach, should consider opening his own account and supplying these tidbits on a more consistent basis.