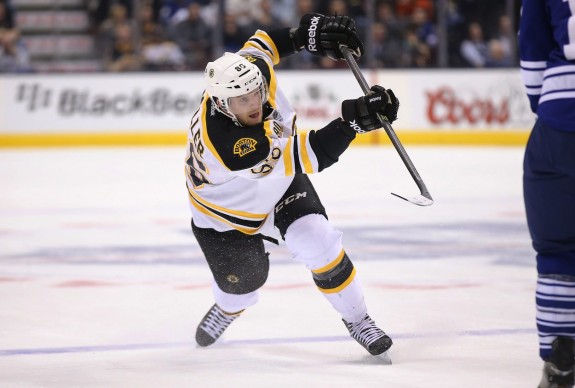 During his short time with the Boston Bruins, defenseman Kevan Miller has been impressive. Having only logged 16 career games, all coming this season, Miller has solidified his spot in the Bruins defensive corps. As a reward for his efforts, the Bruins signed Miller to a two year, one-way contract worth $1.6 million.
At first glance, you might think that the Bruins are investing too much in someone that has only played in 16 career games, but it's really a superb signing for Boston. Miller has been a great surprise for Boston and has been an unsung hero for a Bruins squad that appeared to be struggling finding help on defense.
[Keep Coast to Coast in mind for your Bruins Tickets needs]
With so many Bruins blue liners missing time this season with injuries, Miller has been the go-to guy as a replacement. Julien has used numerous defenseman this season, but Miller appears to be his guy. Miller has been used in late game situations and a key member on the penalty kill unit that is slowly getting out of its slump. Putting Miller on the penalty kill unit and placing him in late game situations only builds up his confidence, and with the new contract, his confidence must be at an all time high, something Miller believes as well, saying,
"When guys are out of the lineup like Seids and Hamilton more responsibility falls on the guys in the lineup and it is obviously a confidence booster."
The Bruins now don't have to go out and acquire a right sided defenseman, or a veteran like Dan Girardi. Miller gives the Bruins some much needed depth on the right side after Dennis Seidenberg went down with a knee injury in December. Outside of Miller, the Bruins only had Johnny Boychuk and Adam McQuaid on the right side, both of whom will be unrestricted free agents after next season. By  not going out an acquiring someone like Girardi, it saves the Bruins some money and they don't have to give up some very talented prospects like Ryan Spooner or Matt Bartkowski, creating an even better future in Boston.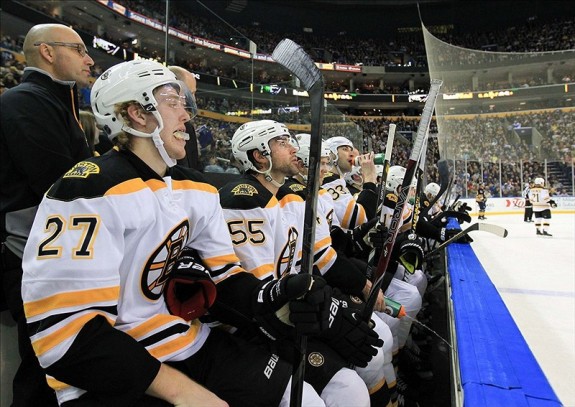 With the Bruins making Miller a priority for the future, it creates a logjam on the defense once Seidenberg comes back next season from his knee injury. The defensive corps would consist of Zdeno Chara, Dougie Hamilton, Torey Krug, Boychuk, McQuaid, Seidenberg, and Kevan Miller, you could even throw Bartkowski in there, too. With only six spots, who would be the odd man out? It's certainly not going to be Miller, so, you would have to think it would come down between Hamilton and McQuaid. Hamilton is still young and they probably wouldn't be too keen on dealing a high first round pick again like they did with Tyler Seguin. So, it appears as if Miller's emergence may have spelled the end of Adam McQuaid in Boston.
Miller has also stepped up physically as well. Miller is a big bodied defenseman standing in at 6'2″, 210 pounds, minuscule compared to  Chara, but he never really stood up physically to any players until Monday. Miller laid out a heavy hit on Los Angeles Kings captain Dustin Brown as the Kings were attacking late in the third.
That hit helped ensure a much needed victory against a very good Kings squad, but that wasn't all he did that game. Miller recorded a game high five hits and it really seems as if he is coming into his own
The Bruins are getting Miller for only $860,000 a season and at that price, the Bruins are really getting a young defenseman who knows Claude Julien's system at a bargain price. If Miller turns into a top defenseman over the next two years (or even a solid one at that), Peter Chiarelli would have made yet another great deal to ensure the future of the Boston Bruins. If Miller turns into a bust, then the Bruins would have only invested a small amount of money in him and there wouldn't be much harm done.
While it may seem like a minor contract signing in the grand scheme of things, but it shows that the future of the Boston Bruins is very bright.
What do you think of Kevan Miller's new contract? Comment below or send me a Tweet, @MarkWGraham