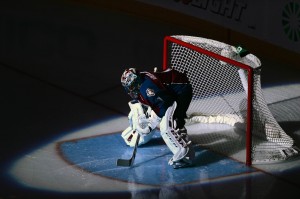 Season after season, Semyon Varlamov looked like the type of goalie that could take his club to the Stanley Cup Playoffs. The only problem he had was staying consistent, and maintaining a great record. It always helps when you have a good team in front of you and a coach who you can trust. Just a few things that always kept Varlamov balanced on the line of great goaltender, and unbelievable goaltender.
Varly was drafted 23rd overall in 2006 by the Washington Capitals where he bounced back and forth between the Hershey Bears and the Caps. In 2011, Washington traded him to the Avalanche for a first round pick in the 2012 NHL Entry Draft, and a second pick in either 2012 or 2013. He was unfortunately subjected to the liking of Joe Sacco and his so-called coaching methods. No one on the team seemed to follow what Sacco was presenting, and it led to a string of very unsuccessful seasons. The past is the past though, and the whole point of this article is to discuss Varlamov's success this season.
After finishing last in the Western Conference last season, the Avalanche have seemed to pick up the slack. Varly has been absolutely phenomenal in net, and there is no denying the fact that he is one of the most solid goalies in the league. Being on the watch list for the Vezina Trophy says it all. When your head coach is a hall of fame goaltender, and one of the best all-time, you probably learn a thing or two. I'm sure he's still learning everyday. Not to mention the fact that coach Roy has brought in his guru, Francois Allaire to help out. Varly is ranked 3rd in the league with 24 wins. He may only have one shutout, but if you were to watch his performances night in and night out, you would see why he is so good. His vision is impressive, and his speed is hard to beat. He's robbed goals from some of the most pure goal scorers in the league, and stands on his head almost every game. He gives his teammates a chance to win, and that speaks more volumes than some may think. His save percentage of .927% has him ranked 5th, and he has only allowed 90 goals.
As the season moves on, we get closer to the Olympics, where Semyon Varlamov has earned his spot on Russia's roster in Sochi. A very well deserved spot for a guy who wants to prove all he is worth. Watch him closely in February. I doubt you'll be disappointed. 
Check out our partners at TiqIQ for the best deals on Colorado Avalanche tickets for all 2013-14 games.
Jeff Richardson
@DecimateDecibel