Following a Game Two shutout and at home, the Los Angeles Kings came out once again with a lot of energy in Game Three.  They did actually allow the Phoenix Coyotes to take the lead for all of two minutes and seven seconds.  Are they not merciful?  Jonathan Quick and the Kings penalty kill was superb once again and they now find themselves just one win away from the Stanley Cup Final.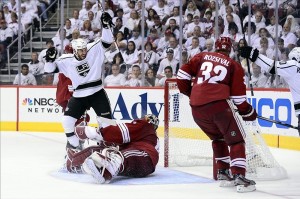 Although the Coyotes would out-shoot the Kings in the first, they would only register 19 shots on the evening.
Early in the second, Phoenix was finally able to get one past Quick.  On a play where Jeff Carter got turned around on a miscommunication, Keith Yandle found a wide open seam to feed Daymond Langkow for his first of the playoffs.  It was the Coyotes first lead of the series and the first time since Game One of the St. Louis series, that Los Angeles had trailed in a game.
As mentioned though, it wouldn't stand up long.  Justin Williams and Anze Kopitar were able to jar the puck loose from the defensive boards.  Then on a give and go of sorts, Kopitar gave the puck back to to Dustin Brown and took of racing down the ice.  Brown hit Kopitar on the fly and Anze did the rest with a pretty move on Mike Smith, besting him with the backhand.  It was goal number five of the playoffs for Kopitar and his sixth consecutive contest with a point.
For Los Angeles early in the third, it was the aptly named Dwight King wreaking havoc on the Coyotes once again.  The grinding play of Jarrett Stoll and Trevor Lewis, helped setup King and on a delayed penalty, the rookie cashed in.  For King, it was his third consecutive game with a goal this series.  Overall, King leads all rookies in playoff scoring, with five goals.
Hence, the Kings took over and continued to dominate in the third, with a 2-1 victory.  Los Angeles takes a commanding 3-0 series lead over Phoenix and improves to 11-1 this post-season.
Game Four is Sunday in Los Angeles.
Three Stars: 1.) Dwight King (1-0-1), 2.) Anze Kopitar (1-0-1), 3.) Daymond Langkow (1-0-1).