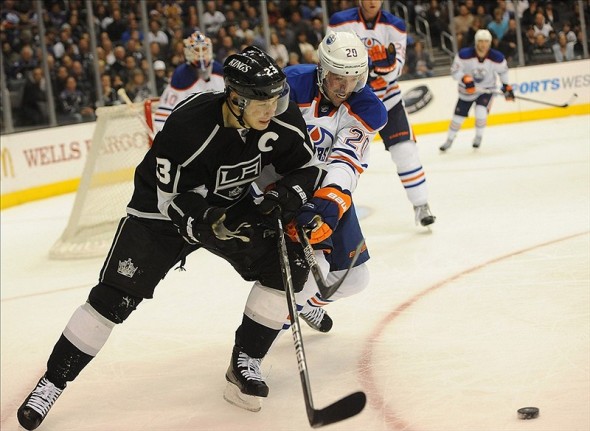 As the games click by and the conference finals draw to its mid-point, a select few players have solidified themselves as true Conn Smythe Trophy candidates.  The following five players are favorites at this point in the playoffs.
Dustin Brown – Los Angeles Kings
He has always been thought of as a key veteran player for the Kings, but this playoff year he has really stepped up offensively.  He is currently second in points (14) and goals with seven.  He is also ranked fifth overall with seven assists.  The most impressive stat this playoff season is his plus/minus which is +11.  This leads the playoffs.  He has been a physical presence on the ice, and has also done an amazing job of drawing penalties.  He has held his composure very well, and just grinds away on a nightly basis.
Henrik Lundqvist – New York Rangers
Henrik has been the king in net for many years in New York.  The playoff success of the Rangers has been largely the result of the play of Lundqvist in net. His goals against average of 1.66 is second in the NHL playoffs.  The aspect of Lundqvist's game that makes him so good is his timely saves.  He finds away to make the key save that enables the Rangers to win games.  Lundqvist has won nine games these playoffs, and has recorded two shutouts along the way.  Henrik continues to be the quiet rock in net, that takes control of games.  He controls his rebounds very well.
Jonathan Quick – Los Angeles Kings
This guy did it all in the regular season, and he is doing it again in the playoffs.  He leads almost every category for goaltenders in the playoffs.  His goals against average is an impressive 1.45, and his save percentage is an heard of .951.   He has quietly put the Kings on his back, and they are rolling through the playoffs.  Quick's side to side movement, playing the angles, and controlling rebounds has all been excellent.  He is 10-1 in the playoffs, with two shutouts.  These are unheard of playoff numbers.  Quick who is still considered a young NHL goalie has shown strong composure, and leadership in the playoffs.  The team believes in him, and lets face it they don't have to score too many goals to win with Quick's crazy good numbers.
Ilya Kovalchuk – New Jersey Devils
The play of Kovalchuk in the playoffs has surprised many, including myself.  He has always been known as a one way player, that lacks team leadership.  He has been anything but this of late.  The playoffs started out a little rocky for Kovalchuk, but as the games have clicked by his play has continued to improve.  He is currently tied for third in points with thirteen.  He has scored some critical goals for the Devils including the key game two first goal.  The biggest surprise has been his defensive play in the playoffs.  He is being responsible defensively, and even earned final minute ice time in game two.  This did not happen early in the playoffs, especially in a one goal game.  His points have continued to improve as the playoffs have went on.  It will be interesting to see if this trend continues, and how far he can lead the Devils.
Mike Smith – Phoenix Coyotes
He has been the Coyotes in the playoffs.  Smith's playoff performance is the reason why the Coyotes are where they are in the playoffs.  With a save percentage of .943, and a 2.02 goals against average Smith has single handedly stole games for the Coyotes.  He has shown leadership, and fire.  His slash in Brown in game two showed his emotion, and attitude.  His two shutouts have helped Phoenix advance to the conference finals.  His style has featured some very dramatic saves, and his composure has solidified him as a quality NHL goaltender.  With the Coyotes down 2-0 to the Kings, Smith must continue his stellar play for the Coyotes to move on.
The Conn Smythe Trophy favorite at this point is: Jonathan Quick – Los Angeles Kings
*All statistics based on all games played as of 5/17