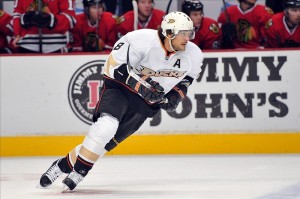 You know that canker sore you just can't stop probing with your tongue, even though it hurts like hell and you detest it with every fiber of your being? For Kings fans, that's an apt metaphor for the Anaheim Ducks.
Oh, it's personal, all right. We just don't like anything about them, from the silly "Mighty Ducks" logo in the early years though today's bird crap-colored mallard-footed swoop. What marketing genius dreamed up jersey colors that include the shades of rotten fruit and jack-o'-lantern, for God's sake? The moniker Kings represents majesty, royalty, a patriarchal succession line. Ducks wallow in mud, eat vermin for breakfast, befoul the environment and are a single species above housefly on nature's food chain.
Teemu Selanne just won't die. Ryan Getzlaf should be punched daily. Bobby Ryan and Corey Perry sound like two-thirds of a crappy 90s boy band. Bruce Boudreau bears a striking resemblance to the Pillsbury Doughboy. You guessed it, we don't much like their players, either — or their coach.
And yet, we know it would have been quite a series. One hell of a series for that matter, one for the books. Consider the following:
The teams are evenly matched
Anaheim skated out of the gate incredibly quickly and on March 20th stood at a robust 22-3-4, twelve points ahead of the Kings, who had a solid start of their own at 17-10-2. However, including the playoffs, the Kings have since posted an impressive 14-7-4 record, whereas the Ducks went a pedestrian 11-10-4 through their elimination game. Anaheim still won the division by seven points, but momentum clearly favored Los Angeles over the past seven weeks.
The Ducks finished 8th in the NHL in goals scored at 2.79 per game, the Kings 10th (2.73). As for goals against, they neatly reversed positions, with Los Angeles surrendering just 2.38 per game (7th) and Anaheim 2.40 (tied for 9th). Both finished in the top ten in power play efficiency, the top thirteen in killing penalties, and in the upper-half of the league in fewest PIMs altogether. Sure, the Kings throw the body around with far more vigor and are more likely to win faceoffs, but the Quacks blocked 134 more shots than Los Angeles did during the regular season — almost three more per game.
Head-to-head, the teams each won two games and tallied fourteen goals. You can't get much more even than that.
Both teams are loaded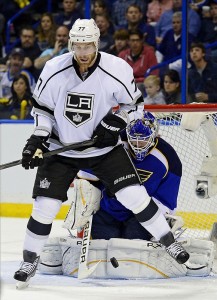 For Los Angeles, Jeff Carter led the team with 26 tallies, with Dustin Brown (18), Mike Richards (12), Justin Williams (11) and Anze Kopitar (10) as their top scoring threats. Rookie Jake Muzzin (7) surprisingly led the defense in goals, with Drew Doughty (6) and Slava Voynov (6) not far behind. Jonathan Quick had a below-par regular season, but still managed to post an 18-13-4 record and a 2.45/.902 stat line.
Ryan Getzlaf and Corey Perry led Anaheim with 15 goals apiece, with Andrew Cogliano (13), Teemu Selanne (12), Bobby Ryan (11) and Kyle Palmieri (10) rounding out a balanced attack. Sheldon Souray (7) and Francois Beauchemin (6) are the main threats from the blue line, and Jonas Hiller (15-6-4, 2.36, .913) is the main man between the pipes.
The teams have never played one another in the playoffs
It would be a first, a freeway series between the two southern California franchises. Kings fans were understandably rankled when the Ducks won the Cup in 2006-07, just thirteenth seasons after being hatched in 1993. Sweet redemption occurred last year as Los Angeles rampaged their way to their first Cup. No, we didn't beat Anaheim, but it still felt like we'd consumed a tasty bowl of Ducks soup in the process.
Alas, during their entire co-existence, the teams have never met one another in the postseason. For the most part, when Anaheim has been good, the Kings have been terrible, and vice-versa. Only during the past few years have both risen to relevancy at the same time. Had the Ducks managed to beat the equally-detestable Red Wings, the string would have broken and L.A. would have faced Anaheim for the first time ever in the playoffs.
Neither team is the Red Menace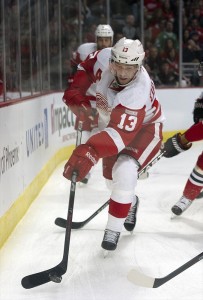 As much as we despise the Ducks, at least the novelty would have made things compelling. Seeing the Red Wings advance in the playoffs is about as exciting as watching ice freeze. Sure, it's been glorious lately, witnessing their repeated failures to advance beyond the second round for three straight seasons. Last year's 4-1 opening-round shellacking at the hands of the Nashville Predators was particularly delicious.
And yet, it's still the frickin' Evil Empire, a team that always seems to possess some of the top Russian snipers in the league despite their perennially-low draft positions. The good news is that they now move on to face the President's Cup-winning Blackhawks. Good luck there, Detroit — you're going to need it.
The Kings are moving on
Even though Anaheim couldn't get it done, for Kings fans it only really matters that we could. In many ways, St. Louis out-Kinged the Kings, winning the shot and faceoff battles and essentially matching them hit-for-hit. San Jose isn't built for the physical game and will need to resort to puck possession and a lethal power play if they hope to advance. Similarly, as it would seem, to how Anaheim would have needed to get it done.
And yet they won't. As much as we dislike them, it's a shame the Ducks couldn't put their best webbed-foot forward this year. They may irritate the hell out of us and we may delight in their demise, but let's be honest: a Kings/Ducks playoff series would have been fowl.