The second round of the draft has been fruitful the Los Angeles Kings ever since Dean Lombardi and his scouting staff have taken over.
Of the 11 second-round selections Lombardi and company has made since 2006, five of them have seen playing time in the NHL. Some have been released, some are still in development and some of them have their names on the Stanley Cup.
The Trend of Finding Second-Round Stunners
In 2007, the Kings had two second round picks. After Oscar Moller was taken 52nd overall with the first of the two second round choices, Lombardi would begin pulling great players in the second round, consecutively and year-after-year. With the 61st overall pick, Lombardi drafted Wayne Simmonds.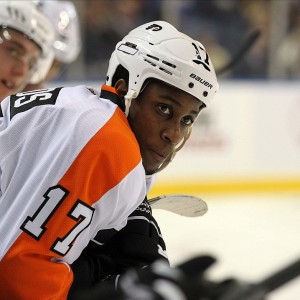 Simmonds is a great two-way player that has flourished as a multidimensional offensive producer as well. In the three years Simmonds spent with the Kings, fans saw how special Simmonds was. He was fast along the boards, physical in front of the net, and could play in all situations. Simmonds carried his skill-set to the Philadelphia Flyers along with Brayden Schenn and a 2012 second round draft pick in a trade that would send Mike Richards (along with other assets) to the Kings. Simmonds has 110 points the last two years with Flyers and has come close to hitting 30 goals three times during the last four years.
Following suit in 2008, the Kings drafted Russian defenseman Slava Voynov with the 32 overall pick in the second round of the draft. Voynov progressed quickly in his development and played so well that it allowed the team to acquire Jeff Carter in a trade that sent defenseman Jack Johnson along with a first-round draft pick to the Blue Jackets. Voynov played a big part in the consistent contention the Kings had been in previous years and played well enough to help the Kings win two Stanley Cups.
Despite Voynov's play and the incredible gem Lombardi had found in the second round in 2008, things took a turn for the worst as Voynov was suspended indefinitely by the NHL because of felonious domestic violence charges filed against him early in the 2014-2015 season. The case of Voynov has been trying for the organization and fans alike, but has found some form of resolution as Voynov pleaded no contest and will have to spend (up to) 90 days in jail, serve three years of probation, and pay fines. Currently, Voynov is also suspended by the Kings' organization due to an injury that occurred outside of professional hockey activities.
Proceeding 2008 and the great second round pick up of Voynov, the Kings selected Kyle Clifford in the second round in 2009. The 24-year old left-winger just finished his fifth season with the Kings and signed a five-year extension in February worth $8 million at an average annual value of $1.6 million. Although he was not in the lineup for the Kings in the finals of 2012, the second round draft pick has his name on the Stanley Cup, not once, but twice after assisting on the cup-clinching goal in 2014.
Following the 2009-2010 NHL season and previous second-round draft pick Kyle Clifford's final junior season with the Barrie Colts, the Kings selected Tyler Toffoli with the 47 overall pick in the 2010 NHL draft. Toffoli had a break-out season this last season with a career-high 23 goals and 49 points. Before the 2015 draft, Toffoli signed a two-year extension with the Kings at a very reasonable $6.6 million prior to free agency beginning.
The extension of the 2010 second-round draft pick was important on two levels: 1) The deal was completed prior to free agency beginning. Had a contract not been agreed upon prior to July 1, there could have been a number of teams willing to throw an offer sheet his way. He is a 24-year old sniper that can produce in a top-six role, shown that he can play on both the power play and penalty kill, and has won the Stanley Cup. Other players of his age and ilk like Ryan O'Reilly, Dougie Hamilton, and Brandon Saad were being traded away and given big-money contracts by their new teams and 2) The extension between Toffoli and the Kings allowed the trade for Milan Lucic to go through. Toffoli could have asked for a larger contract that could have created static and force the Kings into a tough predicament; however, Toffoli looked at it from a bigger perspective and put the team first as noted by Lombardi after discussing the Lucic trade.
Fast forward to the second round of 2013-because 2011 second-round draft pick Christopher Gibson was not signed by the Kings and allowed to walk and the Kings did not have a second round draft pick in 2012 because the pick was involved in a deal that brought (a now terminated) Mike Richards to the Kings- when Valentin Zykov slipped to the second round and the Kings would trade three draft picks in order to move up to Edmonton's spot to pick him.
Zykov won a gold medal in the World Under-17 Hockey Challenge for Russia and took home bronze in the U-20 World Junior Championship. An injury kept him out from playing with Russia in the WJC and kept him from any introduction to the play at the AHL level this last year, but with his (now) third development camp in his young career, the young forward looks poised to take his next step into professional hockey and that much closer to being another second-round treasure.
Never Mind the Bollocks
There have been occasional dropouts (so-to-speak), like with 2006 second round draft pick Joe Ryan and 2007 second round draft pick Oscar Moller. Ryan never made it to the NHL. He spent time playing in the AHL with the Toronto Marlies and now plays in the ECHL with the Toledo Walleye. Walleye was one of four teams to make it to the ECHL Conference Finals along with the Kings' ECHL affiliate, Ontario Reign before both teams would their respective Conference Finals series. And 2007 second-round draft pick Moller played time in the AHL and NHL, but is now playing in the KHL for Ak Bars Kazan.
As mentioned before, 2011 second-round draft pick Christopher Gibson was not brought back to the Kings and has been playing for the Toronto Marlies and last year's second round draft pick, Roland McKeown-scouted as a strong defenseman with great hockey sense and effective puck-moving skills-was traded at the trade deadline in addition to a first round pick for 16 games of Andrej Sekera. Unfortunately, Sekera would sign with the Edmonton Oilers earlier this month and McKeown is now property of the Carolina Hurricanes.
Will Cernak be the Next Second Round Success Story?
This year, Lombardi and staff selected Slovakian defenseman Erik Cernak with the 43rd overall pick. Cernak just turned 18 and has the skills and size to become a great NHL player someday.
Cernak is a big, right-handed defenseman that has a ton of potential. He is great defensively and models his game after another great second round draft pick in Shea Weber. He has success on the international level winning bronze with Slovakia in the Under-20 WJC and has won back-to-back Slovakian Extraliga Championships with HC Kosice.
His big stature at 6'3" and 200 lbs. gives him a long reach advantage and a large physical presence on the ice whether it is along the boards or in front of his own net. The only critiques that can be made are that his skating ability needs improvement and he could chip-in a little more offensively, but has the possibility of playing in Ontario next season to work on those skills.
Draft picks can be looked at as start-up companies. The initial foundation of some skill-set has to be there and some invested development must take place in order for it to actually start-up and run sustainably. Young players often need time to develop and hone their skills of becoming a professional athlete and sustain that kind of lifestyle.
Whether Cernak will be a great NHL defenseman is still a ways from being seen and in all fairness, he could have the same fate as Ryan, Moller, and/or Gibson. But, without a first round pick this last draft, the Kings needed to pick cautiously and wisely. Add that in with the suspension of Voynov still in place and Colin Miller being part of a package sent to the Boston Bruins, a big, right-handed defenseman that can play both sides of the puck looks promising in a cupboard filled with great second-round draft picks.