I had predicted a Los Angeles Kings' Game Seven loss to the Chicago Blackhawks in my series preview. So how will the Kings keep Drew "Not Quite Messier" Doughty's promise to not blow it this Sunday—and hopefully, prove me wrong?
Battle of the Stars
At this point, Anze Kopitar and Jonathan Toews may as well release a one-on-one video game a la "Jordan vs. Bird." Toews has a +14 Corsi differential for the series (Kopitar +2), while Kopitar has posted a +3 Even Strength Goals Differential (Toews -1).
(Corsi Differential means 5v5 Even Strength all shots attempted versus shots attempted against when a player is on the ice.)
Jeff Carter and Patrick Kane have both gone off (Carter scored seven points in Games Three and Four, while Kane duplicated the feat in Games Five and Six).
Of course, the stars (including Doughty and Duncan Keith) will influence Game Seven. They've all looked consistently dangerous throughout the series. That said…
Stop Obsessing over Patrick Kane
Sounds strange, but it's too easy to be mesmerized by the Hawks' puckhandling wizard. Case in point, see how Trevor Lewis loses Keith on Game Six's game-tying goal: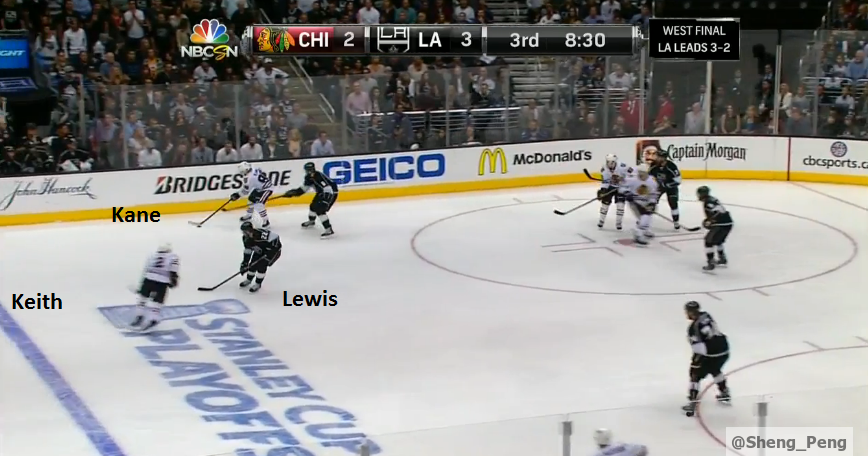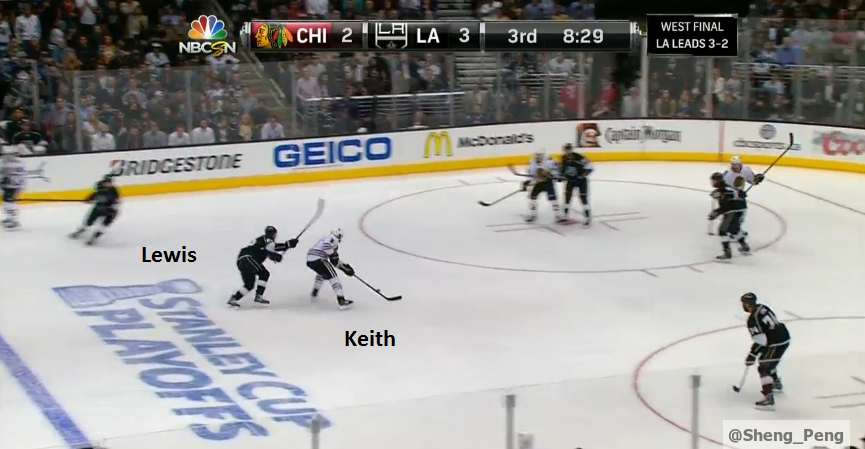 You can't keep Kane from creating space, but you can limit it (as Marian Gaborik failed to do on Kane's Game Six GWG)—and just as importantly—lock down his options.
As for the much-maligned Slava Voynov-Willie Mitchell pairing, all hope isn't lost in their matchup against the American sniper.
The pair has followed Kane for three of the last four games (the exception being Game Four where Joel Quenneville put Kane-Toews together against Doughty-Jake Muzzin), playing about half their even strength minutes on him. They've been thrashed in the last two.
But Voynov-Mitchell had a solid Game Three against Kane (albeit Handzus was his center). So with the help of their forwards, it's certainly possible to slow him down.
And as much as Mitchell has been killed by Kane, imagine how much worse it'd be if Jeff Schultz or Robyn Regehr were up against "Showtime."
#JustinWilliamsLockScreen
No, this isn't another rhapsody to Justin Williams's Game Seven heroics. Though you have to love the #JustinWilliamsLockScreen going around Twitter yesterday. Well, except if you're a Maple Leafs, Sabres, Oilers, Sharks, or Ducks fan:
https://twitter.com/d_izzzle/status/472854573590523904
Darryl Sutter has shuttled Williams more or less exclusively with Mike Richards or Jarret Stoll during even strength play this series:

Williams appears to be being used to jumpstart either Stoll or Richards offensively, so far, to varying results:

Williams did score a Game Two goal from a Richards's primary assist; he also assisted on two goals with Stoll on the ice (Game Four to Doughty, Game Six to Dwight King).
With all the attention (rightly) paid to Kopitar-Toews and Carter-Kane, Williams and whichever center he's paired with will be a Game Seven X-factor.
On Chicago's side, Patrick Sharp is their Justin Williams: The top-six guy who's capable of powering the bottom-six to victory.
Jonathan Quick Must Be Better
This one's obvious. If Quick is even slightly better than the equally shaky Corey Crawford in Games Five or Six, Los Angeles is on the way to the Stanley Cup Finals. If the Kings don't advance, no matter how he performs in Game Seven, a lot of blame will be laid at his crease.
Stats courtesy of Behind the Net, Extra Skater, Hockey Analysis, Hockey Reference, and Sporting Charts.