The World Junior Championship (WJC) offers viewers a glimpse into hockey's future. This year, NHL teams and their fans will see tomorrow's stars represent their countries in an elite tournament under less than ideal circumstances. While most Los Angeles Kings fans will have their eyes on 2020 second-overall pick Quinton Byfield — and to be quite honest, who could blame them? — there are five more young men that should grab the attention of LA fans. As preliminary rosters are being set and teams prepare to enter the bubble in Edmonton, the Kings will be represented by three Americans and two Swedes who deserve their own discussion.
Helge Grans (2020, Round 2, 35 OVR) – Sweden
When a program-altering player is drafted, it can be difficult to shift focus to how a team fares in the rest of the draft. Though Byfield is the crown jewel of the Kings' selections in October, their next selection in the draft deserves attention.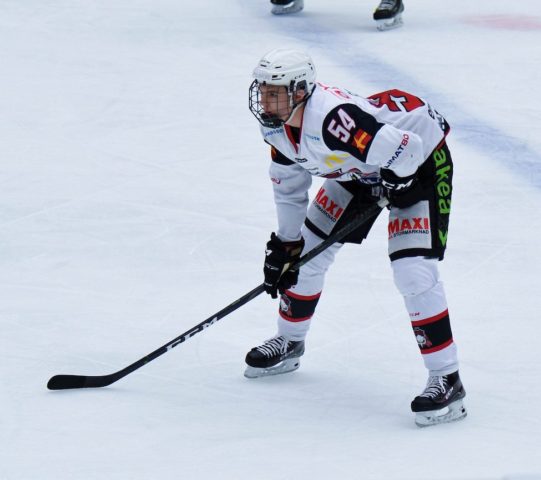 Eighteen-year-old Helge Grans has the makings of a great two-way defenseman. His natural comfort with the puck and stellar ice awareness means he knows where he wants to move the puck before it reaches him. Though he is keen to jump up on the rush, he doesn't forget his defensive responsibilities, and as soon as he's joining the offensive push, he's back to reinforce the blue line.
His puck ability and skating agility are coupled with a surprisingly large build. At 6-foot-3, Grans offers the dual threat of playmaker and physical presence. Fans can expect to see both on display in Edmonton when he is reducing the threat of an opponent's zone entry. It's not enough that Grans always finds a good angle on attackers, but he also brings 200 pounds moving just as fast as the smaller forward breaking in.
Arthur Kaliyev (2019, Round 2, 33 OVR) – USA
If you have paid attention to prospect development at all, you know who Arthur Kaliyev is, and why Kings fans should be excited about him. For those who don't know him yet, expect him to be a difference-maker for Team USA.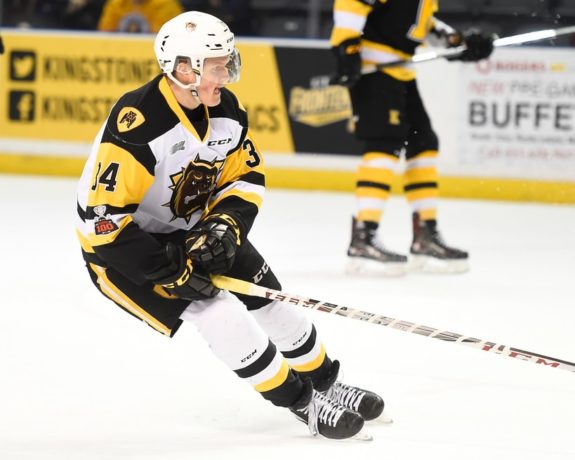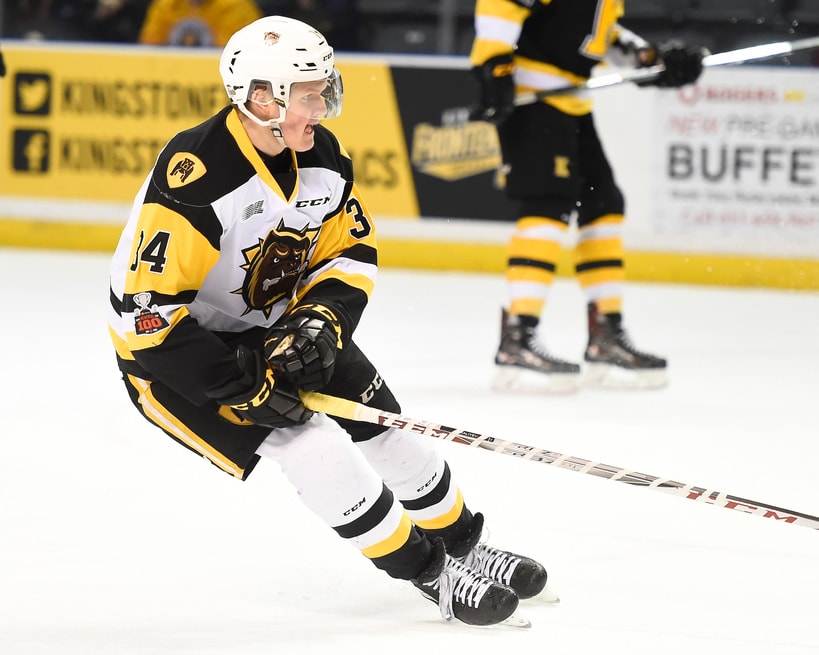 The term "natural scoring ability" gets thrown around a lot and acts more like a blanket term instead of giving specifics. For Kaliyev, his natural ability can be seen in his remarkable shot and his offensive zone positioning. His shot selection is so refined that he has never had a season in the Ontario Hockey League with under 30 goals. When stationed in the offensive zone, Kaliyev gravitates toward open space between defenders.
This will be his second WJC tournament. After averaging over a point per game in Ostrava, expect to see head coach Nate Leaman use Kaliyev as much more of a looming threat in front of the opposing net. Don't be surprised if the 19-year-old is on the ice for every power play, waiting patiently for the chance to strike.
Tobias Bjornfot (2019, Round 1, 22 OVR) – Sweden
If the Kings drafted an aggressive, two-way defenseman in Grans, they drafted his partner in Tobias Bjornfot. The 19-year-old has the shutdown ability and positional awareness of much more seasoned players, with many comparing his style of play to Tampa Bay Lightning's Ryan McDonagh.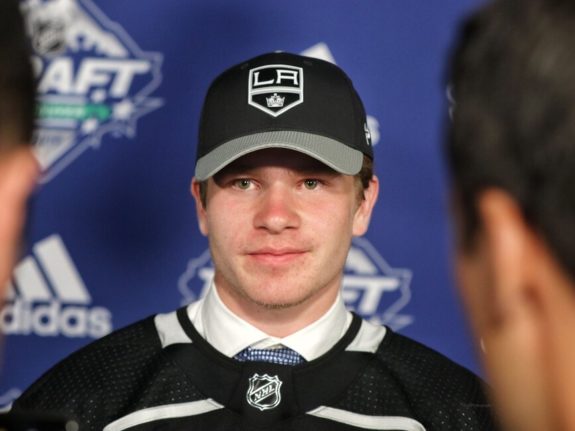 Kings fans will get to see just how much Bjornfot stands out when competing with players his own age. His strength and positioning will shine through in battles in the corners and in front of his own net. When he inevitably wins the puck, his play progression and development will be on full display.
The Kings have made it apparent that they expect to see Bjornfot on their roster in the near future. He spent the 2019-20 season with the Ontario Reign, and would most likely have spent the current season doing the same had he not been loaned. Expect Swedish head coach Joel Ronnmark to call on Bjornfot for the penalty kill, and to reduce the power of opposing teams' top lines.
Alex Turcotte (2019, Round 1, 5 OVR) – USA
His grandfather played for Michigan State University, and his father was a first-round draft pick for the Montreal Canadiens. While those might seem like some big skates to fill, it's not difficult to say Alex could be the best Turcotte yet.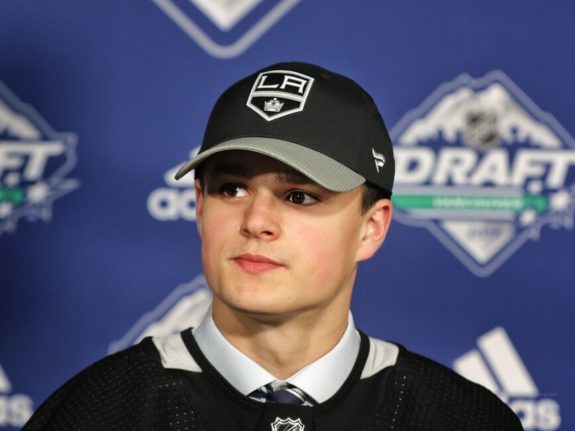 Giving Turcotte's ability a label might cause fans to assume that there are parts of his game where he is lacking. While he's still developing, he graduated from "diamond in the rough" long ago. He's a skilled forward that is fierce along the boards and is always looking for a takeaway opportunity. His vision and ability to locate teammates turns his linemates into constant scoring threats.
Expect to see Turcotte on the power play and skating high minutes throughout the holidays. Call it wishful thinking, but seeing a tandem of Turcotte and Kaliyev in the coming weeks might show fans two key pieces in the Kings' future offensive presence.
Brock Faber (2020, Round 2, 45 OVR) – USA
If fans aren't careful, they'll catch themselves asking "does the US have four forwards on the ice?" Defenseman Brock Faber has the speed and down-ice vision to make a breakout play at a moment's notice. Don't expect Faber's name to cover the scoresheet, but do expect him to challenge his opponents by not giving them time to recover.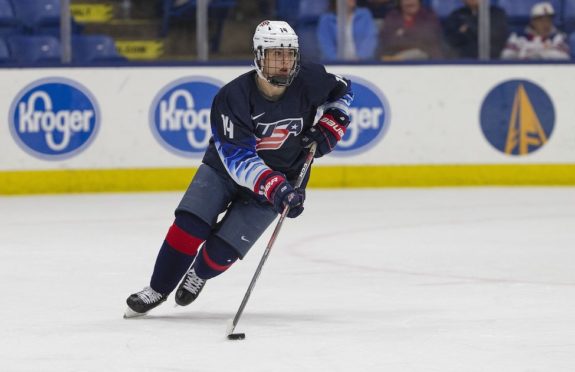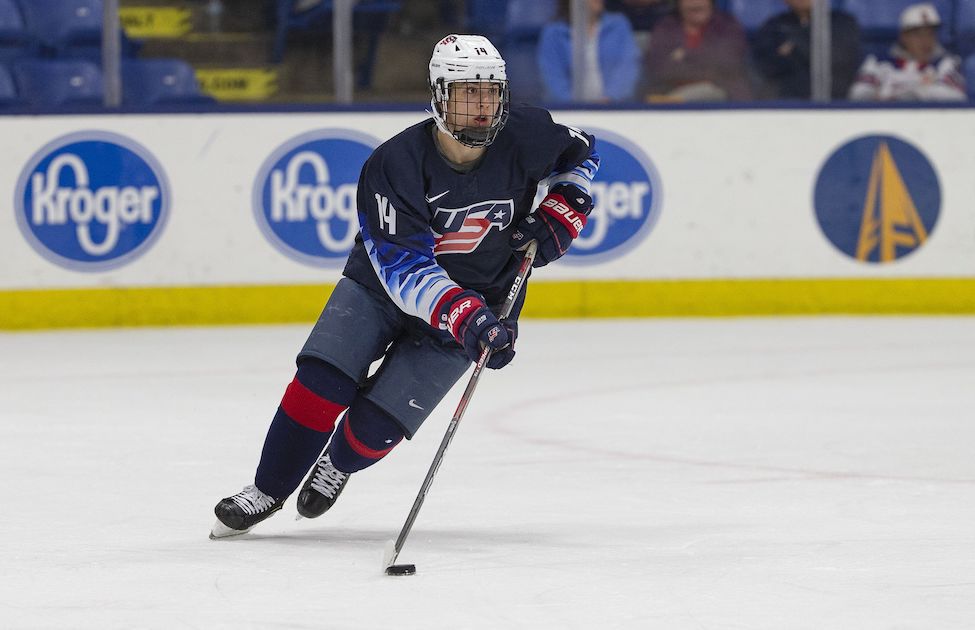 As much as he challenges when he has the puck, he's even more of a challenge to get the puck past. Faber has put on some considerable size recently, and if there's anything more daunting than a fast defenceman, it's a fast defenceman with 200 pounds over his blades.
With the formation of the round-robin groups this year, there will be one special treat for LA fans as they say goodbye to 2020. On New Year's Eve, there will be five Kings prospects on the same ice. The offensive talents of Kaliyev and Turcotte with the backing of Faber will take on the defensive wall of Grans and Bjornfot. The Swedes haven't lost a round-robin game in the WJC since 2007, but streaks are always just one game away from ending.
---
---