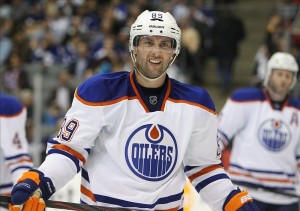 The fact that the Kings are urgently searching for more offense on the trade market is about as much of a surprise as Charlie Sheen recently becoming engaged to a porn star.
Some things rarely change, and unfortunately for Los Angeles, that cliché applies to offensive output. In three of the past five seasons (including this one), the Kings ranked in the bottom ten in goals scored per game. You heard it correctly: despite a roster littered with former 30-goal scorers such as Anze Kopitar, Justin Williams, Dustin Brown, Jeff Carter, and Mike Richards and an attack that fires the 9th-highest number of shots on net in the NHL, L.A. averages just 2.25 goals per game. Thank goodness the Buffalo Sabres are still in the league (1.83) to make them look just a little less inept by comparison.
There is little doubt General Manager Dean Lombardi has been active in recent weeks discussing possible trades scenarios to improve the team. One reported player the Kings have looked at is Edmonton Oilers center Sam Gagner.
With the Oilers needing defense, Gagner is said to be available
Edmonton's offense hasn't exactly lit up the score sheets as many believed it would this year, ranking just 20th overall at 2.52 goals per game. However, it's not the offense that has sunk the team to the bottom of the Western Conference standings, it's the defense. Edmonton gives up over 32 shots per game (26th) and 3.28 goals per game (dead last). Other than possibly Ben Scrivens, the goaltending has been highly disappointing as well, so much so that the team took a chance on exiled former Flyers goaltender Ilya Bryzgalov. Still, with as many shots as they face on a nightly basis, it's pretty clear that defense is what the team really needs. Young, reasonably-priced defense.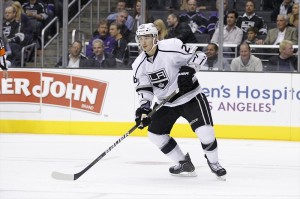 The Kings don't appear to be a great trade fit to obtain Gagner's services. Drew Doughty and Slava Voynov aren't going anywhere soon, and neither Willie Mitchell, Matt Greene nor Regehr fit the bill for Edmonton. That leaves Jake Muzzin or Alec Martinez, neither of whom would be enough to entice the Oilers to trade away Gagner, the 2007 #6 overall pick. The Kings could certainly add picks or prospects, but with as many rebuilding years as Edmonton has endured, the franchise is now on the precipice of needing to be in 'win now' mode to keep the season ticket holders happy. Gagner would no doubt require a return that could help the team do that as soon as possible.
The Los Angeles Times has reported that the Kings' interest in Gagner has waned. However, although it may be unlikely to rekindle, a resumption of talks isn't out of the question as the trade deadline looms.
It's tough to see how Gagner solves the Kings offensive woes
Gagner is still young (24) and has plenty of speed, two attributes which no doubt play into Lombardi's interest in him. He's also versatile, with the ability to play the wing, and has good puck possession skills. However, he's a playmaker, not a scorer, and therein lies the problem.
Check out our partners at TiqIQ for the best deals on Los Angeles Kings tickets for all 2013-14 games.
The urgent need for Los Angeles is someone who can pick the corners with his shot, not set up one of their forwards for yet another glove save by the opposing goaltender. That's a bit snarky, but the point is valid, as L.A. has just two natural scoring forwards currently in their prime: Anze Kopitar and Jeff Carter. They need a third pure scorer more than they need the playmaking skills — substantial as they may be — that Gagner brings to the table.
Speaking of skills, shootout prowess is definitely on the list. Check out this highlight reel of some of his best moves:
Matt Moulson would be a much better fit for what the Kings need
As I wrote a couple of weeks ago, Buffalo Sabres left winger Matt Moulson would be almost a perfect fit with Los Angeles. No, he doesn't have anywhere close to Gagner's speed, two-way abilities or puck possession skills, but L.A. has enough of the latter two categories to be able to afford to skate a pure sniper like Moulson. The Missassauga, Ontario native would slide easily onto the top line at left wing, a position the team desperately needs help at. Moulson is a three-time 30+ goal scorer who, at 30, is still at the top of his game. Incidentally, he also carries a substantially lower cap hit than Gagner, an important factor considering the Kings' limited cap space.
He'd be a rental player, potentially, although given his initial roots with the Kings and with Jonathan Quick as his brother-in-law, there's a decent chance he would be willing to re-sign. Regardless, with Los Angeles on a 4-10-2 slide over their past sixteen games and in danger of becoming an irrelevancy come playoff time, something must be done. Of all the players rumored to be available, he should be right up at the top of Lombardi's wish list.
Gagner, Moulson or someone else: ten days remain
The NHL trade deadline is slated for March 5th, which means Lombardi has just ten more days to get something done. There's no doubt he won't make a deal just for the sake of trading, but there's also little question the Kings need help before the playoffs begin. As much as Sam Gagner might help the Kings, Matt Moulson is the better choice. As long-time posters over at LetsGoKings.com are fond of saying: do it, Deano!