The Los Angeles Kings have one of the best prospect systems, if not the best, in the NHL right now. The team had a great system going into the 2020 NHL Draft which only got better with their nine selections. The team used the draft to balance out positions and create an even better core for the future. When it comes to the future of the franchise, the team is in a great spot, not just with the number of prospects they have, but with the quality of these prospects as well.
The Kings have some prospects who could play on the future top line of many teams in the league, but on the Kings, they will play second or third-line minutes because of how much competition there is for roster spots. Aside from the ample group of up-and-comers the team has, the Kings also have a few players who played their first full season in 2019-20, who will not be featured on this list, such as Matt Roy and Blake Lizotte. Overall, the future is bright for the Kings, and these untouchable prospects will be the leaders of the next era in Los Angeles.
Quinton Byfield
There is no debating Byfield as the Kings' top prospect. As the second overall selection at this year's draft, Byfield is an absolute powerhouse. He would have gone first overall in almost any other draft, but future NHL superstar, Alexis Lafreniere, was taken as the first selection. This is only to the benefit of the Kings, as they were able to take Byfield at pick number two.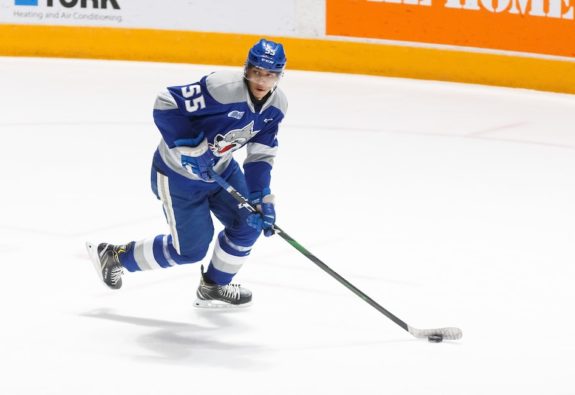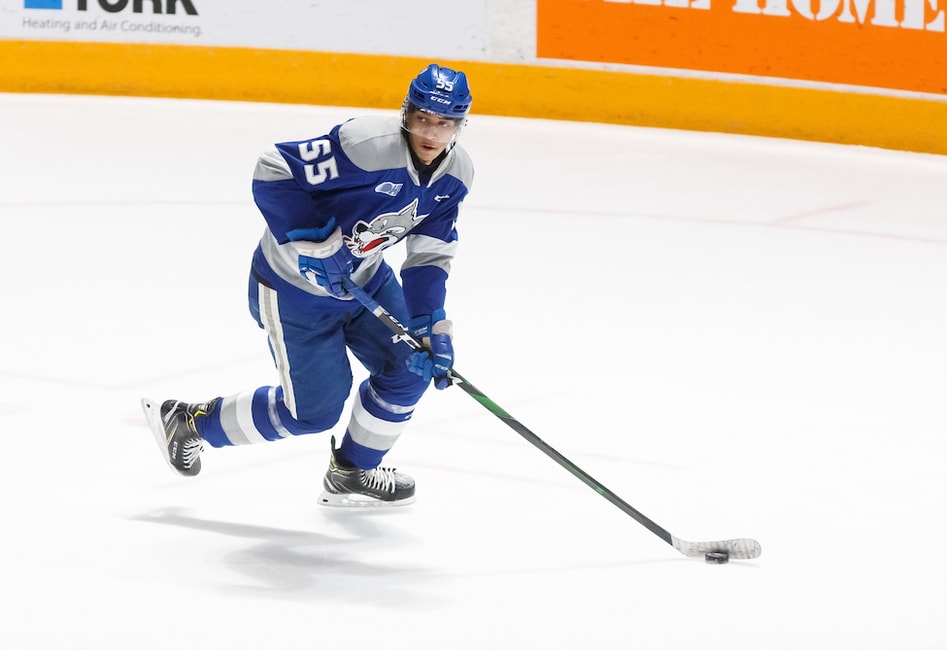 Byfield is one of the youngest players in his draft class, yet he is also one of the largest. He stands at 6-foot-4, 214 pounds. This massive frame helped him pick up 82 points in 45 games last season with the Sudbury Wolves of the OHL. In terms of playing style, he is compared to Evgeni Malkin, as well as future teammate, Anze Kopitar.
Byfield has been as good as you could have hoped for as a 17-year-old in the OHL. He has the best pure toolkit in the draft. He's 6-foot-4, he's a very good skater and his hands are right up there with the best in the draft. He can break a shift open with his ability to power past or dangle through defenders. I've questioned Byfield's playmaking in the past, but this season he's shown a high level of vision. He has the ability to use his power and skill both to create for himself and to make difficult plays to set up his teammates. When the pace increased at the higher levels at the international stage, he faded a bit, but I do think he is very much in the first overall conversation because he has the potential to become an impact No. 1 center in the NHL.

Pronman: Ranking the 2020 NHL Draft top prospects at midseason" – The Athletic – Jan. 29, 2020
Going into the draft the Kings already had several solid center prospects, so there was some speculation that they would skip over Byfield, taking Tim Stutzle, a winger, instead. Rob Blake made the right choice going with Byfield, though, as he secures a future number one center. Although Alex Turcotte isn't a bad prospect to replace Kopitar with, he doesn't have the same ability as Byfield. To transition as smoothly as possible to the next era of Kings hockey, it will be important to have a guy with as close of a skill set to Kopitar as possible, and Byfield is the answer.
Alex Turcotte
Although Turcotte won't be the Kings' number one center, he shouldn't just be seen as the guy in Byfield's shadow. Turcotte is a seriously good prospect, and that should not be overlooked. The 19-year-old doesn't have the same size as Byfield, though. Turcotte stands at 5-foot-11, 185 pounds, so he is a bit of a smaller guy. The Kings took him with their first selection at last year's draft, fifth overall.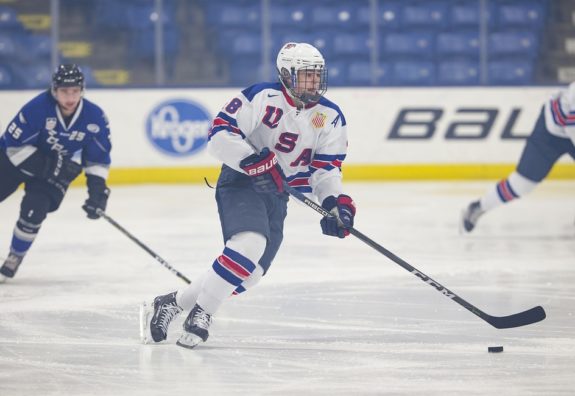 Last season, Turcotte played at the University of Wisconsin, putting up 26 points in 19 games in the NCAA. Next season, the Kings have loaned him to Eisbaren Berlin of the DEL. He is an overall well-rounded player, with elite skating, and a solid hockey IQ. He is physical for his size, and he can play a leadership role. The best part about Turcotte is that he would be the number one center on a number of teams in the NHL. With the Kings' center depth, though, he will likely end up with a second line role, giving the Kings one of the best second lines in the league.
Gabriel Vilardi
Vilardi is yet another high-end Kings center prospect. Similarly to Byfield, he gets an edge in the physical side of the game at 6-foot-3, 201 pounds. He is a bit older as a 21-year-old, but he certainly has a full career ahead of him. He was selected 11th overall by the Kings in 2017, but his NHL career was sidetracked by a devastating injury. His skating has suffered a bit, but he has the physical strength to compensate.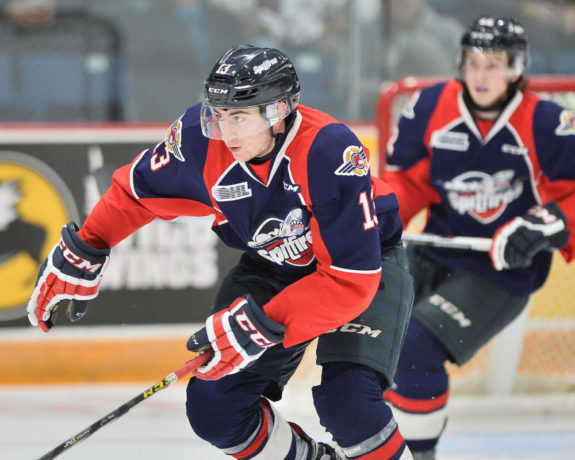 Last season, Vilardi mainly played with the Ontario Reign of the AHL, putting up 25 points in 32 games. He also got his first shot at NHL hockey, and he made the most of it. He scored on the first shot of his first game and he didn't look back. He would go on to score seven points in the 10 games he played with the Kings. If he is able to keep up something even close to those numbers, Vilardi will find himself in the mix with some of the best young players in the league.
Arthur Kaliyev
Kaliyev was picked up by the Kings 33rd overall at the 2019 NHL Draft. He has solid size, standing at 6-foot-2, 190 pounds. Last season, the 19-year-old played his third season with the Hamilton Bulldogs, putting up 98 points in 57 games. His stats speak for themselves. Kaliyev is a clear offensive asset to any team. He is a great skater and has an incredible shot.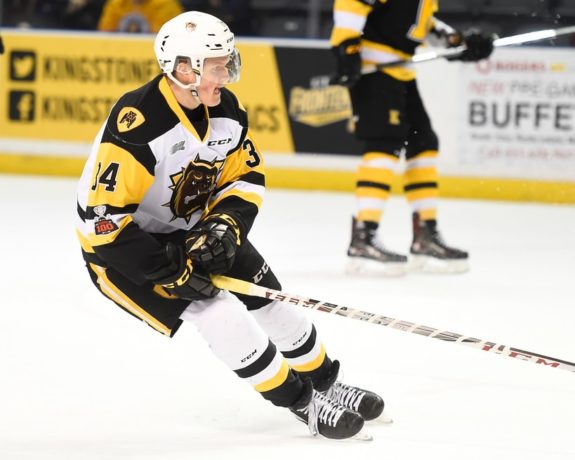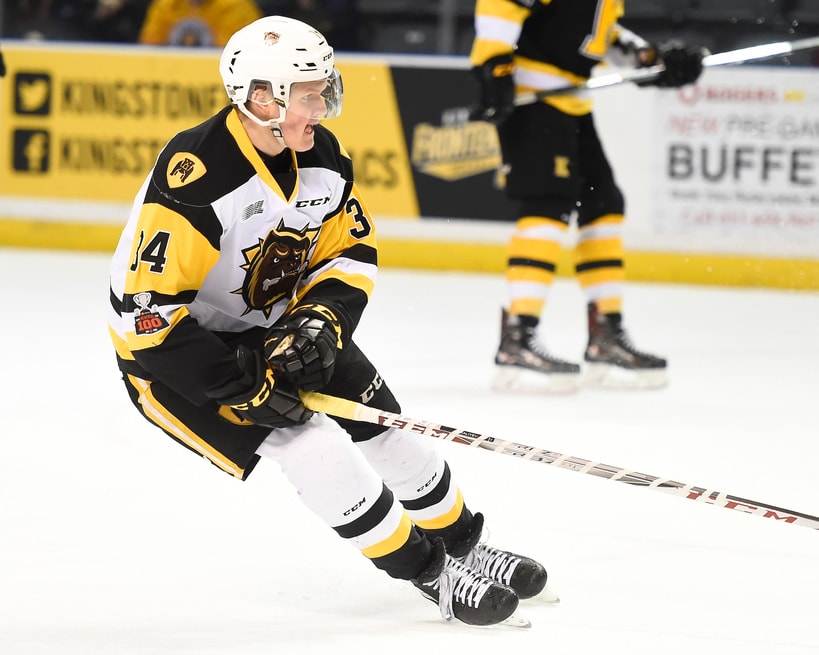 Kaliyev's biggest issue is his defensive game. He hasn't shown a full commitment to the physical, defensive side of things, and simply doesn't show the work ethic a lot of teams look for when it comes to those areas. This defensive discrepancy is likely what dropped Kaliyev down to the second round of the draft. No matter how much offensive capability a guy has, he won't be able to play in the NHL if he can't commit to defense. Despite this, he is the Kings' prized left wing prospect, and moving him would take a big hit on the depth chart.
Samuel Fagemo
Similarly to Kaliyev, Fagemo was also picked up in the second round of the 2019 NHL Draft, 50th overall. He has played in Sweden all his life, playing for Frolunda HC on loan last season. The 20-year-old put 22 points to his name in 42 games in the SHL. In 2020-21, he is on loan to Sodertalje SK.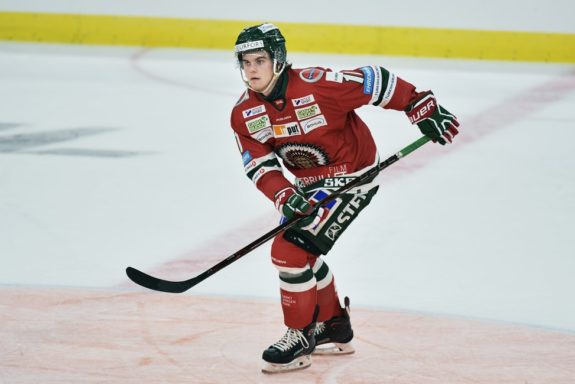 Fagemo and Kaliyev are eerily similar, not just in that they were selected in the same round of the draft. Fagemo is an elite offensive talent in almost every aspect of the game, but like Kaliyev, he has yet to uncover the defensive area of his game, he is caught cheating sometimes, and he does not look for the pass as often as he should. He is also not physical like Kaliyev, but it is a bit more understandable as he is a bit smaller, standing at 6-foot, 194 pounds. He is again similar to Kaliyev in that he is the Kings' prized prospect at his position, right wing, making him untouchable.
Tobias Bjornfot
As one of the most reliable defenders in his draft class, Bjornfot was selected 22nd overall by the Kings in the 2019 NHL Draft. Last season, the 19-year-old put up 19 points in 44 games with the Ontario Reign of the AHL, also getting in three games of NHL hockey with the Kings, although he was not able to get on the scoresheet. In 2020-21, Bjornfot is on loan to Djurgardens IF of the SHL.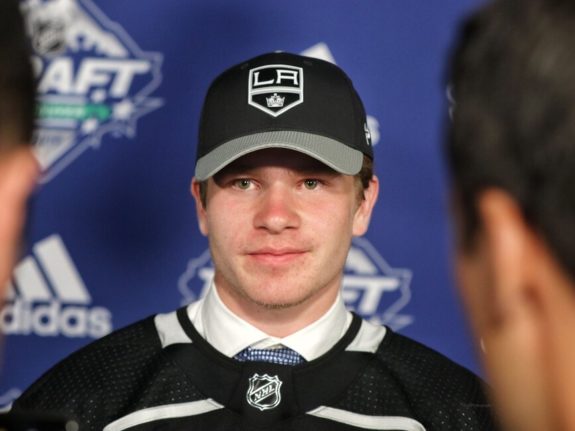 Bjornfot's strengths lie in his outstanding hockey IQ, as well as his skating and shooting ability. Although he has decent size, at 6-foot, 203 pounds, he could add some strength to his game. The Kings don't have too many exciting defensive prospects aside from Bjornfot, making him the face of the future of the Kings' blue-line.
Kale Clague
Clague is the oldest player in this group of Kings prospects. He is 22 years old and was selected in the second round, 51st overall, by the Kings in 2016. Similarly to Bjornfot, Clague played most of last season with the Ontario Reign in the AHL but was able to get in his first NHL games. He put up 25 points in 49 games in the minors, and he played four NHL games with nothing to show for.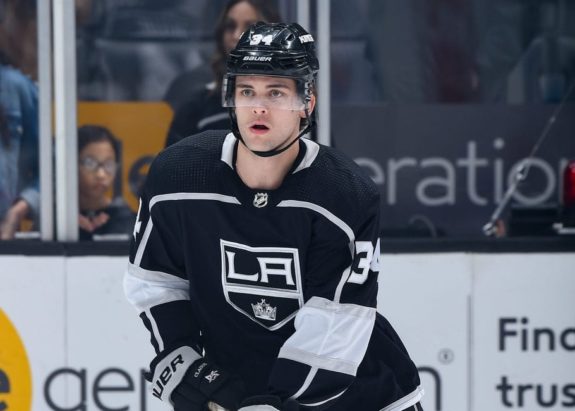 Clague could put on some size moving forward, standing at 6-foot, 176 pounds. He also needs to work on his shot. Clague is an elite talent in every other area of the game, though. He has good speed which opens up opportunities for creative passing plays. He has a bit more offensive upside than Bjornfot, but both defensemen are the future of the team's D-core, making them difficult assets to let go of.
Positions Partly Determine Which Kings Prospects Are Untouchable
Players such as Kaliyev, Fagemo, Bjornfot, and Clague are on this list while Akil Thomas, Tyler Madden, Jaret Anderson-Dolan, and Rasmus Kupari are not is because of positional need. If the Kings traded away one of their top wingers or defensemen, the team would be in a bad spot in terms of the depth chart. Although the centers listed are highly valuable and will certainly have their shot at being part of the next group of Kings centers, they are not untouchable.
The Kings already have three centers who could be top players in the league, so the team could make a trade that moves one of their excess center prospects if they can get enough in return. No matter who stays and who goes, there is no debating that the Kings have set themselves up for success. The team has a great group of young players coming into the league, making them a top team in the near future.
---
---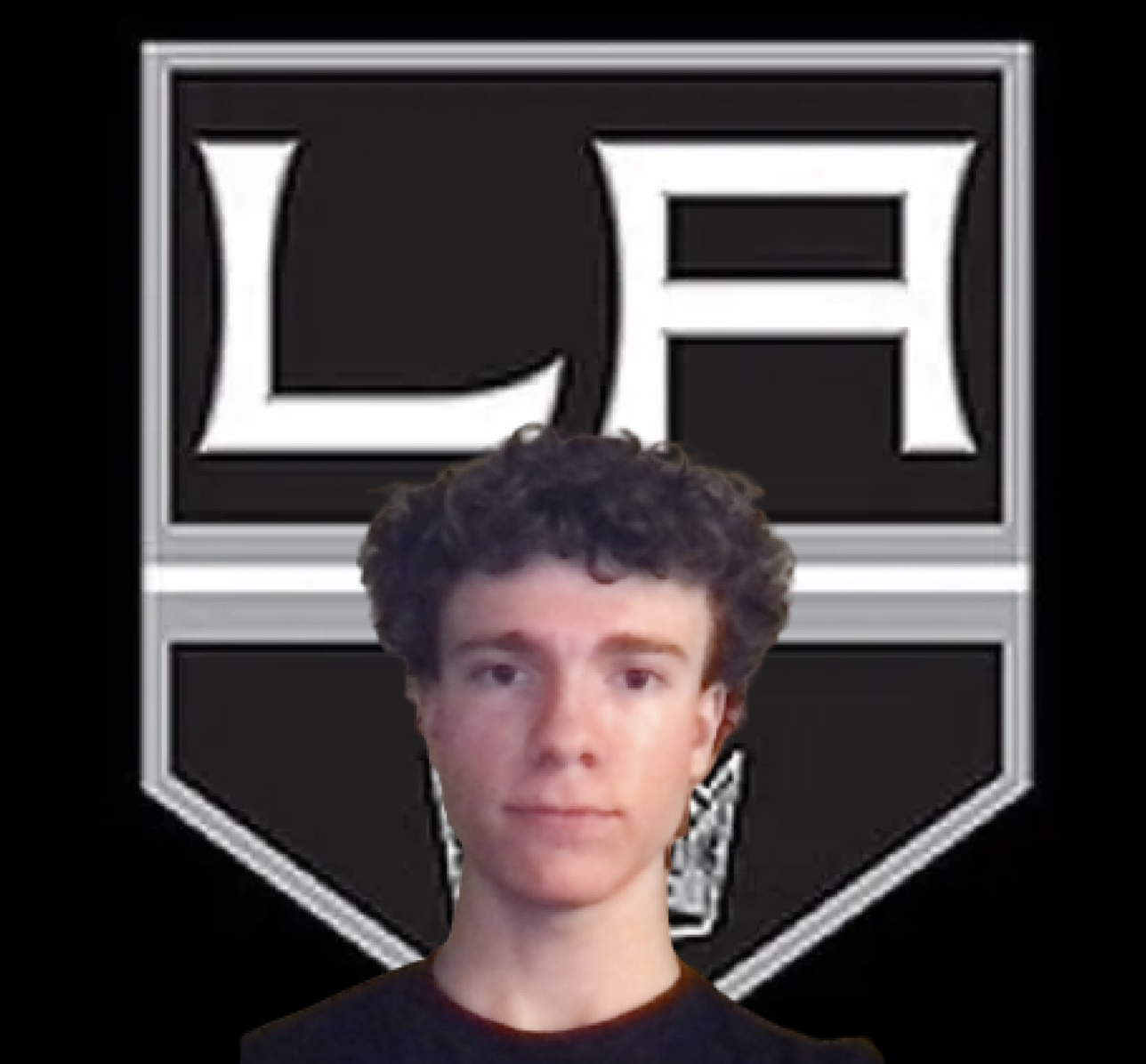 Zackary Weiner is a high school student from New York City who covers the Los Angeles Kings here at The Hockey Writers. He is a lifelong hockey fan and player, and his previous experience includes writing articles about the NHL for various online publications. His articles cover a wide variety of topics that concern the Kings and he takes into account a range of viewpoints, making his articles a perfect read for anyone who wants to stay up to date on the team. Zackary is more than happy to get into a conversation with fellow Kings fans, so feel free to leave a comment below any of his articles like this one to let him know your opinion and what you want to see next. You can also listen to him talk about the team on Fantasy Hockey Life, The Hockey Writers Live, and Blackhawks Banter.