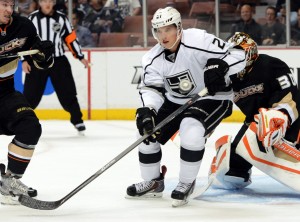 After seeing the first game of the 2013-14 Freeway Face-Off series on Tuesday, Dec. 3, it's striking how alike Southern California's NHL franchises have become. Both the L.A. Kings and the Anaheim Ducks started off their existences as lightly regarded afterthoughts, but they have built themselves into serious contenders: each has reached the pinnacle of playing success in the last 10 years, and this season, the resemblance doesn't end there.
1. They're Both Playing Really Well At The Same Time
More often than not, they skate in opposite directions. When Anaheim won the Stanley Cup in 2007, L.A. missed the playoffs by 28 points and ended up second to last in the Western Conference. The Kings roared back to capture Lord Stanley's mug in 2012, while the Ducks finished third from the bottom in the West and 15 points away from the post-season. This season they're cheek-to-jowl in the Pacific Division (as of this writing) despite Anaheim being the only team which has still not been beaten in regulation time at home.
Certainly the Kings had to be happy to see Anze Kopitar break a goal drought lasting 21 games when he scored in a 7-4 victory over the Phoenix Coyotes on Oct. 24. The captain is now tied for second on the club with seven goals, and his 24 points lead the way. Perhaps the biggest positive for the Ducks has been the reawakening of big winger Dustin Penner, who has Cup rings with both teams. His four power-play goals is tops on Anaheim: playing with Corey Perry and Ryan Getzlaf has obviously helped to spark his revival.
2. They've Reached Their Lofty Positions While Dealing With Injuries To Key Players
 Jeff Carter's ongoing leg woes put him on the shelf for awhile, but Kings rookie forward Tyler Toffoli took advantage to the point where the youngster is still in the mix even after Carter's return to the lineup. All-world netminder Jonathan Quick remains out with a groin strain, which prompted head coach Darryl Sutter to finally start Martin Jones on Tuesday; Ben Scrivens needed a break after 10 straight appearances. For Anaheim, goalie Viktor Fasth has been dealing with a lower-body injury but he seems to be the least of their worries. Forward Jakob Silfverberg's broken right hand has him out until after Christmas, while right-wrist surgery has sidelined defensemen Sheldon Souray and Luca Sbisa for the next few weeks.
3. Both Clubs Have Debuted Rookie Goaltenders, And They Have Been Great So Far
Jones made 26 stops in his first NHL appearance, including nine saves in the shootout en route to his first big-league victory for the Kings on Tuesday. Ducks newbie Frederik Anderson boasts a 7-1 record with a 1.70 goals-against average and a .939 save percentage, so head coach Bruce Boudreau should continue to have confidence in the tall Dane while Fasth carries on with his rehab.
4. Neither Team Is Afraid To Use The Body
Anaheim won the hit parade 33-28, and the fact that they went after each other with such gusto while generating only 26 penalty minutes combined, all minors (including overtime), helped elevate the game to one of the best of the night.
5. Their Power-Play Units Suck Almost Equally Badly
After Tuesday's game, L.A. ranked 21st in the league with the man advantage (17 goals in 107 opportunities) and Anaheim slots in at No. 22 (16/105). The Kings hadn't cashed in on a power play in 25 chances during their previous seven games, including a woeful 0-for-6 showing against the Ducks.
The two I-5 opponents have clashed 113 times in their 20-year rivalry and they're scheduled for four more in the regular season, including a historic tilt on Saturday, Jan. 25 outside at Dodger Stadium as part of the 2014 Coors Light NHL Stadium Series. If they continue the way they started on Tuesday, each game will be a must-see. They'll need to maintain that high standard, too: with Chicago and San Jose ahead of them in the standings and St. Louis and Colorado nipping at their heels, each of the games they play will feel like a must-win.