Full disclosure. Since joining the Hockey Writers earlier this month, I've always wanted to write this particular column. Long-form journalism is my medium of choice, and given the current quality hockey in Los Angeles Kings, there is certainly much to write about. But hockey is best experienced in the moment, when the combination of individual skill and team collaboration generates a unique brand of athleticism. Hockey fans have seen a plethora of games, but never see the same game twice. Every little nuance, every decision, every minuscule action gives the game its own identity. We can analyze, hypothesize, and use data to predict what will happen on the ice, but each moment is unknown until it arrives. And each moment produces raw human emotions from those invested in the game.
Hence, I am whipping out the running diary that I and many of my journalistic influences have used in the past. The running diary is my reaction to the game as it happens, with extended thoughts and pointless jokes where I see fit. And there is no other match-up I would rather break down right now than the Kings first contest this season against Connor McDavid and the Edmonton Oilers. The hype appears to be real with the rookie phenom, but how do you know for sure unless you're on the ice with him? That's what every pro hockey player is asking himself, eager to face-off against the boy wonder. Tonight, in Edmonton, Alberta, Canada, the Los Angeles Kings get to find out.
Now that that's all cleared up, I can proceed to give you what you need like Puff Daddy (unless it's a kettle bell, then you're on your own Westwood). The regulation time is listed during each update as a point of reference. Let's see what happens in Edmonton.
First Period
(20:00) – The entire Kings pregame show has been focused on two things: making sure everyone  understands how awesome the Kings four-game win streak is, and ensuring everyone understands that this a different Oilers team. Look, I get it. Edmonton has a potential once-in-a-generation player, a new goalie, and can't possibly be any worse defensively than a year ago. But hockey is not basketball, where one man can swing a franchise's fortune overnight. This will take time, and the Oilers know that. But for the first time in nearly a decade, Edmontonians have reason to be optimistic about their hockey club.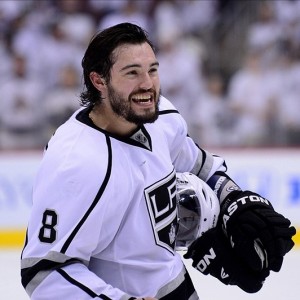 Side note: one of the most unintentionally funny moments happened during the pregame show. Color commentator Jim Fox, in what can only be described as a blatant attempt to troll the analytics community, created his own stat called TSR (which I believe stands for touch, shot, result) to describe how well Jake Muzzin was playing. While I do agree that Muzzin has been very effective during the Kings recent wins, and while I often find myself at odds with advanced statistics, I don't think we need to launch a counterattack, Jim. I'd love to hear Charles Barkley's take on this.
(18:30) – Great jump for the Kings early. A couple near chances are met with little Edmonton resistance, as L.A. starts relentlessly cycling the puck. This could be a dizzy night for the home crowd.
(17:30) – Connor McDavid's first shift is turned away by the Kings defense, as Drew Doughty warded off the young prodigy. I have a feeling we will see more of this during the next decade.
(15:18) – McDavid, as if on cue from a director, wheels around Muzzin and fires a shot on kings goalie Jonathan Quick. The first shot did not go in, but McDavid's linemate Benoit Pouliot made no mistake in burying the rebound. 1-0 Oilers.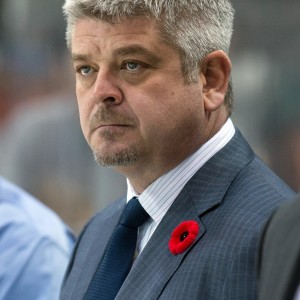 (14:56) –And we have a fight. Kyle Clifford drops the mitts with Edmonton's Luke Gazdic, who obviously has a problem with Clifford's lack of a similarly terrifying beard. I respect the move by Clifford, whose team needed to get some momentum back after an early goal against.
(13:56) – Kings forward Jeff Carter's strong forecheck causes the puck to squirt out to teammate Milan Lucic, who blisters a shot towards the net. Carter gathers the rebound from the corner, and catches Edmonton goalie Cam Talbot napping on the post to tie the game. What a savvy veteran move by Carter, and a fantastic job by Lucic to simplify the game and use his strong shot to start the scoring chance. For all his flaws, Lucic knows where his bread is buttered.
(9:40) – As my new buddy Jim Fox pointed out, Kings forward Marian Gaborik is flying tonight. When he's on, this Kings offense is in peak form. Darryl Sutter moved him to the third line tonight, swapping him with winger Tanner Pearson. I don't read too much into this decision, as Gaborik will still be counted on to score big goals when it matters.
Oh, and that McDavid kid just wheeled around the entire defense again. How is he 18 years old?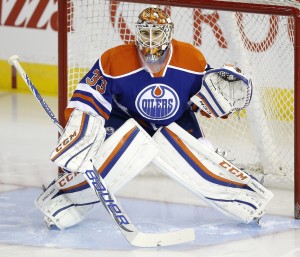 (7:45) – A couple good chances for L.A. in the offensive zone, which brings up an interesting adjustment. Muzzin and Alec Martinez are becoming a regular pair on defense, and it's really benefiting both. Martinez is very selfless with the puck, and just found Muzzin on a beautiful D-to-D pass on the blue line. Muzzin just missed the shot, but that will be a goal very soon if their chemistry continues to blossom. And no, this isn't a high school Sadie Hawkins dance.
(6:00) – Classic Doughty shift. He gets a good shot on Talbot, just missing a goal. Then he beats everybody back in the zone, starts the breakout, and joins the rush again. I think Energizer might have found their next mascot.
Also in this same sequence, McDavid takes the ice and muscles his way to the front of the net on a wraparound attempt that he nearly converted. My goodness.
(1:20) – Edmonton has some major juice up front. Taylor Hall, Ryan Nugent-Hopkins, and Nail Yakupov are all under 24 and very strong with the puck. It helps that they're all first overall picks, and that Edmonton has become the Cleveland Cavaliers of the draft lottery.
(0:00) – One last chance falls through for the Kings. That was a highly entertaining period, and had just about everything short of the coaches throwing equipment at each other. But what do you think this is, an Avalanche game?
A couple of first period observations:
The Kings are taking this game seriously. Last year this game would be ripe for a letdown, but not with McDavid on the ice. The Kings players have earned their NHL stripes, and they'll make sure Connor earns his.
Speaking of McDavid, he's already lived up to the hype in terms of crowd reaction. When he touches the puck fans stand up with anticipation, and you can hear 20,000 plus make the classic "oooohhhh" sound, reserved only for a select few. We can add McDavid's name to that club's list of members.
I really liked the second half of that period for Lucic. He played big (four hits), cleared space for his quicker teammates, and notched an assist. And he didn't punch anybody.
2nd Period
(18:00) – The Kings hold the puck for nearly 2 minutes in the Oilers zone, but can't capitalize in front of the net. Shortly after this, Clifford gets possessed by the spirit of Rocket Richard and zipped by everyone on a breakaway. Talbot made the save, preventing the always impressive "beautiful goal by a grinder."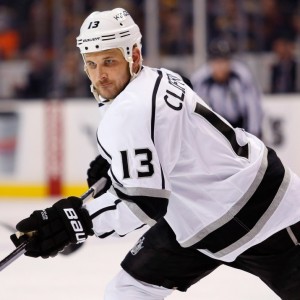 15:55 – Nugent-Hopkins is hooked by Carter, giving Edmonton the game's first power play. The Oilers attack is thwarted when Kopitar clears the puck and the penalty ultimately expires. For a superstar, this guy really shows attention to detail in all aspects of his game. He keeps his stick in the right position, cuts off the proper passing line, and keeps his hair at a constant state of "fleek." There's only one Anze.
(6:24) – The Kings start grinding out work behind the net, as the fourth line of Clifford, Jordan Nolan, and Andy Andreoff slow things down. Then Kopitar hops over the boards, takes a nice feed from Nolan, and rips one right in between Talbot's blocker and the post for the go-ahead goal. What a freaking snipe by #11. 2-1 Kings, and advantage Slovenia.
(3:44) – Quick makes a relatively easy save, and it's important to note that the Kings haven't asked him to do too much tonight. Regardless of the outcome, that's huge as the season progresses. At this rate, Quick can golf a full 18 with Yoenis Cespedes tomorrow if he feels like it.
(3:35) –Lauri Korpikoski takes a holding penalty for the Oilers, and the Kings go on the power play for the first time. The forward unit of Kopitar, Brown, and Pearson try to use blunt force trauma to whack one by Talbot, but the Oilers netminder is up for the challenge. Interesting strategy as Sutter is just rolling forward lines for the entire duration of this man-advantage. I wonder if he knows it's a power play. (On second thought) Can somebody see if he's awake? Never mind, he just blinked. We're all good.
(1:00) – After the Kings power play results in nothing, the action really opens in the final minute of the frame. Each team gets a few good looks, highlighted by Jordan Nolan's shot that went just wide before the horn. We've played two in Alberta, and the Kings are clinging tightly to a 2-1 lead.
Some 2nd period thoughts: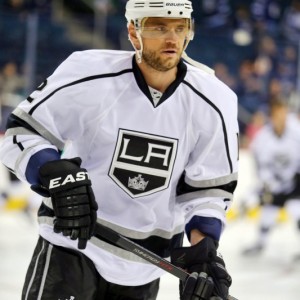 Too many missed shots for L.A. "You miss 100 percent of the shots you don't take" – Wayne Gretzky and/or Charlie Sheen.
The Oilers are up for the challenge. Edmonton will have a year full of growing pains, tough losses, and inconsistent play. But it's good to see that tonight, in the face of champions, they're not wilting in the slightest.
I am a huge Bob Miller fan. I don't care if he has occasional slip-ups (he owns up to them, like last night's comedic explanation of a gaffe involving former goalie Mario Lessard and a broken goalie "shaft") or speaks in the same tone as Will Ferrell's monotone character from SNL for an entire game, because the man simply loves hockey. He's been broadcasting Kings games for over 42 years, and approaches his job like the professional that he is. Plus, anybody in my age range (20-35) knows his voice from somewhere else…..
THE MIGHTY DUCKS! How could you not respect the guy who called District 5's improbable run to the Minneapolis pee-wee title. We all have to start somewhere, but few will ever know the joys of working with the Minnesota Miracle Man, Gordon Bombay. I could easily write 5,000 words on the Ducks run to the title, and Bombay's questionable habits in his personal life (the Conway family comes to mind). I'm distracted and it's all Bob Miller's fault.
Third Period
(16:00) – A quick scare for the Kings as Quick misjudges a bounce that scrapes part of the post. That was odd, and ultimately leads to nothing further by Edmonton. It's been a relatively quiet night offensively for Toffoli, but he gets a decent scoring chance with help from Carter. It's easy to see why this coaching staff has fallen in love with him, because he can still influence the game positively when he's not scoring (hits, passes, offensive zone support).
(12:00) – A good Kings rush by their top line results in another shot missing the net (Dustin Brown this time), and Quick is forced to make a good save on a quality scoring attempt from Pouliot. Edmonton is skating stride-for-stride with L.A., and really doing a good job with their defensive zone coverage. I must be dreaming.
(9:00) – Both teams are flying now. The Kings nearly pad the lead but fail to hit the net yet again, and Connor McDavid kicks it into overdrive as the puck takes an funky bounce behind the Kings net. On this particular occasion, as the ice opens up like the parting of the red sea, Doughty is waiting to greet the rookie. Doughty just gets in position to lift his stick and prevent McDavid from what would have been a Happy Gilmore style "tap-in." Good stuff all around.
(7:53) – Defenseman Jamie McBain takes a Kings penalty for holding, a few seconds of game-time after Hall should have been whistled for a clear rough on Kopitar. I like Hall's offensive skill, but there are some questionable elements to his game based on some incidents he's been involved in over the years. He's close to entering the sneaky-dirty star category of players in sports, whose members include Hines Ward and Dwyane Wade.
(6:00) – The Oilers set up the power play on the perimeter, and Ryan Nugent-Hopkins throws a "shass" (a shot pass) towards the vicinity of Hall, who calmly deflects it in. The game is tied 2-2 and we're suddenly minutes away from the most exciting five minutes in sports (3-on-3 OT), with the exception of a Bartolo Colon at-bat.
(4:55) – A hooking penalty on Edmonton gives the Kings a golden opportunity late in the game. The Kings set up an umbrella formation (one player on top in the center of the ice, like an umbrella on a rainy day), with good spacing in the offensive zone. Muzzin serves as the point man, and gets off a great shot through traffic. Talbot stops the first one, but not Pearson's rebound attempt. Kings back on top 3-2, and another great job in front of the net by Brown to disrupt the rhythm of Talbot. Great job Darryl rolling lines! That was genius! Darryl? Darryl?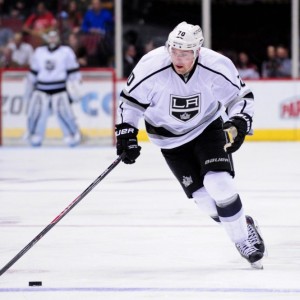 (1:54) – Down 3-2, Edmonton head coach Todd McClellan has abandoned the rules of positioning and will let his team freestyle. Time to get weird Edmonton.
(1:35) – Kopitar throws Pouliot down after a big faceoff in the Kings defensive zone, and the Edmonton fans voice their displeasure. This is another great quality about Bob Miller. When he's in opposing arenas, he embraces the heel announcer role like Bobby "the Brain" Heenan. Miller immediately chastises the arena for glossing over the same style of hit that Hall put on Anze earlier in the period, and he let out a devilish laugh before returning to calling the action. We need more of this in sports.
(0:57) – The Oilers enter the Kings zone and Talbot heads to the bench for the extra Edmonton attacker. The pressure intensifies, and L.A. just manages to clear the zone. Toffoli tries to shoot in the empty net, but misses and icing is called. Sutter, after what has to be three Mountain Dews, calls a timeout.
(0:17) – The Oilers win the draw but are unable to push the puck into the scoring lanes. The Kings ice it again, and the Oilers decide to use their timeout. The move allows the Kings players to rest, but also allows the Oilers to diagram one final play.
(0:03) – The Kings win the draw but Edmonton regains possession after a failed clearing attempt by Lucic. The puck slides through the crease and ends up in the left corner, where Hall fires a pass to Connor McDavid on the back door. In desperation, Quick sprawls to his left and reaches with his glove. McDavid shoots. Quick stops it, but the momentum of the shot takes a large portion of his glove across the goal line. Is the puck in?!? The first call is a goal. Then it's waved off. Then the horn goes off. Then Jeff Carter shoves McDavid out of the goal crease. Chaos!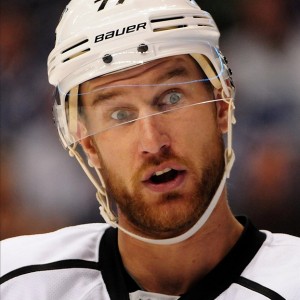 What is happening? The refs send it to Toronto to be reviewed.
The puck looks like it had to be in. But do we know for sure? Every angle is the same variation of the original overhead view, which leads me to believe they don't have the angle that would prove it one way or another. I think this will remain no-goal, but I would guess that the puck actually did cross the line.
"Upon further review…. No goal."
Wow. This isn't quite the full-scale uprising you'd expect in certain arenas, but I think that's mostly because of the lack of video evidence they could show on the jumbo-tron. The officials just can't prove without a shadow of a doubt that it is a good goal. I do think that we're moving closer to having chips of some sort in the puck, or the equivalent to the NFL pylon camera in one of the net posts. Don't feel too bad Edmonton, you could be the 2003-04 Calgary Flames, who had a Stanley Cup winning goal taken away in overtime for the same lack of proof. And that team's coach? Darryl Sutter! Wow did we come full-circle tonight.
(0:00) – Kopitar wins the draw, Pearson offers support, and that's a winner for the Los Angeles Kings. Five straight wins, a solid all around effort, and a very game opponent. Right after the horn sounded, Doughty let off an emotional yell, before embracing Quick in the crease. You don't think this game mattered to the Kings? Think again.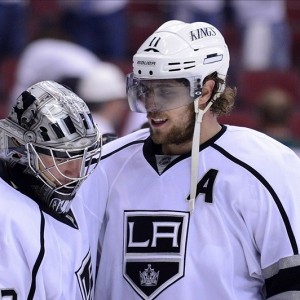 Final Thoughts:
Edmonton is much improved, at least early in the season. They may not have the roster pieces yet, but they are trying to play consistent defense which is really odd to see.
Five straight wins and there is no need to panic in Los Angeles. They don't blow teams out, they just win. The Kings are feeling pretty good, knowing that their old reliable game plan of puck possession and defense can claw out narrow victories on the road. Not a bad little combination to have in your back pocket.
McDavid is going to terrify this league with his speed for many years to come. He added an assist tonight, giving him nine points in nine games. I'm not saying he'll be moving into Wayne and Mario's neighborhood, but a point per game as an 18-year-old rookie would be pretty darn impressive.
I hope you enjoyed the first (and hopefully not last) edition of the Kings running diary. We're eight games into the season, and the hottest team in the Western Conference is only getting warmed up.