A lot has been said about the production of one Leo Komarov as it was certainly unexpected. In his first NHL season (2012-13), he had four goals and five assists for nine points. After playing the 2013-14 season in Russia, he returned to the Leafs last season and put up eight goals and 18 assists for 26 points. With still more than half a season to go this season, Komarov has scored 15 goals while recording 10 assists for 25 points. This will be a called a career year for him when it is all said done.
This has of course led to talk of trading him. Here I will tell you why that is a really bad idea.
Yes, Komarov has made himself a trade target for teams that are looking to add additional scoring. Enough, even that the Leafs could possibly get a first-round pick in return. If Komarov keeps producing like he has, that should be the sticking point to any return. The problem is that it's unlikely any team would give one up.
Think back to the Phil Kessel trade. Toronto couldn't get a straight first-rounder for Kessel. They get one in 2016 if the Pittsburgh Penguins make the playoffs this season. If they don't make it this season, but make it in 2017, the Leafs receive a first-rounder in 2017. If the Penguins don't make the playoffs in either season, all the Leafs will get back is a second-rounder in 2017.
If the Leafs were to trade Komarov for a first-rounder, it would probably have the very same conditions. With the new draft lottery rules, teams are hesitant to send their first round picks if they think there is an even a chance that they might miss the playoffs. Only two first-round picks in 2016 have been traded outright with no conditions attached. The teams that traded those picks are Boston and San Jose, two teams that expect to make the playoffs this season. The only other deal that involves a first-rounder in this year's draft is another conditional pick that could go to the Arizona Coyotes if the New York Rangers make the playoffs (that sounds like a safe bet).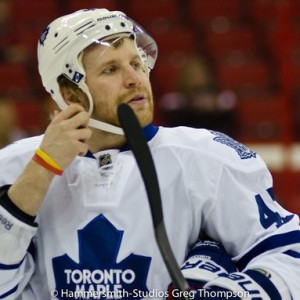 So if the Leafs want a first-round pick, it would most likely be from a team that knows they're going to make the playoffs. That would obviously give the Leafs a late pick. The 2016 Draft isn't as deep as the 2015 edition so Mark Hunter will have to really know his stuff.
The Heart Of The Team
The second and perhaps more important reason is what he means to the team. I don't think it's a coincidence that Komarov's emergence is happening in Mike Babcock's first season as head coach in Toronto. We all know Babcock came in trying to implement a new system for the Leafs to follow. Under that new system, Komarov has been given the chance to play in the Leafs top six. As we've seen, the versatile has taken full advantage of the opportunity he has been given.
So with being said, why would you trade the one player that really exemplifies how Babcock wants the Leafs to play? The team will more than a few young players joining them over the next few years If Babcock wants them to work in the system, he can simply say what it has done for Komarov. If it works for him and his offensive game, imagine what it could for players like Mitch Marner and William Nylander.
Sure, trading him could get a good return and it would save the Leafs a bit of money, but you can do that by trading other players like Tyler Bozak and Joffrey Lupul. They'd certainly save more money by doing that. So trade as many players as you like Mr. Lamoriello, just not Uncle Leo.