With just nine games remaining, the Boston Bruins are in a desperate situation. Their season long trend of hot and cold streaks has remained intact, but unfortunately their most recent cold streak has allowed Ottawa to leapfrog them into the playoff picture. Luckily for the Bruins, one of their top players in David Krejci is on the verge of returning- possibly just in time to push the Bruins back into the playoffs.
The Bruins offense has been relatively inconsistent and has been completely relying on Patrice Bergeron's steady play and the new second line centered by Ryan Spooner. Brad Marchand saw a scoring streak come and go, but the supporting cast has been invisible for long stretches. Perhaps most hindered by Carl Soderberg's cold stretch, the Bruins have had to rely on the top two lines for offense too often. It's a good thing Spooner has meshed so well with Milan Lucic and David Pastrnak because they could be even further out of a playoff spot.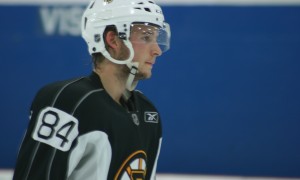 That brings the Bruins to their current "dilemma" if you will. What does Claude Julien do with Krejci? If Spooner wasn't playing so well, it would be an easy decision to put Krejci back into his familiar role with Lucic and Pastrnak. However, it doesn't appear that that will be the case. 
Reilly Smith has not been getting the job done on Bergeron's right-wing with just three goals in the calendar year and despite the fact that Krejci hasn't played wing anytime recently, he may be the best fit for the time being. With the Bruins best goal scorer in Marchand, best two-way player in Bergeron, and best play-maker in Krejci all on the same line, the B's could be onto something. Coach Julien needs to prove that he can deal with adversity, which he's clearly struggled with so far this season. Although very few players are playing up to their potential and GM Peter Chiarelli has made his own mistakes, Julien must face some blame as well. Stacking the first line with his most talented forwards may just be the right risk to take during one of the most desperate times he has seen as the Bruins coach.
Smith's demotion to the third line also sends Chris Kelly down to the fourth, possibly sending Danielle Paille to the ninth floor. Paille has turned it around after his ugly goalless streak, but the Bruins have obviously liked what Max Talbot has brought to the fourth line. His gritty play and veteran presence fill the hole left by Shawn Thornton, so Paille may be out of luck. However, if Smith continues to falter, he may find himself as the healthy scratch again, as he did on Saturday against Florida.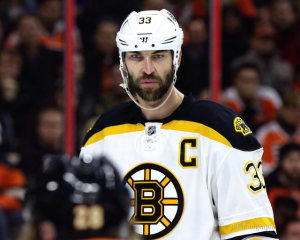 One would assume that the Bruins offense will be much more potent with Krejci back in the lineup for the home stretch, but with Dougie Hamilton now on the mend, it may not be enough. The Bruins blue-line group is easily the worst it has been over the past seven or eight seasons. Adam Mcquaid practiced alongside Zdeno Chara, with the offensive-minded Torey Krug next to Dennis Seidenberg. Matt Bartkowski and Zach Trotman round out the top six, with no real replacement waiting in the wings if anyone else goes down. With Chara and Seidenberg getting older, they won't be able to eat up a ton of minutes, which means that the remaining four defensemen are going to have to split up far too many minutes than they should have to. Krug is a valuable offensive defenseman, but none of those four players should be playing more than 18 minutes a night on a team with defensive depth.
The Bruins will need to win at least one of their next two games against the Ducks and Rangers, two of the best teams in the NHL, to remain in the hunt. They certainly can't play like they have over the past two weeks or else they will have no chance to catch up to the red-hot Senators, but it looks like some players may already be fed up with their recent play.
Milan Lucic just took brief nutty swinging & breaking his stick off post while angrily swearing in direction of Matt Bartkowski. Good times

— Joe Haggerty (@HackswithHaggs) March 25, 2015
Let's hope some of that fire makes it to the game tonight against the Ducks.
Has contributed to isportsweb, the Yawkey Way Report, and Fansided's Chowder and Champions. Host of the weekly radio show Top Shelf Sports on Bryant University's WJMF radio.