On July 23rd the Florida Panthers took a giant step forward as an organization when they signed Kris Versteeg to a four-year deal worth $17.6 million, avoiding an unnecessary arbitration hearing and eliminating the possibility that Versteeg could become an unrestricted free agent next offseason.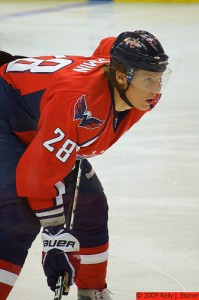 Not only was this a necessary move, retaining their third leading scorer (54 points) from the 2011-2012 season, it was also a savvy move considering the price they were able to keep him at. Versteeg's contract will carry an annual $4.4 million cap hit, which may sound pricey but when compared to similar player's it's a bargain. Take Alexander Semin as a comparative example. Both Semin and Versteeg tallied 54 points in 2011-2012 but Semin recently signed a one year deal worth $7 million. Add in the fact that Semin (28) is two years older than Versteeg (26) and you can see why this signing is so impressive.
Of course there is an argument to be made as to whether Versteeg's career numbers justify anything more than what the Panthers offered. Outside of his 2011-2012 performance there has only been one instance where he has tallied more than 50 points in a season and that came during his rookie year of 2008-2009. Does a perennial 40-50 point winger deserve to be paid as a top 50 forward? In the case of Kris Versteeg, you better believe it.
There are a multitude of things that GM's look at in order to gauge the correct price for a player. Previous production, age, potential, character, etc; all of these things are taken into account when trying to find the correct dollar amount. For a 26 year old NHLer like Versteeg your first instinct would be to look at his previous production. If that's the case then justifying a multi-year contract worth over $5 million a season is unrealistic for a player who perennially produces 40-50 points a season. It's also the wrong way to look at the Versteeg situation. If you want to truly gauge Versteeg's value then his potential must play an important role.
It's an odd thing to say that a 26 year old who is entering his 5th professional season should be looked at as still having room for growth. Most players at that age have cemented themselves as a specific style or caliber of player. Of course there is still room for improvement but it's limited for the vast majority of players. Versteeg is a unique case though.
After a rookie season where he notched 22 goals and 31 assists while being a finalist for the Calder Memorial Trophy he was involved in an odd dispute between the NHLPA and NHL where a clerical error led to him becoming an unrestricted free agent after his entry level contract expired.
The Blackhawks managed to retain him but after a sophomore season where his production dipped (20 goals, 24 assists) they shipped him off to Toronto in an apparent salary dump. He only lasted 53 games with the Maple Leafs before being dealt to the Philadelphia Flyers who were in the midst of a Cup run and when the season ended he was once again traded, this time to the Panthers for a second and third-round pick.
In the span of three seasons Versteeg played for four different organizations, never getting the opportunity to get his feet beneath him. Could the constant movement have taken its toll on Versteeg's development?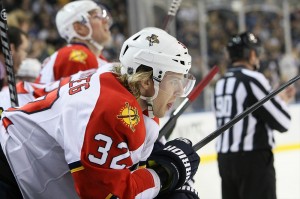 Odds are that the organizational shuffle that Versteeg was put through stunted his growth to a certain degree. Consistency is one of the most valuable assets when bringing up a young player. Without consistency a player isn't allowed to become comfortable in their situation therefore disallowing them to focus on growing to their full potential. Versteeg has yet experience that consistency and his production has most likely suffered as a result. Who knows what type of player he would have become if he were given the chance to play multiple seasons for the Maple Leafs or the Flyers. Luckily for the Panthers they are about to find that out just how good he can be in the upcoming seasons.
For the first time since his 2nd season he will be given the opportunity to skate with the same team in back to back seasons. He will also be paired with Tomas Fleischmann and Stephen Weiss to recreate one of the most productive top lines in the 2011-2012 season. With another season under his belt and another year of playing alongside two talented veterans Versteeg will finally be given the chance to show everyone just how valuable he truly is. It's not unfeasible to predict that Versteeg will become the Panthers go to man and at $4.4 million a year, he is a massive bargain if that prediction comes to fruition.
Adam is based out of White Bear Lake, MN and covers the Minnesota Wild for THW.