During last year's NHL offseason, Florida Panthers GM Dale Tallon wasn't afraid to roll the dice on a player with health related questions. While other teams were afraid to commit to Tomas Fleischmann after he was diagnosed with a pulmonary embolism (a condition that caused him to miss 60 games while playing for the Colorado Avalanche), Tallon was quick to offer the forward a four year contract worth $18 million.
The move paid off handsomely for the Florida Panthers as Fleischmann not only led the team in scoring but was also able to play in all 82 games while posting career highs in goals (27), assists (34), and points (61). The man known as "Flash" more than lived up to his contract in his first year with the Panthers and brought fans out of their seats with some dazzling goals.
With the success the Panthers had with Fleischmann, it should come as no surprise that they'd be willing to gamble on another oft-injured forward with great potential.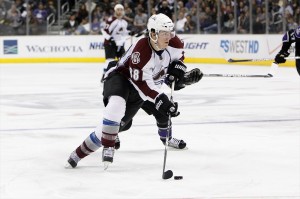 And gamble they did as Tallon signed 24- year-old Peter Mueller to a one-year contract for $1.725 million. Although Mueller is still in the early stages of his career, he has already dealt with serious concussion problems which forced him to miss the majority of two seasons with the Avalanche.
According to Mueller though, he is ready for a fresh start in South Florida, "There are no red flags. Everything is a go. I'm coming in with a great attitude. I'm ready to rock and roll this coming season."
There's no doubt that Mueller, when healthy, could be just the type of player that the Panthers could use in their lineup. At 6'2″, 209 pounds, Mueller adds a size element to a group of Panthers forwards that sorely could use it. Too often last year other team's were able to manhandle the Panthers upfront, which kept them from getting into an offensive rhythm.
Yet, Mueller simply wasn't brought aboard by Tallon for his size alone. Before his injuries began to pile up, Mueller put together two impressive season's with the Phoenix Coyotes, scoring 54 points in his rookie season and then following it up with a 36 point campaign. If the forward can remain healthy, he should help bolster a Panthers offense that was often relatively anemic last season.
If Tallon is to be believed, Mueller should be able to rekindle his career like Fleischmann did a year ago.
"He seems to be revitalized. He understands this is a great opportunity," Tallon said. "He's a top six forward with size and skill. If he plays well, he could be here for a very long time."
The parallels between Mueller and Fleischmann are a bit uncanny. Both suffered injuries with the Avalanche and must have wondered whether they would ever play in the NHL again. Both were given a second chance by the Florida Panthers and Dale Tallon.
If Mueller has it his way, the similarities won't end there. He'll hope to make the Avalanche regret not re-signing him.
Just as they do with Tomas Fleischmann.
Charlie Crespo is a Florida Panthers Correspondent for TheHockeyWriters.com. His work has also been featured at SB Nation Tampa Bay, where he is the Assistant Editor, and at TheRumpus.net. In addition to his writing, Charlie is currently working on an MA in English Literature at Florida International University.