The popular Canadian television show Degrassi is well underway into its twelfth season. Creators Linda Schuyler and Yan Moore have continued to develop characters who keep the show relevant to its fanbase, tackling many issues that face modern adolescents.  The show has been lauded for being very honest and it has received several accolades over the years because of the fact that it does not sugarcoat such delicate subject matter.  Some of their more poignant episodes have had the subject matter of teen pregnancy, date rape, a school shooting, and transgender dysphoria.
For the twelfth season, Degrassi has introduced new characters who are relevant to another demographic of modern teenagers, especially in Canada: Junior hockey players.  These characters are members of a fictitious team called the Toronto Ice Hounds.  As someone who has followed junior hockey for some time now, it captivated me when I learned that Degrassi was going to integrate this plot into what is already a spider web of differing storylines.  It also made me wonder if, considering this show's history of accurate portrayal of teen life, Degrassi would also be authentic in its representation of junior hockey players. I looked at standpoints of recruitment and the findings of a survey of 13 junior hockey players conducted by Cheryl MacDonald at Concordia University in Montreal, which tell much about the stereotypes surrounding junior hockey players today, with the majority of the focus being on masculinity at that level, are also prevalent in the characters on Degrassi.
So does Degrassi accurately portray junior hockey life?  We must first look at the four main hockey player characters.
*
Played by Dylan Everett, Campbell Saunders is the youngest member of the Ice Hounds.  Cam is from Kapuskasing, Ontario (in real life, Everett is from Waterdown, Ontario, the hometown of Mark Visentin), which is 11 hours away from Toronto, and it has been revealed that he billets with the Clarkson family, and it is a definite that he is a dynamic talent; he is the Ice Hounds' top rookie signing.  Unlike many of his teammates, Cam is very shy and reserved, seemingly immune to the arrogance that has permeated the older players.  He is also somewhat awkward in social settings due to a lack of self-confidence and obvious anxiety.
In one of his first appearances on Degrassi, Cam actually shows a normal stereotype of junior hockey players: Hockey is more important than education.  Due to his constant training, Cam missed too much school and he was unable to complete his Grade 9 French credit, prompting him, now in Grade 10, to retake the course, a class in which he meets Maya (Olivia Scriven) and Tristan (Lyle O'Donohoe).  Both Maya and Tristan become enamoured with Cam, which prompts Tristan to chat with him on Maya's FaceRange profile — Degrassi's version of Facebook — pretending to be her.  When the truth is revealed that Cam was talking with Tristan, and not Maya, he gets upset and he says that he will never be friends with them.  Even though Cam has apologized before for being a bit of a jerk, especially since he is so far away from home and the team is like his family, this outburst comes as a shock.  Thankfully, he forgives Maya and they become friends again.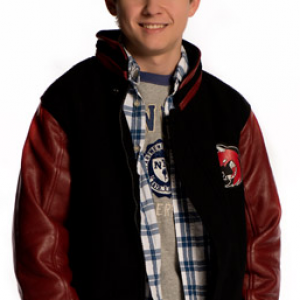 In one Degrassi episode, Cam is about to sit with Maya at lunch when he is intercepted by Dallas and brought over to where the hockey players are sitting. Dallas teases Cam for wanting to sit with girls.  This is perplexing.  Junior hockey players are used to having a lot of girls sitting with them, co-mingling with their friends.  (That is actually something not seen so far this season on Degrassi.)  As well, Cam lies that he cannot hang out with the team after school because he has a Skype date with his "girlfriend" from back home, Jamie, which prompts even more teasing due to the fact that Jamie can also be a boy's name.  Such homophobic teasing would not be tolerated, especially with recent sanctions in the OHL over homophobic and racial slurs.
Cam has been shown to be quite homesick at Degrassi, something that does affect several junior hockey players, albeit mostly imports.  Coupled with the fact that the team rides on him for being a rookie, Cam has found himself suffering from severe anxiety and he goes into the girls' bathroom, splashing water on his face to calm down.  He is approached by Bianca (Alicia Josipovic) with whom he had a rather forgettable experience at the mall.  Cam tells her that he is upset because he does not enjoy high school, especially in terms of making friends, to which Bianca replies, "High school sucks.  Spend it with people who don't."
Cam and Maya have developed a relationship and have started dating.  It is not unusual for junior hockey players to date girls from where they play; in fact, even several European imports in the CHL date North American girls. Maya does not fall into the stereotype of the "puck bunny," which many hockey girlfriends are characterized as due to the fact that they appear to attach to the celebrity of their boyfriends rather than who they are as individuals, mostly because girls considered "normal" would find them to be quite ignorant and the prettier girls would be more attracted to them.  Maya is a bespectacled, quiet cellist and, while she is pretty (who isn't on television, though?), her normalcy is something that is admirable, meaning that Cam does not look at her superficially; he cares about who she is on the inside and she reciprocates the feelings, looking past his hockey player persona and seeing him for the gentle soul he truly is.
Despite it all, there is one glimmering inaccuracy with Cam and his presence on the Ice Hounds. He is a 1996-born player (one year younger than Everett is in reality), meaning that, if the Ice Hounds are a major junior team, he would have had to apply for "exceptional player status" to be chosen a year early.  If the Ice Hounds are a tier II junior A hockey team, he could only be called up for three-game periods at a time, despite his obvious talents, since 15-year-olds are not allowed to play full seasons in tier II junior A hockey anymore in Ontario.  1996-born players will be rookies in the 2012-13 season and these episodes of Degrassi take place during what would be the 2011-12 season. Furthermore, Dallas tells Cam — who later tells Bianca in an effort to impress her — that he will be in the NHL in two years.  This does not take into account if Cam has a late birthday that would cause him to have to wait for an extra year to be drafted.  While practicing his stickhandling in the gym, Cam says some commentary, which includes him saying that he could pass the puck to Dallas; it is quite rare to see a rookie play with the team captain so quickly.  Additionally, on tier II junior hockey teams, underage players must wear protective cages.
That lapse in character development aside, Degrassi really created a believable character in Cam.  He reminds me of several junior hockey players I have met over the years, especially when they were rookies.  His development, both personally and professionally, can be spread over several seasons, something that makes him even more relatable to many real junior hockey players, who grow as people and athletes as the seasons progress.  In addition, the writers have tackled a delicate issue in Cam's storyline: Depression.  Ever since the suicides of Rick Rypien and Wade Belak in 2011, the hockey community has awakened to the issue of depression, now with former NHL player Stephane Richer also admitting that he has suffered from it.
The Degrassi Hockey Team Includes All the Typical Stereotypes.
Played by Demetrius Joyette, Mike Dallas is the captain of the Ice Hounds.  Dallas may be a local but he billets with the Torres family, allowing him to become closer friends with Drew (Luke Bilyk).  A 1993-born player (meaning he would be doing a "victory lap" at Degrassi), he appears to be quite conceited at times but he is very loyal and passionate, caring very much about his team and his teammates. Many times, however, Dallas seems almost mean to Cam, who is the youngest member of the team.  He teases him about silly little things, which seem to make his rookie teammate feel uncomfortable, but he claims it is all in fun.  That being said, hockey captains should be the ones to make sure that their rookies feel comfortable on the team and with the other players.  There have been incidents of hazing on hockey teams that result in controversy, as well as incredible sanctions, most notably an occurrence with the MJHL's Neepawa Natives in October 2011, in which several players, including the captain and alternates, were suspended.

Additionally, Dallas' wanting to be the top dog on the Ice Hounds also makes him appear quite cocky.  There is no denying that some hockey players can be that way, especially since they know that they are doing whatever they can to make their dreams of playing professionally come true.  Junior hockey players, however, can be very humble individuals, giving of their time off the ice just as much as giving their effort on it.  To be honest, Dallas' cockiness can be slightly exaggerated.  Just like in real life, though, there are some people who are not going to be impressed with such arrogance.  Fiona (Annie Clark) really put Dallas in his place on their first meeting; refusing to believe that Fiona was a lesbian, Dallas asked her to kiss her girlfriend Imogen (Cristine Prosperi) in front of him and his teammates to prove it but Fiona retorted by doing so only if Dallas kissed one of his teammates first.  (From my personal experience, I do not deal well with cockiness so I make sure that, if a hockey player tries to be cocky around me, I employ my quick-witted nature to let him know that his attitude is not necessary.)
During his first weekend at the Torres family home, Dallas throws a kegger in which several people from Degrassi attend.  This is remarkably quite accurate. Some junior hockey players do tend to enjoy partying when they do not have games.  Underage drinking is also quite prevalent.  In November 2011, a 17-year-old girl alleged that she was sexually assaulted at a party hosted by a member of the CCHL's Gloucester Rangers, in which 70 high school-aged girls were invited on Facebook to an event in which they were offered free alcohol at the expense of the team's rookies; in fact, the players were not even allowed to throw a rookie party earlier in the year.  As well, many teams enforce that substance abuse, whether drugs or alcohol, will not be tolerated but, somehow, there are still many times when keggers and parties of this nature are still held.  That is something that Degrassi definitely does not sugarcoat in its representation of junior hockey.  With Dallas being the captain of the Ice Hounds, he should know better than to allow such transgression of team rules to happen.
Dallas also comes across as being a ladies' man.  This is something that can be considered partly true.  There is no doubt that girls gravitate toward hockey players.  The social status that they exude, especially here in Canada, is undeniably an attraction. It is not always the case, even though stereotypes would think otherwise, that hockey players are willing to jump into bed with every girl they meet.  Online messageboards and forums revile hockey players, especially juniors, for being unfaithful to their girlfriends, saying that they are frequently cheating and sleeping around; most of these respondents are girls who claim to have caught the players in the act and some even go so far as to say that they were the girls that the hockey player was cheating on his girlfriend with.  This is further complicated with Facebook pages called "50 Things All Hockey Players Must Do Before They Die" and things of that nature. Some teams, however, are becoming quite strict with their players and their sexual relations with their girlfriends; for example, the Peterborough Petes have on their website in its billet guidelines: "Girlfriends are expected to leave at curfew; girlfriends are not allowed in the players' bedrooms. Handle this subject pertaining to your house rules. Please notify the club if problems arise from this."  Dallas' playboy antics could be verifiable but, much like his cockiness, it does appear almost exaggerated. Junior hockey players may go through several girlfriends during their careers but, during these relationships, many remain true, faithful and monogamous.  A hockey player may travel hundreds of kilometres to go to the prom with his girlfriend from where he plays during the season.  In the case of European imports, they revel at the opportunity to allow their girlfriends to come over to their home countries.  Safe to say, infidelity is not always an issue with hockey players, especially at the junior level.
One thing that is very encouraging, despite all of the embellishment of character, is that a player of colour is the captain of the Ice Hounds.  Sadly, hockey is still a sport dominated by white players and even more underwhelming is the fact that the number of ice hockey captains of colour or ethnicity is not very high either.  In the OHL last season, no player of colour wore a C.  Degrassi must be lauded for allowing Dallas to be the captain of the Ice Hounds based on that fact.
*
Played by Craig Arnold, Luke Baker is one of the more enigmatic members of the Ice Hounds. Luke and his family moved to Toronto from Florida after he was signed by the team.  A 1995-born player, Luke is, remarkably, one of the more accurate junior hockey player characters on this new season of Degrassi.  He is very dedicated to his Christian faith, his teammates and the protection of his twin sister Becky (Sarah Fisher), who shares his extremely conservative views. That being said, that is not the only reason why he is one of the most accurate representations on the show.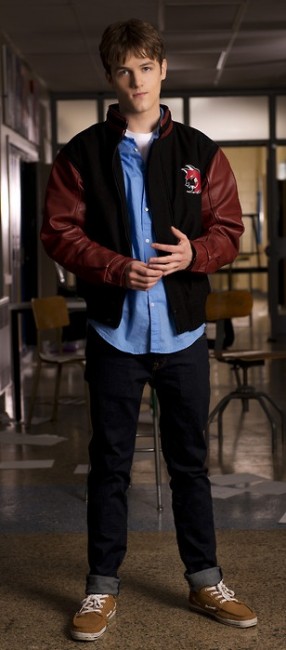 The Christian faith is very prevalent among hockey players today.  In the NHL, players such as Mike Fisher, Shane Doan, Dan Hamhuis and Eric Staal have been quite vocal about their faith. As for junior-age hockey players, one can just go onto the Twitter profiles of Saverio Posa, Rocco Grimaldi and Ryan Carpenter — all of whom are also American, just like Luke — and each one talks in his blurb about his faith, proving that it is something that is very important to each. Here lies the contradiction, though.  Luke is widely admired by girls because of his hockey player persona and he tries so desperately to stay true to his faith despite his raging hormones.  Conservative Christian dating rules allow for teenagers to date but that they should develop these relationships in the hopes of finding someone to marry, not loving for shallow reasons.  They must recognize that they live for God's love first, as well.  As for Luke's relationships, one girl who he seems to be getting close to is Jenna (Jessica Tyler), who — as most Degrassi fans know — got pregnant in Season 10 by former boyfriend K.C. (Sam Earle) and had a baby, Tyson, in Season 11, only to have him taken away and put up for adoption. With many conservative Christians practicing abstinence, Jenna's previous pregnancy and childbirth could be problematic in a possible relationship between the two of them.  Furthermore, Jenna shares different religious beliefs than that of the Baker family, something that could complicate them getting together, in addition to Becky not wanting Jenna and Luke to get together.
Despite the fact that Christians are perceived as open and forgiving individuals, they have been criticized for their sometimes blatant opposition to homosexuality. This is further complicated on Degrassi with Luke, who finds himself a stereotype of the homophobic junior hockey player.  He is the one who asks Eli (Munro Chambers) the question, "Why don't you keep the gay stuff a little more private?" when Eli was having pictures taken of Tristan and Dave (Jahmil French) for promotional posters of 'Romeo and Jules,' a retelling of 'Romeo and Juliet' with two gay male characters.  This change was much to the chagrin of Luke's sister Becky, who was slated to co-produce the musical but quit when Eli altered the story when Tristan did well at an audition.  It is also Luke who asks, "Jamie?  Isn't that a guy's name?" when Cam tells about his supposed Skype date with his "girlfriend" from back home. (Unlike his character, Arnold is pro-LGBT.)
Additionally, Luke represents another growing trend in hockey, especially at the junior level, and that is the emergence of players from Florida.  Former OHL player Matt Smyth, who spent time with the Brampton Battalion, Sarnia Sting and Barrie Colts, as well as the Couchiching Terriers of the OJHL, moved to Markham, Ontario, from Orlando, Florida, at the age of 14 to pursue his hockey career further.  Other players from Florida who have appeared in the OHL include Frank Grzeszczak, Ramon Lopez, Brandon Maxwell, Colin Suellentrop and Andrew Yogan, whom Arnold minutely looks identical to.  Players from Florida have even permeated the tier II junior A hockey leagues; for example, Dillon Harrington, who spent the 2011-12 season with three tier II junior A teams in Ontario (Kingston Voyageurs, Ottawa Jr. Senators, Cumberland Grads), calls Fort Myers, Florida, home.
*
Played by Daniel Kelly, Owen Milligan has been a regular character on Degrassi since Season 10. For most of his time on the show, Owen has been portrayed as a bully, picking on many students who are "different," including Zane (Shannon Kook-Chun), who is gay, and Adam (Jordan Todosey), who is transgendered.  It seems almost unusual to think that he would be that way, considering that his brother Tristan is gay himself.  When he realizes that Tristan has a crush on Owen's teammate Cam, who is in his French class, Owen tells him that Cam would never be interested in him or even want to be friends with him because of Tristan's homosexuality.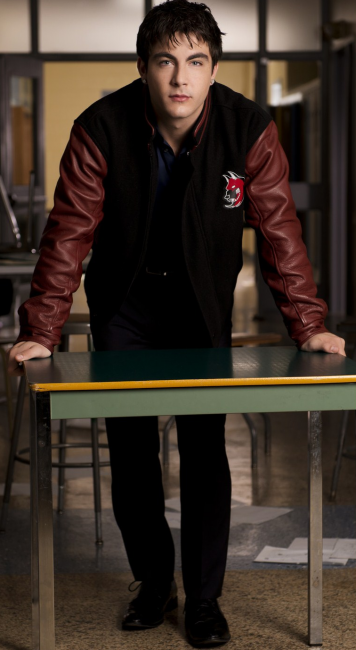 Owen's bad-boy persona actually would drive girls away from him, mostly because they perceived him as nothing but trouble. Conversely, many girls would gravitate to a hockey player with a "bad boy" reputation.  A failed relationship with graduated fellow student Anya (Samantha Munro) caused Owen to become more mature.
Owen may also not be an incredibly accurate junior hockey player.  Many junior hockey teams strongly enforce education and, due to several bullying incidents, Owen had been suspended from Degrassi on several occasions.  If Owen has truly changed like his character has proven, he would have to stay out of trouble completely and do well in school. That being said, however, the typical stereotype of a junior hockey player is one who does not care much for education, seeing school is a mere inconvenience, so that could make him more plausible.
How Owen was scouted is also up for debate.  A 1994-born player, there may be the local factor, of course, but, if the Ice Hounds are a major junior team, it is very unlikely that he would get signed to a major junior contract out of a disreputable high school program such as that of Degrassi. He would have had to play at least some midget hockey or, at the most, some lower-level junior hockey to be considered. If the Ice Hounds are a tier II junior team, this could be more plausible; there are several instances of players being scouted while playing for a high school team.
Additionally, many players enjoy tenures with their high school hockey teams before being drafted to major junior hockey, especially since they recognize that they may have to switch schools if they play for a team in another city.  Since Owen is a local, he knows a lot about Degrassi and how things work there, something that gives him an advantage over his teammates.
Perhaps the real reason why Owen does not fit the stereotype of junior hockey players is a simpler one.  It may be because of the fact that he has been a regular on the show longer than the other hockey player characters on Degrassi, meaning that his character off the ice has been developed more than his character on it.  He has had many other storylines on the show, including being down in the boiler room with Alli (Melinda Shankar, Kelly's real-life girlfriend) and offering her $50 to have sex with him, a hazing incident while playing for the Panthers football team, and dealing with ex-girlfriend Anya's cocaine habit.
*
As for the Toronto Ice Hounds in general, there are some things that seem to be a bit inaccurate with how they are shown on Degrassi.  Most notably, the players seem to have a lot of free time on their hands.  Times where they are usually at the mall, they should be at practice.  Granted that most major junior teams have practices in the mid-afternoon, and many tier II junior A hockey teams have practices in the evening, they could verily have time for themselves but they also have homework and obligations at their billet families' homes that must be adhered to.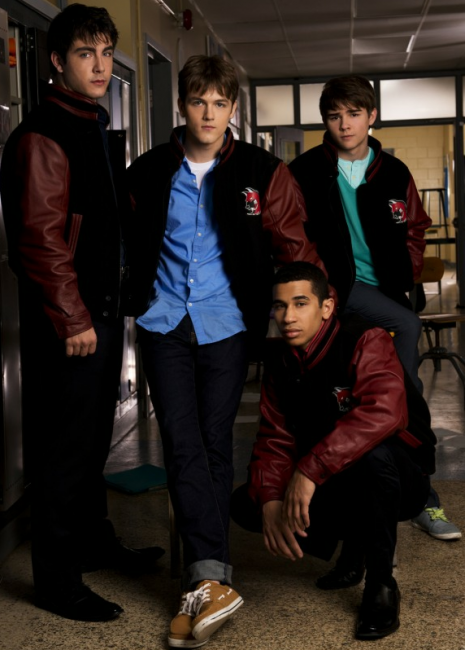 As for coming to school in a dress shirt and a tie on game day, that is something that I am not sure of.  Now that Degrassi has abolished their school uniform, all of the students get to dress casually and the Ice Hounds are no exception. Of course, each player wears his team jacket, symbolizing his pride in his team.  For me personally, I went to a Catholic high school where all of the students wear uniforms and the hockey players — whether the Frontenacs or the Voyageurs — had to wear them without question.  On non-uniform days, including ones on which the players had games, they would dress casually, just like everyone else.  I am aware, however, of the fact that many hockey players wear suits on game day when they go to the arena.  In fact, many opposing teams do that, as well.  Whether or not hockey players who attend public schools without uniforms dress up on game day to attend classes is not something I know about from experience.
One also has to wonder about other certain stereotypes that this representation of junior hockey players on Degrassi shows the casual viewer.  Like stated earlier, three of the four main players on the Ice Hounds are blatantly homophobic.  Although anti-gay slurs are quite prevalent in today's society, there are many junior hockey players who still use them.  It is sad to think that there are many who do, especially since these players are expected to be idols for young children, and homophobia should not be something that they should practice. (Remarkably, in earlier seasons, there was an openly gay hockey player character, Dylan Michalchuk, who, in Season 6, signed with a team in Switzerland after graduating from college.  Dylan was played by John Bregar, who played Bobby Clarke in the CBC made-for-TV movie Canada-Russia '72.)
If there is any bona fide stereotype that is truthfully displayed on Degrassi, especially based on this blatant showing of homophobia, it is that even junior hockey players are expected to be masculine.  According to the Concordia study, 35% of the hockey players surveyed agreed with the statement of "I am expected to behave in a manly way because I am a hockey player" while 45% of the players surveyed agreed with the statement of "I am expected to act manlier when I am around my teammates than when I am around everyone else."  This is shown on Degrassi quite vividly whenever the older players, especially Dallas, try very hard to get Cam to spend time with the team, something that makes him uncomfortable due to constant teasing, something that appears to emasculate him.
This masculinity, coupled with the adoration and idolization of junior hockey players, is echoed when one hears the cheering sounds during the opening credits when all four players walk through the halls together, hockey sticks in hand.  (Please note that the thumbnail of the video is completely coincidental.)
http://youtu.be/KeJuv7AXKGw
*
So does Degrassi accurately portray junior hockey life?  To be honest, the answer to that question can be both "yes" and "no."  The answer can be "yes" because the casual observer sees junior hockey players by the stereotypes that seem to follow them around, including homophobic beliefs and the need to be considered masculine, and it is Degrassi's way of taking those stereotypes — which are shown quite blatantly with the Toronto Ice Hounds — and working them into a believable plot line that keeps in accordance with the show's no-holds-barred approach to issues that face modern adolescents.  The answer can be "no" because the casual observer only sees the way these characters project themselves on the outside, their personas, something that an individual who does not take the effort to get to know the players as people sees.  While Cam's anxiety and Luke's faith may provide insight into what they are like on the inside, in a sense humanizing them, they are merely layers of the complexity that comes with only seeing a junior hockey player for who he is on the outside.
Degrassi's little discrepancies in terms of how players got their jobs on the Ice Hounds —  from Cam actually not being able to play as a 15-year-old on an Ontario-based tier II junior A team to Owen being a high school grinder with a history of disciplinary rebellion — can be forgiven because these are things that the casual observer, one who does not have regular exposure or extensive knowledge of the junior hockey system, would overlook.
When all is said and done, the characters who are members of the Toronto Ice Hounds hockey team are a reminder of what should be remembered in general, something that Degrassi has continued to show with every character: We are all just people — whether we are hockey players or homosexuals, geeks or goths, teen moms or transgenders — and we all want to be accepted for who we are on the inside.