As the NHL summer slowly creeps towards what we all hope will be a season that starts on time the Vancouver Canucks still have goalie Roberto Luongo on their roster. There has been a lot of chatter and assumptions that he will be traded before the season and nearly every hockey pundit is convinced that a likely landing spot for the talented goalie will be the Florida Panthers.
Luongo played there before and liked it, the fans there liked him, his wife is from Florida and the Canucks and Panthers have a long history of making deals together. So get it done already right?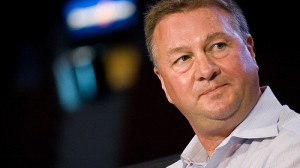 Many people have speculated that the hold up in the deal is that Canucks General Manager Mike Gillis is demanding that the Panthers include their 2010 first round draft pick, Nick Bjugstad, as part of the deal. Florida, so far, is unwilling to part with the University of Minnesota forward and we find ourselves at the crossroads.
Just who is Bjugstad and why does Gillis want him so badly?
Bjugstad just completed his sophomore year at the University of Minnesota and scored 25 goals and 42 points in 40 games with the Gophers. Those numbers are surely enticing and so his Bjugstad's size. He is listed at 6'5" and 212 pounds which fits the bigger and younger mold that Gillis has said he is after.
His game also fits the mold that Gillis and the Canucks like. He can play in all situations, kill penalties, play on the power play and takes care of his own end. The Canucks have been after more depth in their top six and Bjugstad definitely projects to be a top six forward.
The only draw back is that he won't be in the NHL this coming season. Bjugstad will return to Minnesota for another year with the Gophers and if the Canucks were to land him they would at least have to wait until next season to see him in Rogers Arena. While bringing in BJugstad would be great for the future he would not help the Canucks this season.
Surely there would be other pieces coming back in such a trade but Bjugstad would be the key player.
The dilemma here is that the Canucks roster is built to win now and if they pull this trade off they will still be in desperate need for more scoring out of their top six. With the remaining free agent market made up entirely of Shane Doan and his tour of NHL clubs it is unclear where Vancouver is going to get the player they need for this season. Most people assumed they would address the forward situation through the Luongo trade. It does not appear that is what Gillis has in mind.
Should Gillis lower his demands for Luongo? Should he be looking for NHL ready players to win now?
There are some signs that the youth movement may be on in Vancouver.  After the season Gillis made a point about getting younger and bigger which explains bringing in players like Zack Kassian, choosing to go with a younger goalie in Schneider and his pursuit for Bjugstad.
Gills may be trying to walk the tight rope of competing for a Cup and rebuilding at the same time.
A General Manager's job is to win consistently and to do that you have to be able to look forward a bit for sure, but Gillis' job is tough because he has a Stanley Cup roster whose window is starting to close. The Sedin twins are going to be 32, Ryan Kesler has started to appear injury prone and Alex Burrows is 31 and headed into his last contract year.
How much longer will Vancouver win with this lineup? It would seem that Gillis feels the roster, as it is, can win a Stanley Cup as he has not made any major moves that would suggest a panic or a feeling of lost hope.
Is that wise though?
At the end of last season the Canucks were a tired and worn out lot so on some level getting younger makes sense. However, if 'younger' means guys who are a year or two away from contributing is Gillis missing an opportunity here?  Should he be selling the farm to win it all now, with this roster? Shouldn't he be trying to acquire players who are NHL ready and can put the club over the top this season?
We will certainly find the answers to those questions this season.
Andrew writes about the WHL and NHL Draft Prospects. He also covers the Seattle Thunderbirds for 710 ESPN Seattle and spent two years with Sportsnet. Follow him on Twitter @andyeide.