For the Buffalo Sabres, it was a best-case scenario: an immediate and newsworthy return on their mammoth, seven-year, $42 million contract.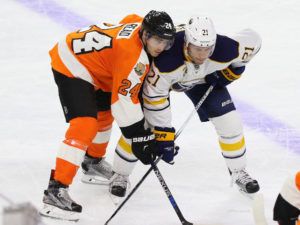 Kyle Okposo, the team leader in goals (12) and shots (101), who is also tied for the team lead in points with 27, has been everything the Sabres were hoping for when they signed the highly coveted free-agent on July 1. The league has taken notice, and now the St. Paul, Minnesota native will represent blue and gold at the 62nd NHL All-Star Game Weekend set for January 28-29 at Staples Center in Los Angeles.
"I'm excited. It's something I've always wanted to be a part of," Okposo, who will make his first All-Star Game appearance, said. "You throw it on the TV when you're growing up or even now and the All-Star Game is a pretty cool event.
"I'm thrilled to be participating this year and I'm very honored to be selected. It'll be a cool experience," Okposo added. "I'm just looking forward to soaking everything in and enjoy the experience."
Three years removed from his 27-goal, 69-point career-season with the New York Islanders in 2013-14, Okposo is on pace for 25 goals and 55 points in his inaugural campaign for the Sabres. And with the recent reinsertion of Jack Eichel into the lineup, Okposo has seen an uptick in performance with three goals and five points in his last six games.
Congrats @bookerT2116 on being named to the 2017 #NHLAllStar Team! pic.twitter.com/kaibRtIdOT

— Buffalo Sabres (@BuffaloSabres) January 10, 2017
[irp]
Sabres' coach Dan Bylsma has been impressed with the instant return from his power forward.
"Go between leadership of how we need to play and playing the right way, his presence in the offensive zone, his work ethic, and holding onto the puck and being tenacious there and relentless there," Bylsma said.
"He's a guy who puts it in the back of the net for us. When we've struggled to score goals, he's the guy stepping up to really do it."
Kyle Okposo says GM Tim Murray informed him this morning he was named an #NHLAllStar. He was a bit surprised, so much talent on this team. pic.twitter.com/HgWaQSssCT

— Buffalo Sabres (@BuffaloSabres) January 10, 2017
"It's awesome for him," teammate Ryan O'Reilly said. "All year he's been probably our most consistent player. Night in and night out, the way he competes and the way's he been producing, it's nice to see him get that. It's definitely well deserved."
Okposo was "a little bit" surprised to get the call, but feels the nomination is a reward for all the hard work he has put in for his new club this season.
"It feels good. It feels like it's a bit of a reward for my play," Okposo told The Buffalo News' Amy Moritz. "This year is probably not the best statistical year that I've had. With coming here and everything being new, the transition, the guys make it easy but at times it's difficult, just trying to get used to everything and still get cemented in the lineup somewhere. It definitely feels good. Feels like a reward."
Ristolainen Obvious Omission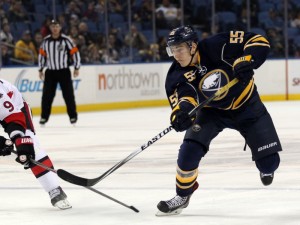 How exactly does the NHL's sixth-leading scorer among defensemen find himself on the outside of the 2017 All-Star Game?
In short: Victor Hedman, Erik Karlsson and Shea Weber.
Chalk it up to "The Year of the Defenseman" in the Eastern Conference as three of the top blueliners in the league are coming from the Atlantic Division. Still, given all the talk of "Norristolainen" in Buffalo, it is an obvious disappointment the Sabres' first-round pick (eighth overall) in 2013 was left off the roster.
Fifth in the league in time on ice, and second only to Karlsson in the East, Ristolainen has been a minutes monster for Buffalo this season, absorbing an astounding average of 26:52 on the back-end. And with three goals, including two overtime game-winners, to go along with 14 points over his last 15 games, he is making the most of every shift.
[irp]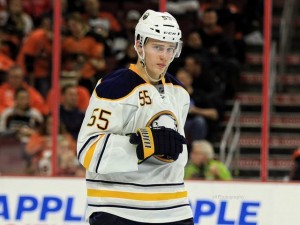 An obvious hole in the All-Star Game selection process, the 6′,4″, 203-pound Finnish defenseman was singled out by Canada's Sportsnet among its 17 outrageous snubs regrettable omissions from the festivities, which will include a highly-anticipated 3-on-3 event.
Regardless, Sabres fans should not be disappointed. Only the blue and gold faithful know how valuable Ristolainen is to the team. At the end of the season, his name should be right up there among the best for Norris Trophy consideration.
At least one player from all 30 NHL teams must be represented. It was a difficult selection process to be sure and in all honesty, the league did an admirable job putting the best on display. So sit back and enjoy the festivities, pull for Okposo and know the weekend should provide a much-needed rest for the travel-weary Sabres.
2017 NHL All-Star Game Rosters
ATLANTIC DIVISION
Forwards
Nikita Kucherov, Tampa Bay Lightning
Brad Marchand, Boston Bruins
Auston Matthews, Toronto Maple Leafs
Frans Nielsen, Detroit Red Wings
Kyle Okposo, Buffalo Sabres
Vincent Trocheck, Florida Panthers
Defensemen
Victor Hedman, Tampa Bay Lightning
Erik Karlsson, Ottawa Senators
Shea Weber, Montreal Canadiens
Goaltenders
Carey Price, Montreal Canadiens
Tuukka Rask, Boston Bruins
METROPOLITAN DIVISION
Forwards
Sidney Crosby, Pittsburgh Penguins
Taylor Hall, New Jersey Devils
Evgeni Malkin, Pittsburgh Penguins
Alex Ovechkin, Washington Capitals
Wayne Simmonds, Philadelphia Flyers
John Tavares, New York Islanders
Defensemen
Justin Faulk, Carolina Hurricanes
Seth Jones, Columbus Blue Jackets
Ryan McDonagh, New York Rangers
Goaltenders
Sergei Bobrovsky, Columbus Blue Jackets
Braden Holtby, Washington Capitals
CENTRAL DIVISION
Forwards
Patrick Kane, Chicago Blackhawks
Patrik Laine, Winnipeg Jets
Nathan MacKinnon, Colorado Avalanche
Tyler Seguin, Dallas Stars
Vladimir Tarasenko, St. Louis Blues
Jonathan Toews, Chicago Blackhawks
Defensemen
P.K. Subban, Nashville Predators
Duncan Keith, Chicago Blackhawks
Ryan Suter, Minnesota Wild
Goaltenders
Corey Crawford, Chicago Blackhawks
Devan Dubnyk, Minnesota Wild
PACIFIC DIVISION
Forwards
Connor McDavid, Edmonton Oilers
Jeff Carter, Los Angeles Kings
Johnny Gaudreau, Calgary Flames
Bo Horvat, Vancouver Canucks
Ryan Kesler, Anaheim Ducks
Joe Pavelski, San Jose Sharks
Defensemen
Brent Burns, San Jose Sharks
Drew Doughty, Los Angeles Kings
Cam Fowler, Anaheim Ducks
Goaltenders
Martin Jones, San Jose Sharks
Mike Smith, Arizona Coyotes
New Jersey Devils One Jersey Grass Roots Writer; 13 years writer/reporter for The Star-Ledger and NJ.com; 1st-year with The Hockey Writers; Previously covered the Boston Bruins, Boston Red Sox and New England Patriots for The Casco Bay Weekly; Portland Pirates (AHL) 2002-'03; Director of Media Relations The Eastern League (AA) 2000-'02; Great Skate 1997-2000; Buffalo Sabres 1994-'97; Buffalo boy, Maine grad; International hockey player and coach; #Buffalove #OneBuffalo