.
We hope that (he's) a second-line centre iceman that will come in here and play real hard. I believe he is a very talented young man. Given the type of team we have and the age of our core guys that he will be a real nice addition to our forward group. (Senators GM Bryan Murray – December 17, 2011, via TSN.ca)
As Patrick Wiercioch faded backwards near the blue line during an Ottawa power play vs Florida on Monday night, Kyle Turris neatly positioned himself at the top of the face off circle. With a quick tap on the ice, he signaled to the young D-man that he was ready and willing, and promptly wired the puck past Jose Theodore upon receiving the perfect pass from the point. It was hist first of two on the night, his second of three in this young NHL season.
The second goal was of the give & go variety, as Turris was the beneficiary of a lovely feed from newcomer Guillaume Latendresse. In what was essentially a tap in on 18, Turris' reaction was somewhat subdued, as though he knew that this kind of production should be his new normal, a young forward staking his claim in the nation's capital, having finally found a hockey home to call his own.
It's been over a year now since Kyle Turris was acquired from the Phoenix Coyotes, in a deal that saw the Senators send David Rundblad and a second-round pick the other way. (Rundblad, of course, had been acquired from St. Louis for Ottawa's first round pick in the 2010 NHL Draft, which the Blues uses to select Vladimir Tarasenko … gulp.) Turris had held out for six weeks at the beginning of that season, before agreeing to a two-year, $2.8 million deal with the Coyotes on Nov. 22; less than a month later, he was a Senator, and a new chapter in his hockey career had begun.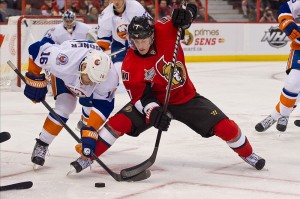 For whatever reason, it just never worked out between Turris and the Coyotes, the final straw being the contract stalemate that, while eventually resolved, left a bad taste all around.
On one hand, Turris was making demands based on what he thought / knew he could do, and the Coyotes were offering what they deemed to be adequate compensation based on his limited actual production up to that point. With career highs of 11 G & 14 A in 65 games during the 2010-11 season, the Coyotes seemed willing to take a wait and see approach, offering fewer dollars and a shorter term in the hopes that Turris' potential would actualize into greater production. In the process, Turris was painted as somewhat of a malcontent, seemingly entitled to a paycheck that he had not yet earned.
With that being said, there's every reason to believe that Turris wasn't well positioned to succeed within the Coyotes framework. All one has to do is check out Phoenix's drafting history from the early 2000's to Turris' draft year of 2007 to see that the Coyotes had produced a veritable lottery wasteland during that time, with many of their top picks having been similarly jettisoned or unable to hang in the NHL altogether.
The belief among some – and surely Turris included – was that if he were put in a position to produce and succeed, he would be live up to expectations. And if his first 51 games in Ottawa are any indication, the second line C spot behind Jason Spezza is serving him just fine.
In 49 games last season, Turris put up 12 G & 17 A for the Senators, with 1 G & 2 A during the series with the Rangers (including this memorable OT winner in Game 4.) He also put up 19 points in 21 games playing for Karpat of the SM-Liiga during the lockout, but, upon returning to North America, there was a report in the Globe and Mail (on the one-year anniversary of the trade to Ottawa, no less) indicating that Turris didn't necessarily relish his experience overseas. Turris subsequently backpedaled, causing quite a flap and once again raising questions in regards to his overall attitude and maturity level. (Justin Bourne of the Backhand Shelf, in particular, was quite pointed about Turris' denial of the story.)
That incident notwithstanding, the Senators are banking on the fact that a fresh start in Ottawa will allow Turris' career to get on the expected track of a 3rd overall pick, and, as such, have already committed to the tune of $19.1 million through the 2018 season (which appears to be great value, when compared to his salary range counterparts.)
The jury is still very much out on Turris (after all, he is still only 23 years old), but with the aforementioned 3 goals through 2 games this year, the hope is that this is a sign of things to come, and that he will indeed continue to prove himself to be "a real nice addition" to the club.
And with Spezza established as the go-to guy ahead of him and Mika Zibanejad on the horizon, Ottawa may soon have quite the trio up the middle.
Ottawa's next game is Thursday against the Panther, the first of back-to-backs in the Sunshine State.
Follow Ian on Twitter for more hockey updates & commentary.