With Vancouver Canucks general manager Mike Gillis telling the Vancouver Sun that a potential deal may be on the table from an unlikely team, rumors are swirling that, despite Gillis' recent comments, that he may, in fact, simply be bluffing.
"We have a potential deal in place with one team that has to do something with another player that they have — and it's not who anybody thinks it is — and so we have to wait. (But) we've been offered packages that don't fit what our plan is, what we need," Gillis told the Vancouver Sun.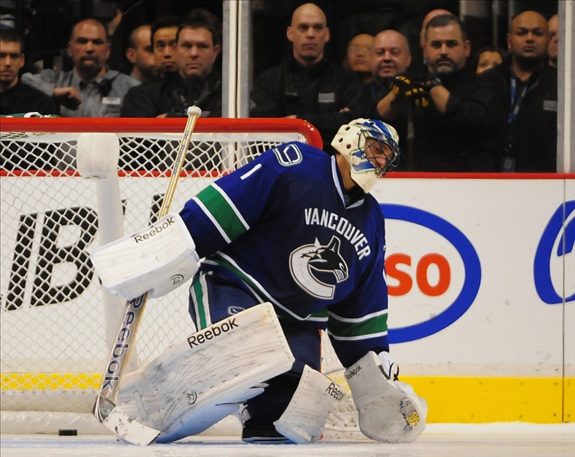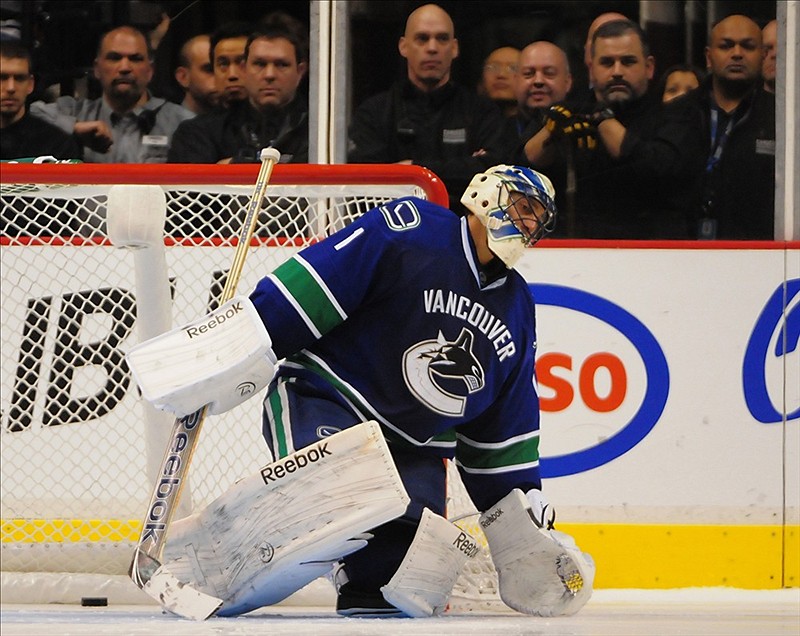 When you analyze Gillis' comments a couple of things stand out. First, Gillis is obviously not talking about the Toronto Maple Leafs, Florida Panthers or Philadelphia Flyers as the not so obvious team that is interested in Luongo's services. Second, it appears as if Gillis may be waiting for said team to make a decision on a player who A) may be a restricted free agent or B) might be a UFA as early as this summer. And third, Gillis' not so subtle hints that the offers he has received to date do not meet the criteria he has set fourth lead us to believe that whatever teams are offering it is simply not good enough.
Of course, as much as we try to read between the lines, there are more than a few experts who feel Gillis is simply attempting to attach a measure of urgency to a potential Luongo deal, and that the mystery team does not exist.
Given what Vancouver is asking for (believed to be two roster players—preferably at least one centre— and a second round draft pick) it is hard to imagine many NHL teams wanting to go down that road, not to mention the huge salary and cap implications acquiring Luongo would put on the team that gets him.
Prior to the start of the 2012-13 season, many predicted that if Vancouver failed to trade Luongo prior to the season that the Canucks would have an unbearable goaltender controversy on their hands. A mere two games into the season the Canucks are winless, have pulled Corey Schneider from the net in a game one debacle and started Luongo in favor of Schneider in game two. Well folks, despite it being so early in the season, it appears as if the experts were right—Vancouver has a goaltending controversy, or at the very least, a huge distraction on their hands.
With both Schneider and Luongo in-toe, the Canucks risk further controversy, which may very well be why Gillis let the message "slip" that there was a mystery team interested in Luongo's services.
If Toronto Maple Leafs general manager Dave Nonis (who is reportedly interested in Luongo) were to believe Gillis' comments it would put presser on him to make an offer to Gillis, or succumb to the rumored asking price of forwards Tyler Bozak and Nazem Kadri (both centres) and a second round draft choice.
With Bozak earning the number one centre position alongside linemates Joffrey Lupul (who signed a five-year extension this week) and Phil Kessel out of training camp and Kadri slowly emerging as a genuine offensive threat (he has two goals in two games) and top-six forward, there seems little chance that Nonis would be interested in trading either one of those players, let alone both.
Besides, through two games (and we acknowledge that is not a very good sample size) Maple Leafs netminder Ben Scrivens has played well, giving up just three goals, good enough for an impressive 1.53 goals against average and posting a sparkling 0.929 save percentage.
Of course, two games does not make a season, and the majority of the experts seem lukewarm on the 1-2 punch of Scrivens and James Reimer between the pipes for the Blue and White. With that in mind, most of the rumors involving Luongo seem to filter back to the Maple Leafs as many see Luongo as a good fit in Toronto.
Clearly, with the Canucks seemingly close to a Stanley Cup Championship, Gillis will not be willing to settle for prospects in return for Luongo, especially when you consider Gillis' lineup has been hurt by long-term injuries to forwards Ryan Kessler and David Booth, both of which are top-six forwards with the Canucks.
Kessler had off-season surgeries on his wrist and shoulder, while Booth will be out 4-6 weeks with a groin injury.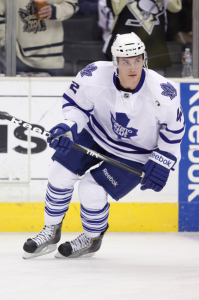 Trouble is, outside of a player like Bozak or Kadri, Toronto does not seem to be a good fit as a trading partner for the Canucks, unless Gillis is interested in the likes of Clarke MacArthur, which seems unlikely.
If Toronto is to land Luongo it would appear as if a third team may have to get involved. Perhaps this is what Gillis was hinting towards when he said an unknown team might be interested in Luongo? Perhaps the deal is done for Luongo with said team who does not really desire the services of Luongo but would be happy dealing with Toronto for a set of prospects and a pick?
With so many NHL teams looking for defensive help and Toronto having so much depth on the blueline at the AHL level and in terms of top-prospects, maybe there is a team out there that would part with a veteran or two (shipping them to Vancouver) in order to stock their defensive shelves for the future?
For instance, the Anaheim Ducks could consider sending the likes of Corey Perry, Ryan Getzlaf (both UFA's this summer) or the always rumored to be traded Bobby Ryan to Vancouver in return for Luongo, which could then be flipped to Toronto for a package of young players and/or picks.
Potential players of interest for Anaheim may include the likes of forward prospects Joe Colborne, Jerry D'amigo, Tyler Biggs, Carter Ashton and Greg Mckegg, defensive prospects Stuart Percy, Matthew Finn and Jesse Blacker or goaltending prospects Mark Owuaya and Jussi Rynnas— all of whom rank very high on the Maple Leafs' prospect charts.
Both Morgan Rielly (the Maple Leafs top prospect) and Jake Gardiner (an emerging star with the Maple Leafs) are believed to be untouchable in any trade for Luongo.
With all this being said, if the Ducks were willing to move Getzlaf (the number one centre Toronto badly needs), Perry or Ryan, Nonis may be better off doing that deal, rather than ending up with Luongo. Luongo might help get you into the playoffs as early as this season, but the addition of Getzlaf, Perry or Ryan could bolster the Maple Leafs' lineup for the next decade.
For now, until these rumors and comments from Gillis are substantiated, it appears as if Nonis' best plan of action is to call "Bull" on Gillis' comments and try to out-wait Gillis until the goaltending controversy in Vancouver gets so bad that Gillis is all but forced to make a deal.
Nonis has shown patience thus far, it says here he would be wise to continue that trend.